Rentech Nitrogen Partners, L.P. (NYSE:RNF) offers an intriguing dividend opportunity in the strong performing fertilizer industry. The anticipated dividend payments provide ample yield opportunity for dividend investors. There are, please note, numerous company specific risks to warrant investor caution. I will try to highlight Rentech Nitrogen Partners' positives and negatives as a dividend holding.
Rentech Nitrogen Partners Dividend Expectations
As with all investments we must decide if Rentech Nitrogen Partners is a "buy, sell, hold or no action." The Rentech Nitrogen Partners, L.P. SEC filings and the 2012 dividend guidance almost compel an investor to run out and buy Rentech Nitrogen Partners, L.P. I advise caution and patience.
Click to enlarge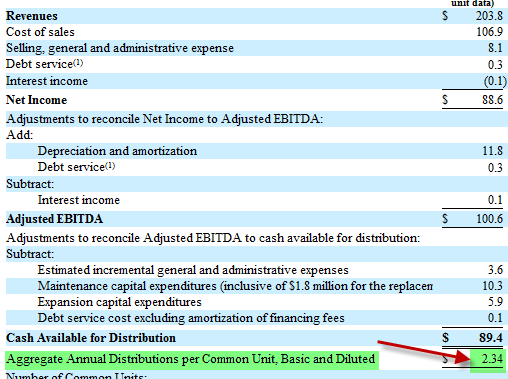 The Rentech Nitrogen Partners calendar year should, based upon the SEC filings, end September 30, 2012. The 2012 calendar year is anticipated to be $2.34. This equates to an annual yield of 11.7% based upon November 14th's closing price of $20.00.
I believe the investment is compelling but will look to be more opportunistic, as discussed below in the "Action Plan."
Background
Parent
Rentech, Inc. (NYSEMKT:RTK) is the parent company of Rentech Nitrogen Partners, L.P. Rentech is taking advantage of strong fertilizer prices. This has allowed Rentech Nitrogen Partners' initial public offering shares to be scooped up by dividend and fertilizer investors.
Rentech provided 15 million Rentech Nitrogen Partners shares in a recent stock offering. Rentech still retains 60.8% of the outstanding common units of Rentech Nitrogen Partners. In addition, Rentech owns 100% of the general partner interest in Rentech Nitrogen Partners. Rentech Nitrogen Partners will have approximately 38 million shares outstanding for a market cap of approximately $760 million. A green shoe option exists for an additional 2.25 million shares to be sold within a 30 day time frame.
Rentech Nitrogen Partners
Rentech Nitrogen Partners manufactures and sells nitrogen fertilizer products. Rentech Nitrogen Partners produces primarily anhydrous ammonia, or ammonia, and urea ammonium nitrate solution ((NYSE:UAN)) at one location. The one site nitrogen fertilizer facility, in operation since 1965, is located in East Dubuque, Illinois. This location is in the Mid Corn Belt region of the United States. The company uses natural gas as the primary feedstock for production.
Positives
1. CVR Partners (UAN) management stated on a recent conference call they are exploring all strategic acquisition opportunities. Theoretically, the Rentech Nitrogen Partners, L.P. business offers cost synergies and less exposure at a one site location.
2. The world needs what Rentech Nitrogen Partners offers. As the worldwide population grows, fertilizers provide growth in crop production. The below chart shows the growth in the fertilizer sector within the corn belt.
Significant Improvements in United States Nitrogen Fertilizer Fundamentals (pg. 3)
Click to enlarge


I believe Rentech Nitrogen Partners offers a compelling acquisition target. Today's fertilizer prices make the equity a compelling purchase. In the short term, I would argue, valuations may shrink as the worldwide economy struggles to gain its footing.
3. The fertilizer segment continues to hold its own. During the week of November 9th, ammonia prices moved very little on the wholesale markets, but increased by $50 a ton in November to $639.50.
Per the November 9th farm futures report, the USDA quoted the "spring price in Iowa at $421.75 for 28%," which is above the source's "fair value projection of $407 based on the wholesale price." In other words, a long position is a strong position.
Negatives
1. Rentech is a weak parent. This is the case despite Renteck raising $136.8 million in the Rentech Nitrogen Partners stock offering. The company is riding the back of Rentech Nitrogen Partners. Rentech's business model is clean energy, which has failed to deliver profitable results.
Click to enlarge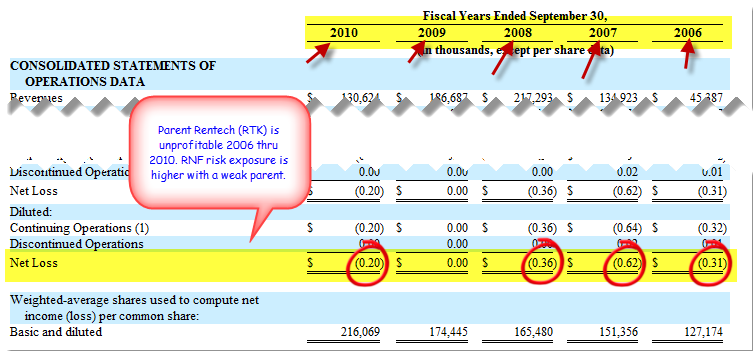 Rentech is a $360 million market cap enterprise. The company has benefited greatly from the Rentech Nitrogen Partners ownership. On its own, the company has been unprofitable for the past five years. Common sense kicks in when I recognize a weak parent taking advantage of a strong sector. I applaud Rentech for taking advantage of the opportunity.
I prefer, however, to own the best in class equities: Dividend stocks with strong parents.
2. Rentech Nitrogen Partners, L.P. is a one site location. If the East Dubuque, Illinois, plant goes out of commission, the parent and partner are out of luck. This applies to CVR Partners as well. Both are one site facilities.
3. Rentech's "clean energy" business model does not work for me. Clean energy has proven to be unprofitable. I hope and pray a day comes when clean energy is here, but it's not now. Rentech's primary business model is the Rentech Nitrogen Partners, L.P. 100% General Partner ownership. I do not like to be in a position where the parent is losing money on its core business model and making money on the fertilizer segment, which has historically been cyclical in nature.
4. Rentech Nitrogen Partners, L.P. facilities do not provide the proximity for rail or in house transportation. The customers provide the fertilizer transportation, which can be stable for long standing clients (pg. 20):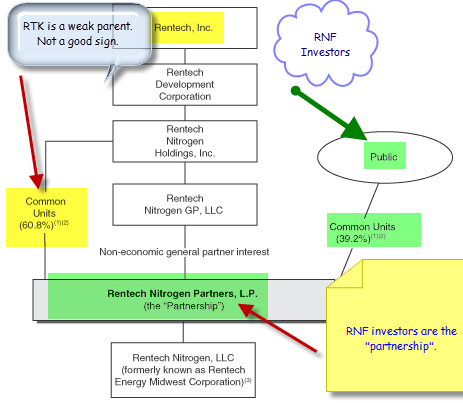 Action Plan
I recommend focusing on fertilizer companies with strong parent relationships. CVR Energy, Inc. (NYSE:CVI) is a strong parent in its core refining business. Although refining is cyclical, the company is a well established entity. CVR Partners has the benefit of CVR Energy's parental relationship.
CVR Partners is the only nitrogen fertilizer plant using petroleum coke to make hydrogen. Rentech Nitrogen Partners, L.P. and Terra Nitrogen Company, L.P. (NYSE:TNH) rely on natural gas. If natural gas prices increase, this could be beneficial for CVR Partners in terms of production cost advantages. CVR Partners has CVR Energy strategically next door in Coffeyville, Kansas. In addition, Union Pacific Railroad is on the door step for delivery to the U.S. Gulf Coast.
Terra Nitrogen Company, by a significant distance, has the strongest parent in CF Industries Holdings, Inc. (NYSE:CF). In fact, I recommend CF Industries Holdings as a core holding to anybody with a 10 year buy and hold investing outlook. CF Industries is dominant in multiple fertilizer sector segments.
I recommend investors hold CVR Partners and CF Industries Holdings. I personally advise investors to be opportunistic to take advantage of a 20 to 40% price drop in Terra Nitrogen Company, L.P. and/or Rentech Nitrogen Partners, L.P. (RNF). Fertilizer stocks have a high beta to the overall market. This is an opportune time to make your buying list. Sharpen your pencils for ideal prices.
Sector Pricing
Call me skeptical, but I become concerned when any product (i.e., widget) becomes expensive and is widely known to the investing public. Fertilizer prices are currently high. This can change in a New York minute. I am observing the same prices as the hedge funds, purchasers and sellers. As a small investor, my goal is "let's be the first mover, not the last mover."
A temporary dip in fertilizer prices is more than welcome and could provide an opportunity to buy the above mentioned equities on a 20 to 40% price drop. I believe in hedging stock positions. All equities, except for Terra Nitrogen Company, L.P. and Rentech Nitrogen Partners, L.P., offer options to hedge positions.
Full Disclosure
I bought Rentech when they announced plans for a fertilizer IPO. During the week of November 7th, I sold the Rentech shares for a profit.
I may buy Rentech Nitrogen Partners, L.P. if the valuation and hype provides a buying opportunity. I have never owned shares in Rentech Nitrogen Partners, L.P. as of November 14th.
Disclosure: I am long UAN, CF.