It's been a while since I reviewed the core holdings in my portfolio. Two quarters ago, I had no core holdings in the Healthcare sector. I said then that adding core positions in these areas will strengthen my portfolio. And it will add more balance to my Energy-heavy portfolio.
Today, the portfolio looks stronger with the added healthcare companies. Most are switched from non-core to core. This is a conscious change in my mind, as well as adding their allocations to the "core" table in my spreadsheet.
Once Non-core Healthcare Holdings, Now Core
Gilead Sciences, Inc. (NASDAQ:GILD), Amgen, Inc. (NASDAQ:AMGN), Baxter International Inc. (NYSE:BAX), and Ventas, Inc. (NYSE:VTR) were once my non-core holdings that I've now switched to core.
1. Gilead Sciences

Founded in 1987, Gilead Sciences is a research-based biopharmaceutical company that develops and markets innovative medicines in areas of unmet medical need of life-threatening diseases, including HIV, hepatitis B and C, cancer, serious respiratory conditions, as well as cardiovascular conditions.
As the company is saving lives, it is also generating a lot of cash.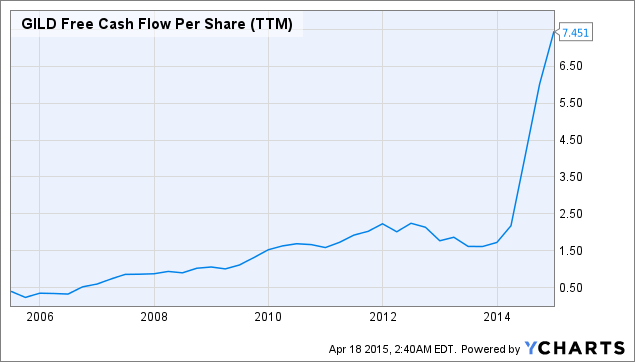 GILD Free Cash Flow Per Share (TTM) data by YCharts
Add in the fact that it is priced at only around P/E of 12. GILD could experience multiple expansion to at least a P/E of 15, leading to potential 52% rate of return by the end of 2016. I'm not banking on that; however, I believe there's no argument in that the shares are cheaply priced right now.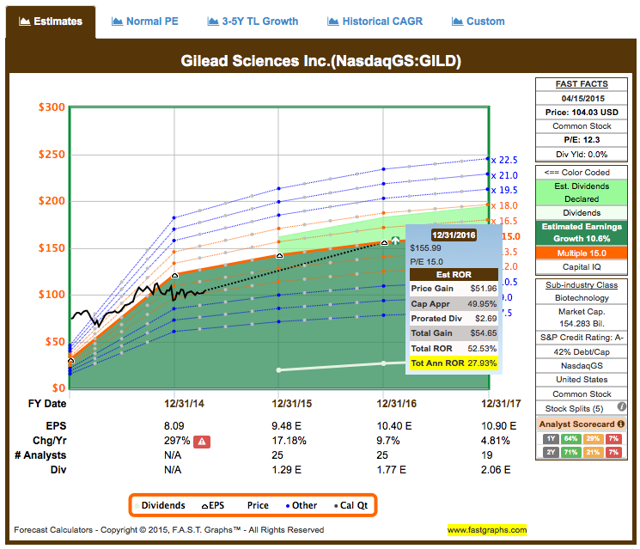 So, I added shares this month in spite of the high foreign exchange rate required to switch Canadian dollars to USD.
In February, Gilead Sciences announced that it would start a quarterly dividend of $0.43 per share in Q2 2015, and its dividend growth could look something similar to what Amgen has done.
2. Amgen

For 35 years, Amgen has lived out its mission to serve patients. Today, the company has a presence in over 75 countries around the world, and has reached millions of people in the fight against cancer, kidney disease, rheumatoid arthritis, bone disease and other serious illnesses. Amgen's medicines typically address diseases with limited effective treatment options.
The company's dividend growth history has been impressive. In less than 4 years, its quarterly dividend went from $0.28 per share in 2011 to $0.79 per share in 2015. Using a 4-year period, that's close to 30% annual growth. Its payout ratio has now reached 28%, an all-time high. Its last dividend increase was at 29.5%. In the near future, Amgen is estimated to grow earnings at a rate of 11%. If the company keeps the payout ratio at its current levels, then its dividend can only grow at the rate of its earnings growth. Here's an article on Investopedia that discusses Amgen's dividend.
Based on its P/CFL, Amgen seems to be fairly priced.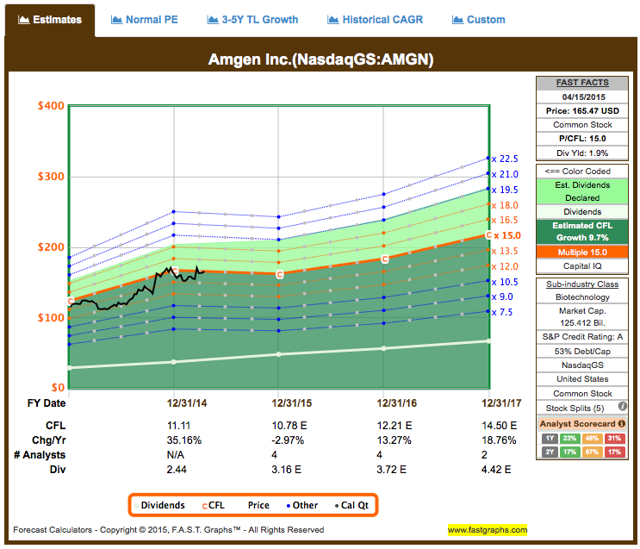 3. Baxter International

At one point, I contemplated whether to add Baxter International to my portfolio of core holdings and decided to compare its earnings history with its peer, Becton, Dickinson and Co. (NYSE:BDX).
| | | | | | |
| --- | --- | --- | --- | --- | --- |
| EPS Growth | 15-year | 10-year | 5-year | S&P Credit Rating | Debt/Cap |
| BAX | 9.14% | 11.23% | 5.22% | A- | 43% |
| BDX | 10% | 9.34% | 4.77% | BBB+ | 65% |
Baxter International beat Becton, Dickinson in two periods of earnings growth. Additionally, Baxter has a higher credit rating and lower debt/cap levels than Becton.
According to Morningstar, Baxter International is selling at 16.7% discount at about $70 a share, while Becton is selling at about 14% discount at around $142 a share. Cross-checking with other tools such as F.A.S.T. Graphs should make a more accurate estimation on the current fair price.
Companies are already difficult to forecast as it is, with so many unknowns in the future. Now that Baxter is spinning off its biopharmaceutical business as Baxalta in mid-2015, the crystal ball is even more cloudy. At the same time, value could be extracted from the spin-off. Hopefully, the company will provide more insight closer to the actual spin-off.
4. Ventas

Ventas is a leading healthcare real estate investment trust. It has a diverse portfolio of over 1,600 assets in the United States, Canada and the United Kingdom. The portfolio consists of seniors housing, medical office buildings, skilled nursing facilities, hospitals and other properties.
Ventas' total shareholder return for the past decade was over 15% per year, beating the returns of the indices.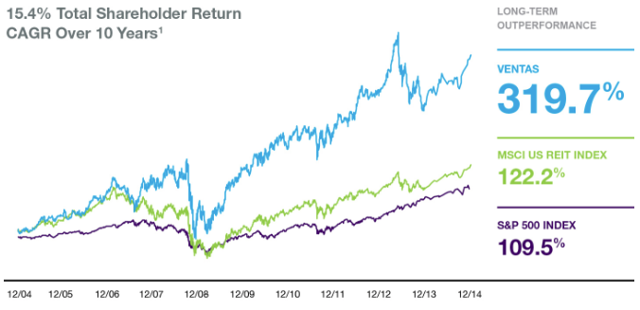 (Source: Ventas)
I know that Ventas is an eREIT, but I decided to categorize it in the Healthcare sector for my own portfolio. According to F.A.S.T. Graphs, it is fully valued.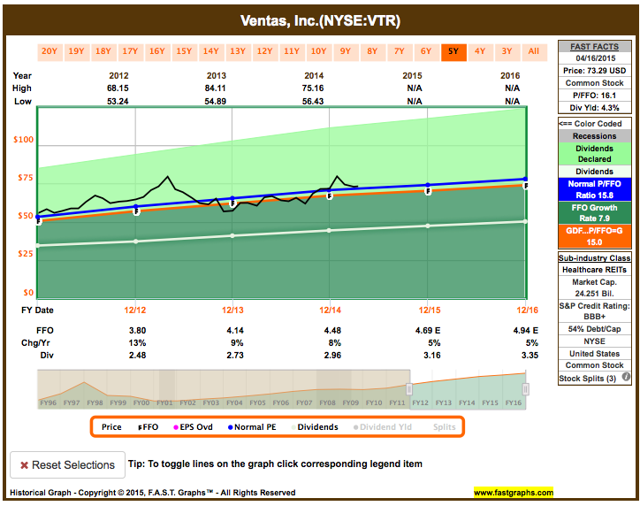 It is also planning to spin off the majority of its skilled nursing facility portfolio into another publicly traded real estate investment trust. The transaction is expected to be completed in the second half of 2015. For every 4 shares of Ventas shares, shareholders will receive 1 share of the new REIT, while the number of Ventas shares remains the same.
After the transaction completes, both Ventas and the new REIT should have a strong balance sheet and the financial flexibility for future growth opportunities. The REITs' combined dividend growth is expected to grow at least 10%.
Overview of my core holdings in the Healthcare sector
These healthcare companies only make up 13% of my core portfolio, according to their current values, and contribute to 5% of my core dividends. So, there's still room for me to add more companies or add to existing positions before the Healthcare allocation reaches 25% - the maximum allowed for any sector.
Come to think of it, though, there are plenty of industries within the Healthcare sector. So if I ensure my portfolio is not overexposed to any particular industry, maybe I could allocate more than 25% of the portfolio to one sector. What is your take on this issue?
| | | | | | |
| --- | --- | --- | --- | --- | --- |
| Company | *Industry | *Stock Type | *Stock Style | S&P Credit Rating | Debt/Cap |
| AMGN | Biotechnology | Classic Growth | Large Growth | A | 53% |
| BAX | Medical Instruments & Supplies | Classic Growth | Large Core | A- | 43% |
| GILD | Biotechnology | Aggressive Growth | Large Core | A- | 42% |
| VTR | REIT - Healthcare Facilities | Hard Asset | Large core | BBB+ | 54% |
* Information from Morningstar.com
What are your Healthcare core holdings?
If you like what you've just read, consider clicking the emboldened "Follow" link at the top of the page above the article title to receive an email notification when I publish a new article.
Additional Disclosure: This article is not advising to buy or sell any security. Please use this article as initial research.
Disclosure: The author is long AMGN,BAX,GILD,VTR.
The author wrote this article themselves, and it expresses their own opinions. The author is not receiving compensation for it (other than from Seeking Alpha). The author has no business relationship with any company whose stock is mentioned in this article.