To invest successfully one must be a contrarian to a certain extent, to look where the puck is going, not where it's been - to process and consider what the crowd expects is least likely to happen, then look for mispriced assets that may benefit from a change in that view.
The predominant world view out there is the following:
* Entrenched or threatening deflation, in many parts of the world.
* Contractionary Fiscal Policy
* Permanent slow growth and credit formation
For this reason, the best asset classes in recent years have been Bonds and bond like sectors - Utilities, REITS, and defensive, dividend paying stocks, all have which been bid up to expensive valuations, projecting forward a long run view of the status quo.
I believe profitable investment allocations are made by challenging the status quo viewpoints with variant perceptions, and looking for evidence fundamentally and technically that supports a variant view. Let's examine a few fundamental possibilities that might meaningfully change the macro outlook for inflation expectations.
1. The massive excess reserves from multiple QE rounds, and continuing to be added by ECB action today, have simply piled up. What if, through easier housing lending standards (promoted by regulators) lending and credit formation accelerate?
New Mortgage applications are volatile, but this year looks promising for housing. It is a valid thesis, that the persistent slow growth US economy that has frustrated many observers is not a precursor necessarily to a weak economy about to roll over into a new recession, but an extremely slow cycle characteristic of a post-crisis recovery.
In this scenario consumer confidence and spending, especially on major items like single-family housing, is very slow to recover due to consumer preferences for safety and increased savings rates. However, demand from household formation is a bull thesis for housing, running well above housing starts: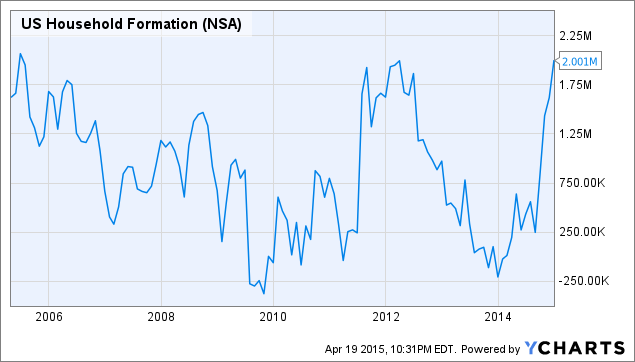 US Household Formation data by YCharts
Certainly, the fuel is there from higher savings rates and household formation for a new housing boom, as Housing starts have been well below long-term trends for years now, and debt service ratios have plummeted: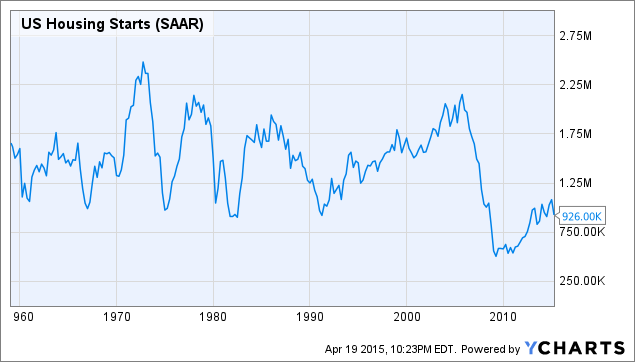 US Housing Starts data by YCharts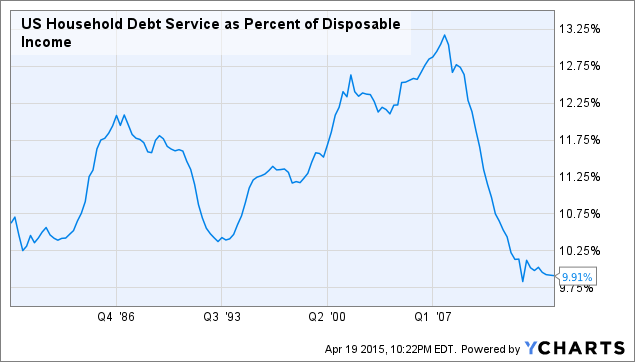 US Household Debt Service as Percent of Disposable Income data by YCharts
I am a clear housing bull, and also favor investment allocation to this sector, and see housing as a key catalyst to a faster economic growth rate, credit creation, and higher inflation expectations.
2. Next, fiscal policy has been highly contractionary. What if, as one aspect, due to public pressure on the crumbling state of our nation's infrastructure, this dynamic changes - leading to more usage of Steel, Copper, Energy, and other inflation-tied components? In my view, this is only a matter of time, unless we all stop driving on the ever-deteriorating roads. Both in Canada, my home country, and in the US, infrastructure is starting to move onto the front pages.
Political changes, in my playbook, must result in a re-evaluation of investment strategy and allocation.
3. Capital spending. Companies have been equally as cautious as consumers - allocating fund to share buybacks and dividends, not spending. I believe as housing (and the consumer) show greater signs of life, companies will follow.
4. Wage Growth: Simply stated, I believe the recent wage hikes at Wal-Mart (NYSE:WMT), Target (NYSE:TGT), McDonald's (NYSE:MCD) and others are a potential "canary in the coal mine" for higher wages further up the chain, and ultimately, higher inflation expectations: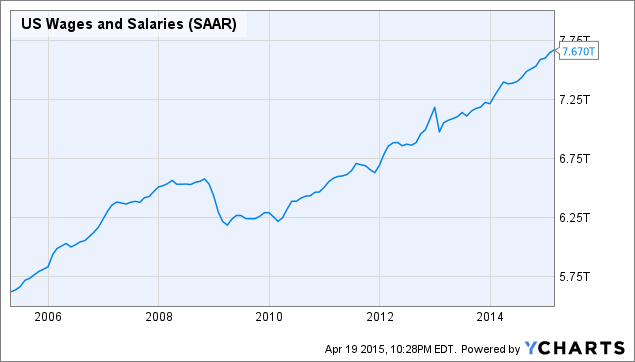 US Wages and Salaries data by YCharts
All of these changes speak to a shift in future inflation expectations.
The macro investment case to be made, in my view, would be an appropriate allocation to commodities and selected emerging markets tied to commodities. Even if not as a primary investment class for the investor, I believe it makes sense - like buying any asset when cheap - to pick up some "inflation protection."
There are various ways to do this. I am not much of a bond guy, but one could (alternatively to generic government bonds) take a good look at TIPS, which are very cheap relative to normal Treasuries - note the word "relative."
I'll note that many folks would say, "I'll wait for overtly higher inflation numbers, and then re-allocate" - and that's fine. However, I think we can improve our results by anticipating change in a widely held world view, and then incrementally applying exposure to benefit from this change.
Remember the old and wise saying: "Market leads the news." In other words, we will likely see the asset classes start to move before the news substantially changes as the "smart money" positions, and indeed this is starting to occur.
Let's examine briefly a few specific, out of favor, contrarian ideas.
What may be notable is that these potential improvements in the American economy may benefit other markets disproportionately as compared to US markets, simply due to valuation differences.
It it is also quite possible, parallel to American business and consumers regaining sufficient confidence to buy single-family homes, engage in accelerated capex, and sell their safety-oriented US treasuries and money market funds - by one account, there is currently over $7 trillion in savings accounts and equivalents - investors will venture further from the "safe" shores of US equity markets and start investing abroad with their valuable US dollars in equity markets trading at near half the valuations of the S&P 500.
First, a cheap emerging market play, tied to commodities. Please note some names are distressed, higher-risk/reward names; a more conservative choice may be appropriate for certain investors.
Russia: (NYSEARCA:RSX) (NYSE:MBT) Little is more out of favor, or cheaper, than Russian stocks, and partly due to their commodity focus. And perhaps because of oil's recovery, (up sharply again as I write this) or smart money allocation, Russia is starting to really motor. I am playing Russia through their version of Verizon (NYSE:VZ), their dominant wireless/telecom company, Mobile Telesystems: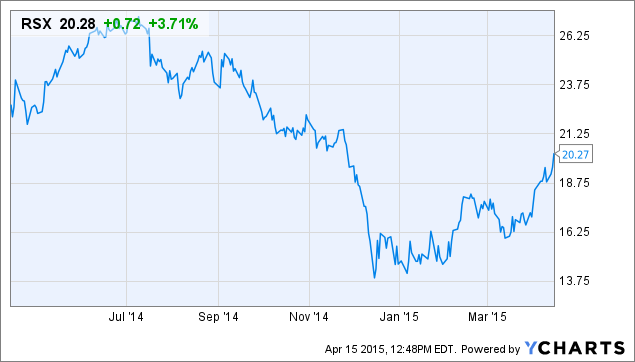 RSX data by YCharts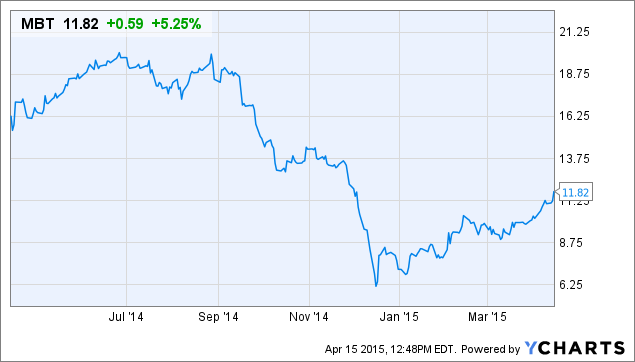 MBT data by YCharts
Next, talk about out of favor, Brazil's national oil company, Petrobas (NYSE:PBR). Now it is rocketing, perhaps because of oil, perhaps because they have promised to release financials finally, but more importantly because China is extending a financial backstop, as recently reported.
Do we then follow the "Smart Money" here? (China) Is it reasonable to assume - if China is willing to risk billions of dollars here, they know what's going on within the company, and the resolution to the extended corruption scandal that has engulfed Petrobas?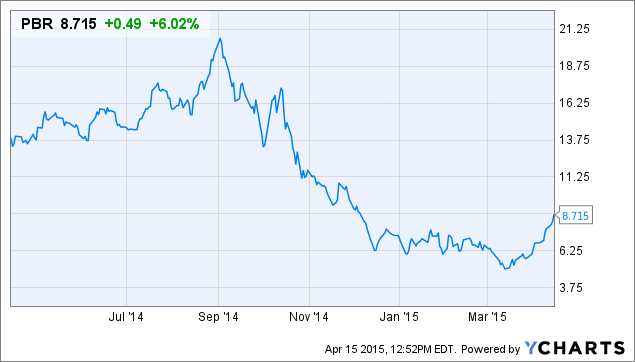 PBR data by YCharts
Next, admittedly with a high risk and reward quotient, is battered offshore driller (NYSE:SDRL). This name has been crushed due to Russian connections and low oil prices. However, looking ahead, they have the youngest, best offshore drilling fleet in the business, and older rigs are getting scrapped. IF oil comes back (a big if, admittedly), this company may start printing money.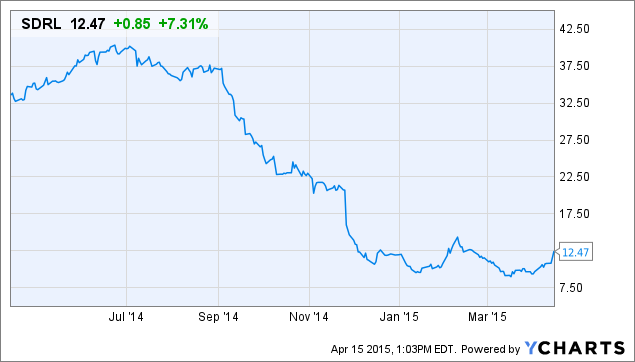 Let's look at copper (JJC) ETF. I note that even with the continuing weak iron ore prices, and strong US dollar, copper is showing signs of building a base here, as is one traditional leader, Freeport (NYSE:FCX). There are a number of stocks, both senior and junior, to consider here. I am long a few junior names, which are breaking out from long downtrends, as well.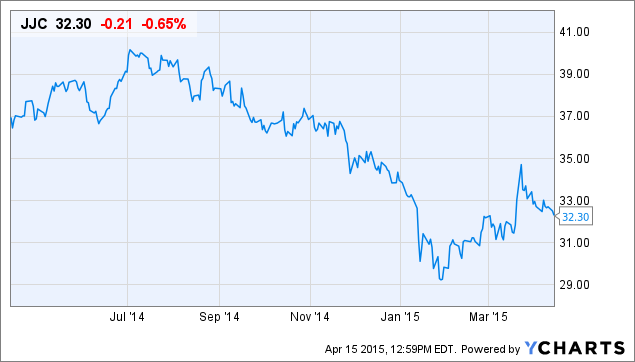 JJC data by YCharts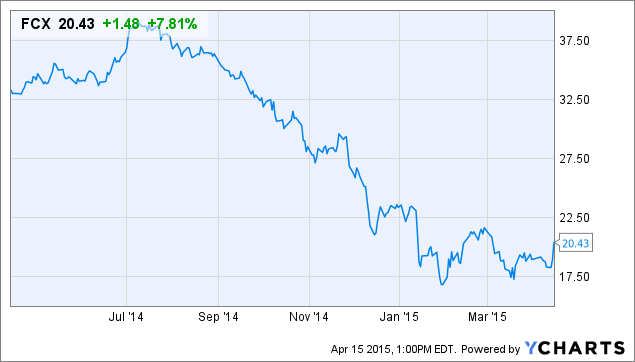 Lastly, returning to the infrastructure theme, there are 2 fine engineering names to consider in this area, one US and one Canadian, Fluor (NYSE:FLR) and SNC Lavalin (OTCPK:SNCAF) (SNC-TO). An increase in both public infrastructure projects, or capex spending returning to the oil patch, should benefit these names.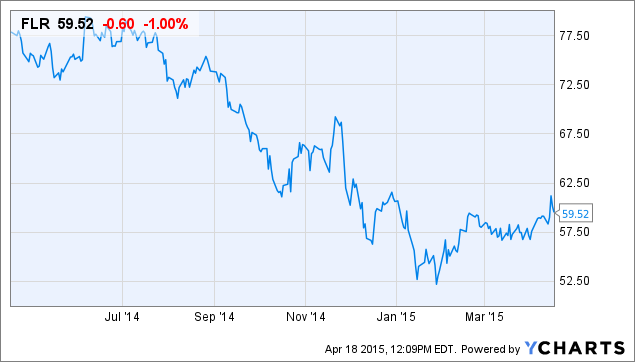 FLR data by YCharts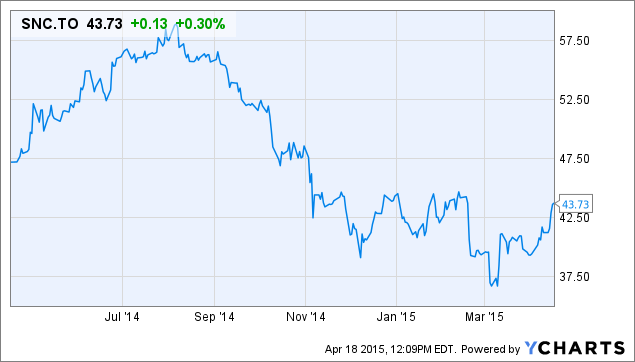 SNC data by YCharts
Summary
Even as part of a balanced portfolio, I believe exposure to areas benefiting from faster growth and increased inflation expectations are timely for the investor. Please note these are but a few ideas to consider for these themes. There are numerous ETFs and senior commodity producers investors could consider, depending on views and risk tolerance, to add an inflation component to one's portfolio.
Best wishes, and I welcome your comments!
Disclosure: The author is long MBT, PBR, SDRL.
The author wrote this article themselves, and it expresses their own opinions. The author is not receiving compensation for it (other than from Seeking Alpha). The author has no business relationship with any company whose stock is mentioned in this article.
Additional disclosure: consult advisor. Long SNC.TO