Some commodities or raw materials are different from others. They have special, unique characteristics or utilities that separate them from others. There are two staples that are truly political in every way - crude oil and wheat.
Oil, a liquid form of energy that powers technology since the industrial revolution, is political by virtue of a number of important reasons. Its consumption is ubiquitous - all over the world, oil has powered innovation. The availability and price of oil affects most inhabitants of the planet. Individuals require its refined products, and governments wish to protect or control supplies. Few other commodities garner such attention and have such a far-reaching impact on the current human condition. Given the long history of man, the political significance of oil is relatively new. One of the factors that make oil so political is the location of vast reserves in some of the most difficult regions on earth, namely the Middle East. The other political commodity is wheat, the basic ingredient in bread.
Wheat has a longer political history than oil. Bread is a staple for humankind - people need food to survive. Throughout history, shortages of bread have caused political upheaval. The French revolution started because of a bread shortage and rising prices. Most recently, the Arab Spring, which commenced in 2010, began initially as a bread riot. To maintain power, governments must meet the basic needs of their citizenry that sustains life. There is nothing more basic than the demand for bread. Therefore, bread is not only a staple, it is a political requirement. Governments must make sure that they have ample crops or imports to satisfy the needs of their people. While oil may be the most political commodity in the world today, wheat is a close second, and price shocks can quickly assert the political nature of the grain.
Wheat prices have moved lower
In February 2008, a variety of issues caused the price of wheat to climb to $13.345 per bushel. The bread riots that followed in Tunisia two years later started because of those high prices.
Since the peak in prices in 2008, the price of wheat has come back down to earth. On Friday, April 17, 2015, the price of active-month July wheat closed at $4.88 per bushel, significantly lower than prices were over recent years. For the most part, the forward curve or term structure in wheat is in contango. Deferred prices are higher than nearby prices, indicating that there are ample supplies of the grain at present. However, as an agricultural commodity, each year presents a new set of challenges for the price and availabilities of wheat. The weather in growing regions around the world determines the levels of supplies and price for the commodity. When it comes to wheat, production dynamics are different from other major grain markets like corn and soybeans.
Wheat production is global
The United States is the world's largest producer and exporter of corn and soybeans. The U.S. ranks sixth in global wheat production. The European Union-27 is the world's largest wheat producer, followed by China, India, Russia, others, and then the U.S., according to April 2015 data from the U.S. Department of Agriculture. The price of wheat has recently fallen below $5 per bushel, because the USDA estimates this year's world production at 726.45 million metric tons - 1.34% above last year's level - that is, if all goes well.
More than any other grain, the production of wheat is global. Therefore, there are a number of factors that can cause price shocks in the wheat market. First and foremost is weather. Mother Nature can wreak havoc with the annual wheat crop during years of droughts, monsoons and a variety of other events of nature. War and violence around the globe can also affect wheat output. As an example, Russia and Ukraine are both top-ten wheat-producing nations; considering the combined production, they would rank fourth. An escalation of the conflict between those nations could pose a threat to the crop.
As you can see, the global nature of production and ubiquitous nature of consumption makes wheat a very political commodity with extreme volatility at times.
Consumers only hedge on rallies
In commodity markets, the behavior of producers and consumers differs vastly. Producers of a commodity like wheat generally run a singularly focused business - they produce the grain and sell it. Therefore, hedging via the futures markets is an important tool for producers in terms of protecting against lower prices for their crop. Hedging is a rational business practice for producers.
Consumers behave differently. As consumers of wheat generally have many price risk components in their business and they are often able to pass along price risk to customers over longer periods, they are less likely to hedge price risk as a standard practice. However, there are times when consumers come to the futures markets to hedge. In the past, they were more likely to do so when prices are moving aggressively higher than when they are moving lower.
The price differential between the KCBT and CBOT wheat contracts highlights this phenomenon. The CBOT contract represents soft red winter wheat, while the KCBT contract represents hard red winter wheat. Bread manufacturers in the U.S. tend to use the KCBT contract for hedging purposes and a pricing mechanism, as hard red winter wheat is more suitable for bread production. During times when the wheat price is rising, the premium for KCBT wheat over CBOT wheat rises. The long-term norm for the spread is around a 30-cent premium for KCBT wheat; however, last year, when prices were higher, the premium rose to over $1 per bushel. The same happened during rallies in years past. Today, with nearby CBOT prices below $5 on May futures, the premium for May KCBT stands at only 14 3/4 cents. This is the result of two important factors. First, there are ample stocks of KCBT hard red winter wheat this year from a solid harvest, and second, consumer hedging is very low or nonexistent.
The bottom line is that when wheat prices are rising, consumers panic and do lots of hedging, and when prices fall, they stop hedging and buy hand-to-mouth. Consumer behavior is an important concept to understand when trading or investing in the wheat market.
One technical factor could be setting wheat up for an interesting year
This year, like every year, Mother Nature will determine the ultimate price direction for wheat; global weather patterns will either produce a bumper crop or result in shortages. One interesting technical factor could be setting the wheat market up for some real action if the weather does not cooperate with the growing crops.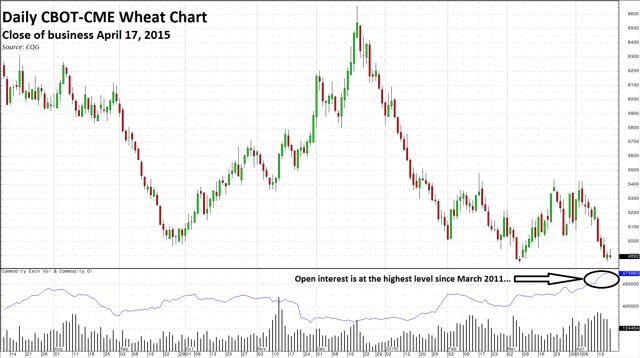 The CBOT-CME wheat contract is the most liquid wheat contract in the futures market. While the price of wheat has been under severe pressure lately and approaches support at just under $4.85 per bushel, open interest could be telling us to get ready for some volatility. Open interest is the number of open long and short positions in the market. As of Friday, April 17, open interest stands at 473,960 contracts - this is the highest level since March 2011. Given recent bearish price action, it is likely that there are speculative shorts in the wheat market. Nothing creates the environment for a rally better than speculative shorts.
A long position in CBOT-CME wheat is a bet on weather disturbances or crop issues in the global wheat market today. Given that wheat is trading close to the lowest level in years, the risk-reward of a long position could make a great deal of sense. Anyone wishing to take a stab at wheat from the long side today has two options. They can go directly to the source - the futures market - and buy wheat futures. If they want to limit risk, a call option on wheat futures will limit losses to the premium paid for the option and afford the buyer unlimited upside until the option expires. The Teucrium Wheat Fund (WEAT) is another vehicle designed to take advantage of higher wheat prices. WEAT has a market cap of $21 million, and trades an average of 50,000 shares per day. It is an expensive ETF with an expense ratio of 3.74%.
There are a number of derivative instruments designed to replicate price action in the wheat market. The price of this very political commodity is low today, and with open interest rising, it may be only a matter of time until there is a relief rally or perhaps an exogenous event that propels the price of this staple commodity higher. From experience, when wheat finally does begin to rally, consumers may panic and come back to hedge their requirements, bringing even more buying into the mix.