Recent activity in bond exchange traded funds shows some investors are positioning to profit if U.S. Treasury yields rise and bond prices decline.
ProShares UltraShort Barclays 20+ Year Treasury (NYSEARCA:TBT) has seen net inflows of $1.2 billion so far in 2011 through the end of October, according to National Stock Exchange data.
The $3.4 billion ETF is designed to deliver 200% of the inverse, or opposite, performance of the Barclays Capital 20+ Year U.S. Treasury Index, on a daily basis, after fees and expenses.
The inverse leveraged fund is "is primarily a speculative satellite holding for investors with a high-conviction belief that long-dated Treasury bonds will drop in value," said Morningstar's Timothy Strauts in an analyst report on the ETF. Bond prices and yields move in opposite directions. [Treasury ETFs and the Supercommittee Deadline]
"Investors interested in this fund essentially think the unprecedented moves by the Federal Reserve to pump liquidity into the financial system will ultimately result in higher inflation and sinking dollar value. Investors should also hold the thesis that the flight to quality will ultimately reverse itself, causing Treasury rates to rise," he wrote. "Remember, though, that due to the compounding arithmetic, investors are not guaranteed to get double the index's inverse return for any holding period longer than one day."
ProShares UltraShort Barclays 20+ Year Treasury has an expense ratio of 0.93%.
Direxion Daily 20 Year Plus Treasury Bear 3X Shares (NYSEARCA:TMV) is an inverse bond ETF with 300% leverage. It has gathered $356 million in new assets year to date. [ETF Chart of the Day: Inverse Treasury Funds]
Paul Weisbruch, head of ETF/options sales and trading at Street One Financial, on Tuesday said there were bearish-looking flows in U.S. Treasuries last week as iShares Barclays 20+ Year Treasury Bond (NYSEARCA:TLT) saw outflows while Direxion Daily 20 Year Plus Treasury Bear 3X Shares saw huge volumes on the buy side.
On Monday in options markets, the trend continued as bullish call buyers surfaced in ProShares UltraShort Barclays 20+ Year Treasury.
"It seems apparent that investors are looking for short exposure to long-term U.S. Treasuries (which would mean they are looking for prices to drop and yields to rise), and perhaps this is a reflection of certain investors changing their portfolio exposure away from fixed income and perhaps into higher yielding asset classes such as equities," Weisbruch said in a note Tuesday.
Treasury yields are very low by historical standards, with the 10-year note yielding just above 2%.
Direxion Daily 20 Year Plus Treasury Bear 3X Shares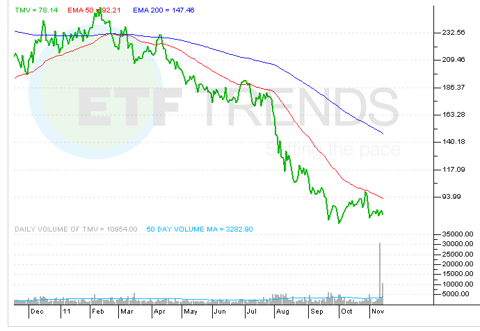 Disclosure: None