From disasters such as the earthquake in Japan, the BP oil spill in the Gulf of Mexico, and the current spill in Brazil, to more routine jobs like fracking, Clean Harbors (NYSE:CLH) has been on the scene to help with the cleanup and spill prevention.
Clean Harbors is the largest hazardous waste disposal company in America. It does everything from waste disposal and recycling to chemical packing to emergency response. It responds to chemical spills, oil spills and even damage from natural disasters.
With oil prices closing in on $100 per barrel again, fracking of deep-earth shale continues here in the U.S. at a very brisk pace. While fairly new horizontal drilling technology in places like the Williston Basin of North Dakota, to the Eagle Ford Shale of Texas, and the Haynesville shale of Arkansas is extracting previously hard to get oil, Clean Harbors is on the scene protecting our groundwater.
I was recently on AM-WOR-710 radio with ex-Governor Patterson of New York discussing the controversy around fracking. I have also interviewed Harold Hamm, the CEO of Continental Resources on my daily stock market radio show, Positively Wall St. His company was one of the first to succesfully drill in the oil-rich Williston Basin.
Patterson studied the effects of fracking at length with many top environmentalists and came to the conclusion that it is safe. In fact, current New York Governor Cuomo has decided to let fracking take place in his state.
In talking with CEO Hamm of Continental Resources I also came away with the opionion that not only is fracking safe, but it is needed in order to get our country away from it's dependence on foreign oil. Chean Harbors' CEO, Alan McKim, has done a great job growing this company into one of the best stocks in the market.
Let's take a look at the performance of the stock: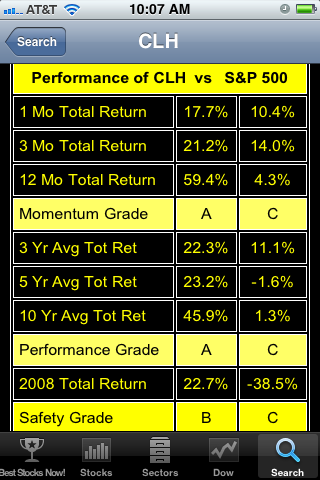 Data from Best Stocks Now.
As you can see, this stock has performed phenomenally over the past 1,3, 5, and 10 years. Over the last 10 years the stock has returned an average of 45.9% per year! Even in the stress test (year 2008), it was up 22.7%. It hasn't slowed down at all this year, either, by beating the S&P handily in 1-, 3- and 12-month returns.
When compared to 2,700 other stocks, Clean Harbors gets an A grade as it relates to short-term performance and long-term performance. Let's take a look at a current chart of Clean Harbors:
12-Month Chart of CLH
This is a pretty good looking 1-year chart. Nothing to complain about. It looks pretty steady for how volatile the market has been.
I like to combine peformance with value. I have found over my many years as a money manager and stock analyst that value investors generally ignore peformance, and performance (momentum) investors generally ignore value. Does it not make sense to look at both?
Let's take a look at the current valuation of Clean Harbors: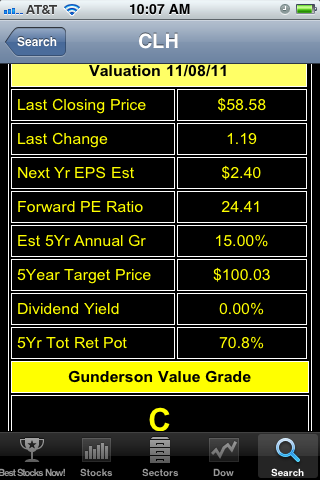 Data from Best Stocks Now App.
Clean Harbors is expected to earn $2.40 per share in next year. This gives us a current forward PE ratio of just over 24.4. This is not an inexpensive stock. Clean Harbors has been growing its earning at a very sold pace of 20% per year over the last five years. Analyst consensus growth rate is currently pegged at 15% per year over the next five years. This makes for an unfavorable PEG ratio on the stock at the current time.
I like to buy stocks that have 80-100% upside potential over the next five years. Clean Harbors currently falls short. Clean Harbors only earns a value grade of C. Having said that, I do own Clean Harbors. I have owned it for quite some time and have made a sizeable profit in the stock.
The stock is a little expensive at this level, but the Brazil oil spill could spike business. The bottom line is this: This is one of the great growth stocks in the market right now. Overall, it gets an "A" in my proprietary grading system, and it comes in number 75 out of 2,700 stocks.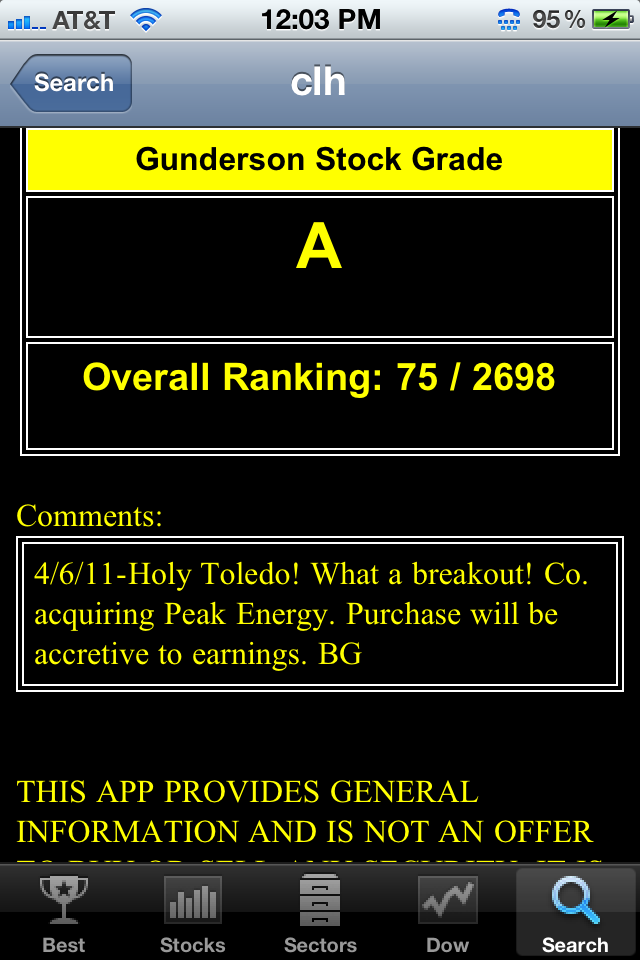 Data from Best Stocks Now App.
Disclosure: I am long CLH.