It has been a rather uneventful week in the gold (NYSEARCA:GLD) market, with price both failing to break out to the upside but failing to break support. We started the week at $1207 and closed at $1204 for an overall loss of 0.25%, but the gold miners made gains with the majors (NYSEARCA:GDX) adding 1.25% and the juniors (NYSEARCA:GDXJ) adding 1.19%.
Looking ahead to this week, not much has changed with regards to the overall count and forecast. We are still set up quite bullishly and well above support, and we are now looking for the trigger that will spark a move in one direction or the other.
Luck would have it that there are potentially two catalysts on the short term horizon.
Greece Remains the Proverbial Bad Penny
The 'Grexit' issue is once again rearing its ugly head, with Mario Draghi insisting that Greece will not leave the Eurozone and the Euro, but at the same time insisting that it is down to the Greek Government to find a solution:
"We all want Greece to succeed. The answer is in the hands of the Greek government."
These words were echoed by French Finance Minister Michel Sapin, who also recently warned Greece that their problems can only be solved domestically, while at the same time stressing that a default would hurt Greece far more than its Eurozone neighbours:
"If something damaging happens, it will be for Greece that it will be serious, for the Greek people, not for the other countries of the Eurozone."
We now have crisis meetings scheduled for April 24th where the Greek government is expected to have come up with a plan to cut yet more public spending in return for its next tranche of bailout monies - money that only covers 'the vig' on its existing debts, and does nothing to put Greece back in a position whereby its economy can grow.
Although we may once again see a temporary agreement reached sooner or later we are likely to see this situation reach critical mass, and despite the insistence of the various Eurozone Finance Ministers that they are sheltered from the impact of a Greek default, we will see the Euro drop further and potentially a top in the European bond markets.
For gold this means that although the dollar is likely to strengthen, we may see some safe haven buying similar to the result of the Swiss Peg debacle in the very short term. Of course, they could just reach an agreement and avert the crisis for the time being. There is more on the dollar, Greece and gold in the data points below.
Broad Markets Remain Weak, and US Treasuries Strong
Friday's sell-off in the markets was deemed to be down to Chinese Regulators banning certain types of margin trading, something that is likely to reduce market liquidity. Over the weekend the PBoC cut the reserve requirements for banks from 19.5% to 18.5% in a move designed to add back some of this lost liquidity. Whether this works or not remains to be seen, but I would hazard a guess that Asian markets will fall in Monday's session.
Markets are very much connected, but it does seem a little odd that a move by Chinese regulators within their own semi segregated markets would spark a global sell off. To me this points to a lack of confidence within equity markets as a whole, with any 'shock' around the world being deemed a reason to sell.
I remain convinced that we are close to a correction of some sort in US equities, and we will see a move into US Treasuries (NYSEARCA:TLT) as a result. The correlation between gold and US bonds remains applicable here, and bonds look poised to breakout once again. Gold is likely to follow in my opinion.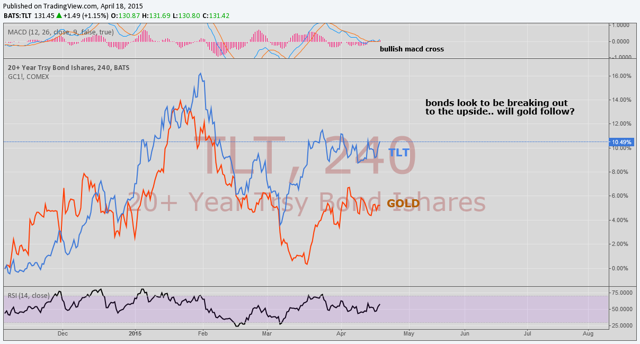 Data Points
COT
As usual, let's start with the commitment of traders report - the latest figures are below:
| | | | | | |
| --- | --- | --- | --- | --- | --- |
| COMMERCIAL |   | LARGE SPEC |   | SMALL SPEC |   |
|   |   |   |   |   |   |
| LONG | SHORT | LONG | SHORT | LONG | SHORT |
| 130,960 | 234,553 | 184,741 | 86,344 | 34,431 | 29,235 |
|   |   |   |   |   |   |
| CHANGE | CHANGE | CHANGE | CHANGE | CHANGE | CHANGE |
| -2,239 | -6,935 | +1,611 | +3,971 | -652 | +1,684 |
|   |   |   |   |   |   |
There was not a huge amount of change this week, as reflected by the very small numbers of contracts bought and sold by each category. This is often the case when price resides at an inflection point, and represents indecision in the trading community.
In total, the Large and Small Speculator category increased their net short position by 4696 contracts, with the Commercial Category taking the other side of that trade. The small change to net positioning is unlikely to tip the balance in favour of bull or bear, and really marks no change to the status quo.
Given that it has been a relatively quiet week I thought I'd include a further chart showing the relative positioning of each trader category and the effect this has on price: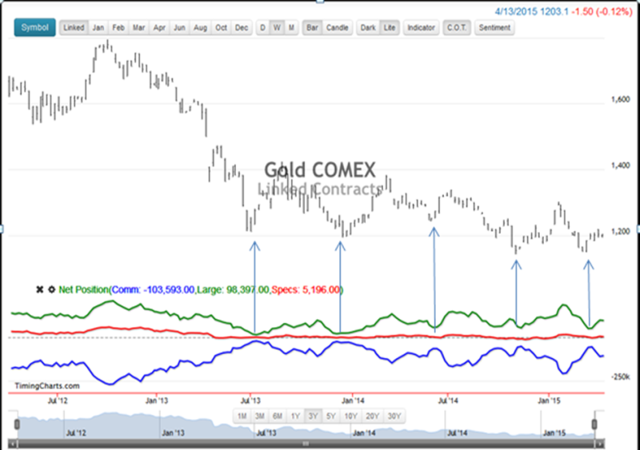 *chart courtesy of TimingCharts.com
Here we can see the Large Speculator category represented by the green line and the commercial category in blue.
When the green line moves lower it indicates that the Large Specs are adding to their short positions, and when it moves higher they are increasing the number of long contracts they hold. At the various price points where gold made a significant low and started to rally higher (marked with arrows), the Large Speculator category had built its largest number of short positions in the preceding weeks.
We can see that when the March low was made at $1140 the Large Specs had built their largest short position since December 2013, but only time will tell whether this means that we will now see a higher percentage rally than those that came from the July and November 2014 lows.
Turning our attention to the Commercials we can see that their blue line rises to its highest point (they increase their long positions) just before gold begins to rally, but it is worth noting that they have got successively less bullish with each rally i.e. their blue line has made lower highs since the July 2013 low.
This would tend to imply that they don't see this higher percentage rally on the horizon, and expect gold to top and decline before exceeding our January $1308 peak, but again only time will tell if this implication is realised.
GOFO
Backwardation (scarcity of metal as a result of excessive demand, or limited supply) remains in place but at very low levels - levels that could not really justify a real bid under the gold price. It would appear that gold below $1180 is considered a buying opportunity, but gold at $1200 is less attractive. Look for backwardation to disappear altogether if we do move higher over the next month.
US Dollar
As expected, the US Dollar (NYSEARCA:UUP) did not breakout to new highs and looks to be building out a corrective consolidation that may yet last a few weeks longer, and adds to the case for our gold rally. Support for this decline (DXY chart) starts at 95.73, with very strong (ideal) support at 94.20, and last ditch support at 91.65 which I do not expect to be exceeded: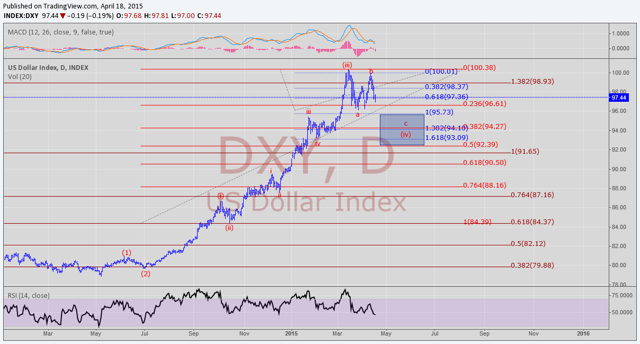 I will be adding to my long positions at any level under 95, and I expect our next leg higher to hit at least 103.
There has been much talk of how we now have 100% dollar bulls in the sentiment indices and a decline must now be on the horizon, but as I have explained in previous articles the traders are battling against a $9T emerging market short position, and the dollar is very likely to go much higher over the coming months as a result.
When the Fed finally decides to raise rates, this will put enormous pressure on the emerging economies that issued dollar denominated debt - not only does a strengthening dollar make their repayments more costly, but an increase to rates makes rolling these bonds more costly also. When the rate hike comes, should these economies decide enough is enough and then hedge their exposure, we will see a huge bid under the dollar and it will simply scream higher.
Exacerbating the dollar position, we have a Euro in freefall and a ticking timebomb within the Eurozone due to the situation Greece. Once again they are struggling to meet their debt obligations and are faced with promising yet more government cuts in return for funding - an attitude that remains unpopular with the Greek people.
The Syriza party came to power with promises that they 'would not negotiate with the Troika', and comically they then negotiated individually with the IMF, the ECB and the EU. They are under pressure to fulfil their promises to the Greek people and will surely exit the European Union soon, at which point the Euro should weaken further. With the Euro currently making up 57.6% of the DXY index composition, any decline in the Euro puts a bid under the Dollar.
Although they don't correlate to 100% accuracy in shorter time periods, gold and the dollar do correlate in the big picture. If the dollar does move a lot higher in the coming months as I expect, we may see our final gold price decline to bear market lows towards the end of this year. The current rally is therefore an opportunity for aggressive traders to add to their short positions, whereas investors may like to wait for a few months before adding to their purchases.
Gold Miners
The gold miners are set up for further upside, although we may see a move slightly lower before this materializes. I have included a 2 hour chart for the majors below, and you can see that targets have not changed.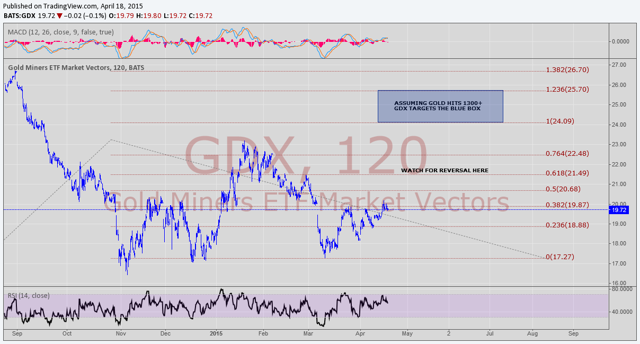 Gold Chart
I have included an updated chart, although in truth not much has changed from last week: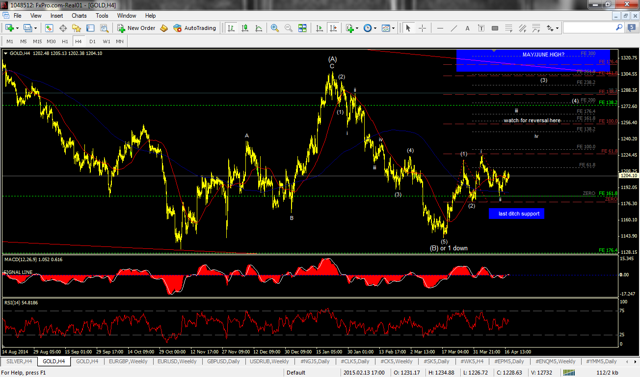 We still have the most bullish 1,2,i,ii count in place, although please note the region marked last ditch support as it is perfectly feasible that we could decline to $1163/72 and maintain bullish posture.
The bulls want to see a move higher than $1211 followed by a further move above $1225, as this would then signify we are on our way to at least $1243. Should we accomplish this without heading to lower support first, the chances are that gold will eventually move above our January $1308 high.
If we were to head to lower support the probability of exceeding $1308 decreases considerably but is not diminished completely.
Should we break lower support and then the $1140 lows, we are likely to see a decline towards $1086. This is not my primary expectation as there are a number of factors that point to a further rally in the gold price, but as the saying goes 'forewarned is forearmed'.
I wish everyone good luck for the coming week!
Disclosure: The author is long GLD, GDX.
The author wrote this article themselves, and it expresses their own opinions. The author is not receiving compensation for it (other than from Seeking Alpha). The author has no business relationship with any company whose stock is mentioned in this article.