In my last post on the Canadian dollar (NYSE:FXC), I claimed that it was time to start buying Canada while at the same time cautioning about an over-extension in the currency in reaction to the latest statement on monetary policy. The Canadian dollar managed to continue gaining strength over the next two days. However, the reaction to Friday's (April 17th) strong economic numbers finally demonstrated what can happen when a currency gets over-extended.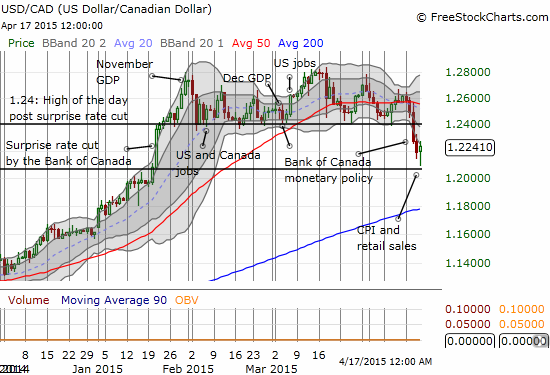 A new lower trading range is likely developing for the Canadian dollar versus the U.S. dollar
Interestingly, the Canadian dollar's resurgence came to a halt right where the currency sat ahead of the Bank of Canada's surprise rate cut in January. This apparent support line sets up a likely trading range between 1.21 and 1.24 for the short-term. I accumulated all the USD/CAD that I want for this trade, and I am pretty sure it is the last time I will go long USD/CAD for a long time. (As a reminder, I bought CurrencyShares Canadian Dollar ETF as the longer-term play. I still plan to accumulate this position over time).
Despite the Canadian dollar's reversal in the wake of the economic news, I think the data further bolsters the case for an end to the Canadian dollar's earlier weakness. The economic news on Friday seems to confirm my earlier conclusion that the Bank of Canada will not be cutting rates again and that its next move will likely be to reverse the rate cut, perhaps as early as 2016. March's Consumer Price Index (NYSEARCA:CPI) excluding gasoline increased 2.2% year-over-year. Core CPI inflation has remained steady above 2% since the middle of 2014. Transportation was the only component that experienced a year-over-year decline in price in March. The Bank of Canada's 2% target is measured against total inflation which was only 1.2%. With the Bank looking through this decline as transitory, it seems more certain to me that another rate cut from here makes little sense.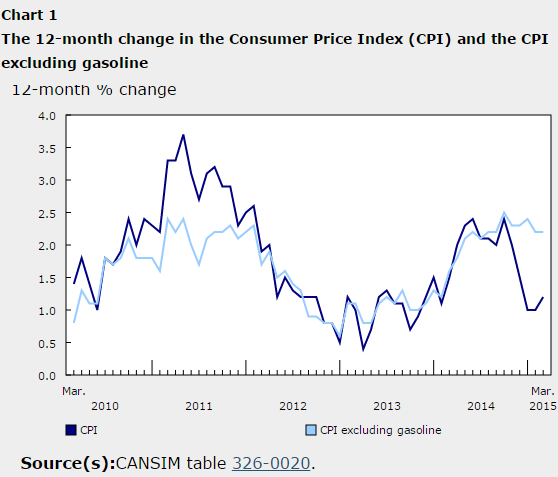 Canada's CPI excluding gasoline is still above 2%
Source: Statistics Canada
Retail sales in February rebounded after two consecutive months of declines. From Statistics Canada:
"Following two consecutive monthly declines, retail sales rose 1.7% in February to $42.2 billion. Gains were widespread as all 11 retail subsectors reported higher sales. Sales at motor vehicle and parts dealers rose after four consecutive declines, while sales at gasoline stations rose for the first time since June 2014.

In volume terms, sales rose 1.3%."
Nova Scotia was the only major province to experience a month-over-month decline in sales.
Of course the jury is still out on the sustainability of the good numbers, but the dots are starting to connect for a stronger Canadian dollar than we have seen since the surprise rate cut.
Oil is of course the major wildcard for Canada. Note well that the Canadian dollar's weakness against the U.S. dollar topped out exactly where oil last bottomed out on March 18th, shown below as a bullish surge from the lows by the United States Oil ETF (NYSEARCA:USO).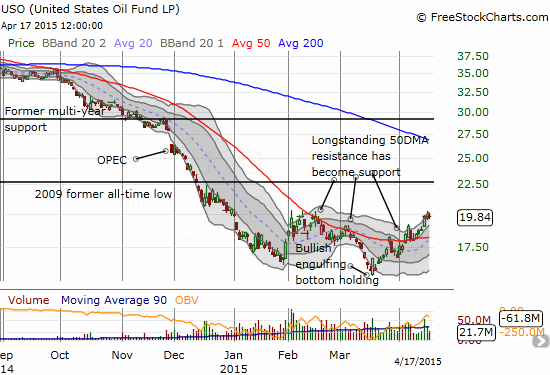 United States Oil ETF is holding support and trending upward again but it now faces a challenge beating out the February highs
Source for charts: FreeStockCharts.com
On that same day, USD/CAD dropped as much as 1.5% before reversing a bit. Since then, USD/CAD has not traded higher than that day's opening print.
Be careful out there!
Disclosure: The author is long FXC.
The author wrote this article themselves, and it expresses their own opinions. The author is not receiving compensation for it (other than from Seeking Alpha). The author has no business relationship with any company whose stock is mentioned in this article.
Additional disclosure: In forex, I am long USD/CAD