Ah, how things have changed since I started writing on SA 3 years ago. Fear is gone. Some prominent news outlets such as CNN and Business Insider, warn that euphoria (and subsequently a downdraft) are upon us in the not so distant future. Even if you're dismissive of all this as scare-mongering, the PE ratio chart below should give you pause, as it suggests a return of the stock market to pre-crash levels.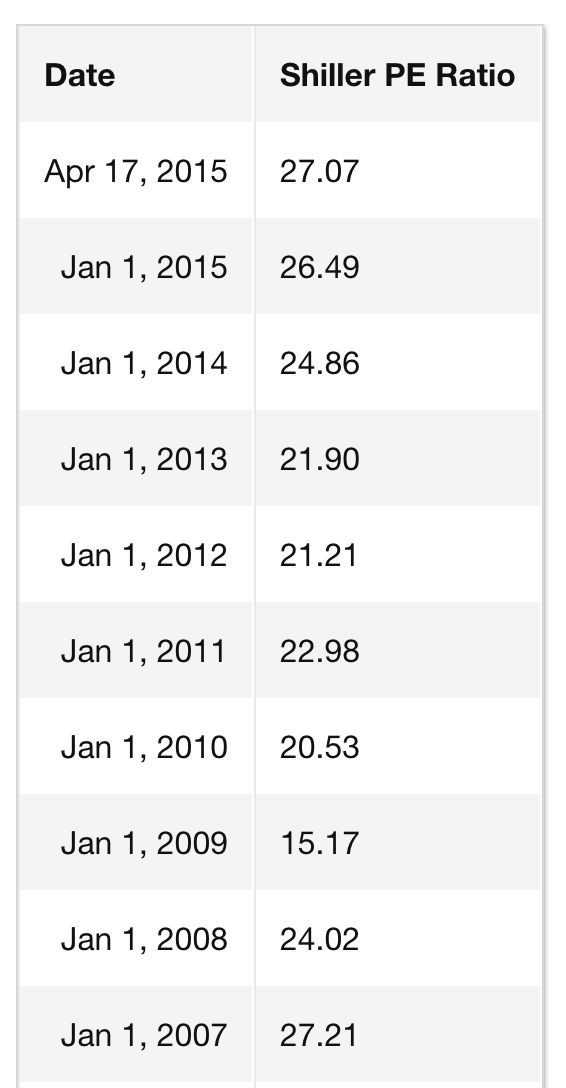 Figure 1. (Shiller - cycle adjusted) PE Ratio Trends
Low Interest Rates, Low Growth Horizon. While the days of zero interest rates are numbered, the collective wisdom is that rates will remain historically low for some time to come (see Figure 2 below). This opinion has come from no less a personage than Ben Bernanke, and he has now been hired by a hedge fund, to help them navigate this low growth future. This prognostication shouldn't make bond investors too comfortable, as even a 1% gyration in interest rates within the 'low interest rate collar' can wipe 1-2 years of return from their portfolios. So if not bonds, and if not a broad basket of (now overvalued) stocks, then what? In the rest of this article, I argue that the answer is stocks. But, in particular, 'Old' Technology stocks!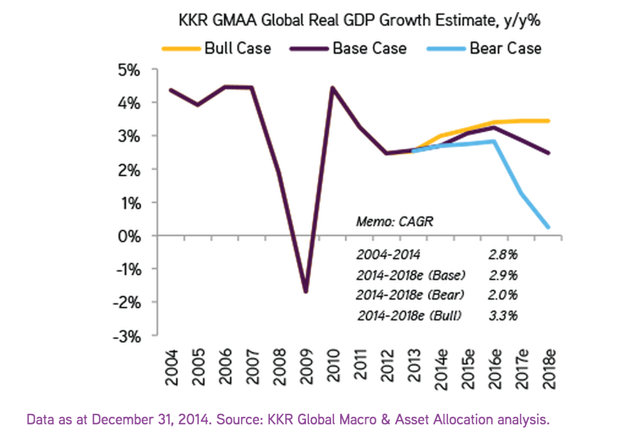 Figure 2. Global Growth Predictions
Large Tech is mostly 'Old Tech'. If you look at the largest technology companies by revenue, it is dominated by 'old' companies such as IBM (NYSE:IBM), EMC (EMC) Qualcomm (NASDAQ:QCOM), Cisco (NASDAQ:CSCO), Microsoft (NASDAQ:MSFT) and Oracle (NYSE:ORCL). Companies that were founded in the last millennium, and have made it through a bubble or two. These are companies with several generations of products in the market (ranging from new to legacy), a who's who of blue chip customers, and substantial cash in the bank. What these companies are lacking is growth, or I should say growth by Tech stock standards.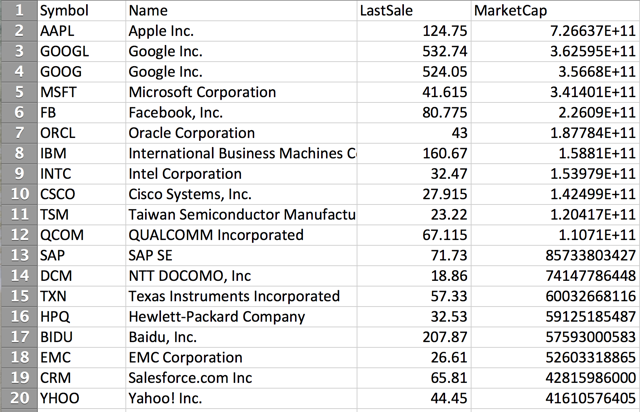 Figure 3. The top Technology Stocks by Revenue
Tech PE Trends. With the backdrop of a market PE in the 17-19 range, below we have the PE ratios for some of the largest Old Tech companies. Not only are all their PE's 20-40% below market, they are trending lower. These cash rich companies are still growing healthily, even if they make look like slow turtles compared to new tech darlings such as Netflix (NASDAQ:NFLX) or Facebook (NASDAQ:FB). So right here you're getting better than market average earnings growth, for below market average PE. I am not the only one seeing value in Old Tech. So are activist investors who can bend these companies to favorable (to the individual investor) liquidity events using their cash hordes and loud market voices. Venture Capitalist Marc Andressen goes so far as to say that every large tech company will split in the not so far future. But how do I know these activists will succeed in my investing time frame, and that Old Tech stocks won't stay as 'zombie' with no growth and no stock appreciation for prolonged periods of time?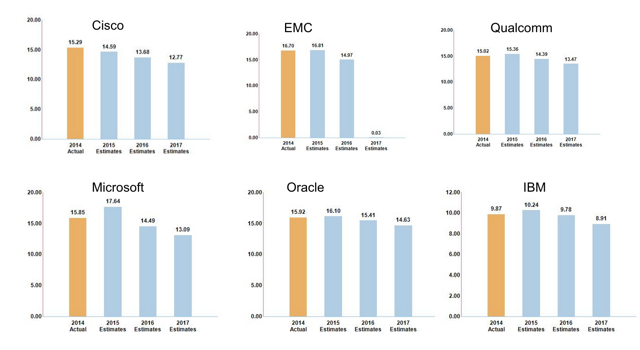 Figure 4. Old Tech PE ratio trends
Activists & Boardroom Success. Well, there are no guarantees in life. But Elliott Partners the EMC activist, Jana the Qualcomm activist, or somebody who takes the RBC call to split Cisco are all activists with past successes. Not to mention (as indicate by Figure 4 below), activists are having more and faster success with bending corporate boards to their will. IBM is already under Warren Buffett's wing, and he is likely to pressure IBM into slower but steadier growth. Oracle is more likely acquirer than acquired, with Larry Ellison almost of a private equity mindset. So, let's say we are convinced that these stocks represent good value and will eventually be the beneficiary of a positive restructuring event, how long do we wait and are we paid to do so?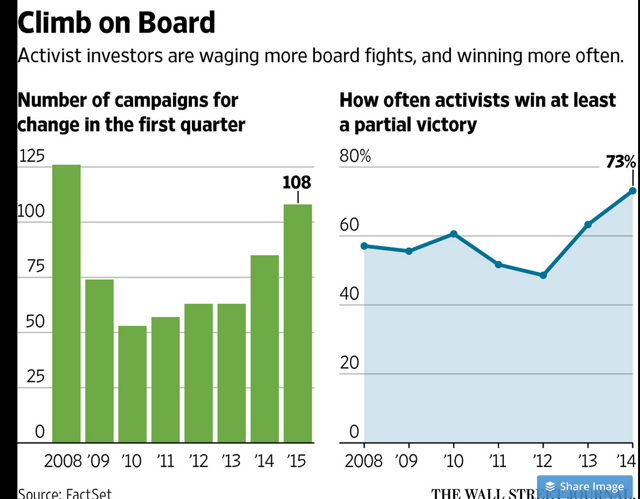 Figure 5. Boardroom Activism trends.
Tech Dividend Growth. The answer is a different kind of yes. Are these high dividend stocks yielding 4-5%, so I'm paid today to wait? The answer is 'no'. Old Tech yields between 1.5-3% today, interesting but not hugely attractive if cash today is your goal. But most of these stocks have dividends growing at a 15-20% clip and have a payout ratio of less than 30%. The dividend is safe, and likely to double in the next 5 years. So on a total return basis over a 3-5 year horizon, you either have a stock that rises substantially from restructuring, or a rapid rise of dividend, or both.
All in all, in a market that is richly valued and with a likely annual return of 6-8% over the decade, Old Tech offers higher and safer returns. A conservative approach is to bet on a basket of Old Tech that mixes current return and activism - with IBM, Microsoft and Cisco providing the former, and Qualcomm, EMC and Oracle providing the latter.
Disclosure: The author is long QCOM, ORCL, MSFT.
The author wrote this article themselves, and it expresses their own opinions. The author is not receiving compensation for it (other than from Seeking Alpha). The author has no business relationship with any company whose stock is mentioned in this article.