Every parent, grandparent or anyone who ever watches movies knows Dreamworks Animation (NASDAQ:DWA) or its most famous character Shrek: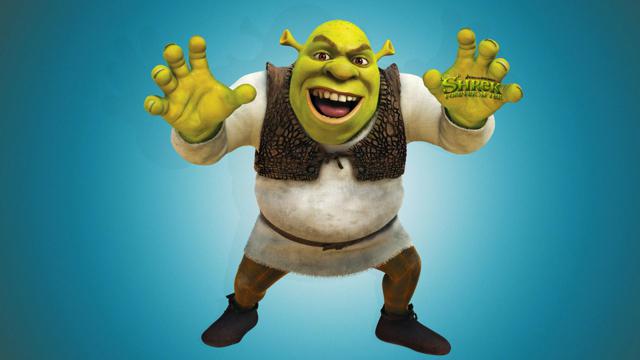 Image: Shrek, Dreamworks Animation
How much the market misunderstands Dreamworks Animation and its prospects is best illustrated by the way it is traded. After every new movie release, there is a pretty big swing in the stock price. I will go by a movie maker's adage: Show don't tell.
Release of Home, March 27, 2015: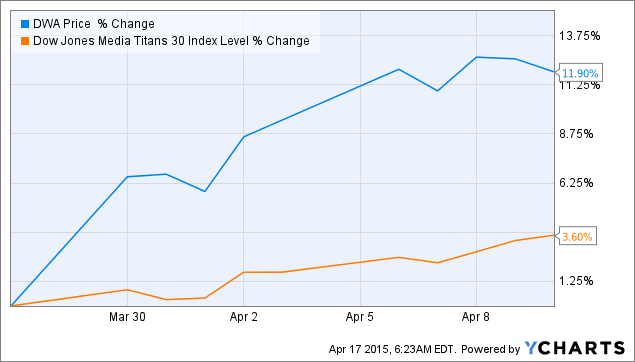 DWA data by YCharts
Release of Penguins: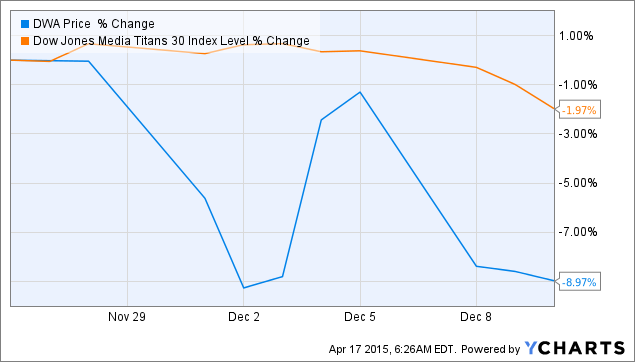 DWA data by YCharts
Release of How To Train Your Dragon 2: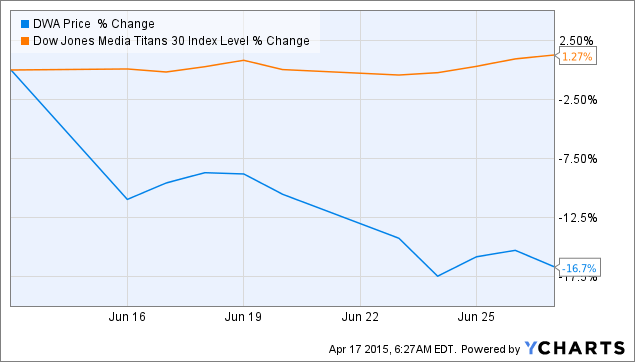 DWA data by YCharts
Release of Mr. Peabody & Sherman: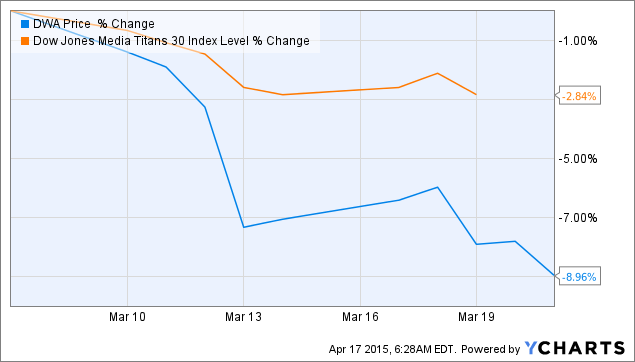 DWA data by YCharts
The above graphs show the stock performance two weeks after the last four feature film releases. A strong price reaction is very typical for Dreamworks, while the performance of a single movie does not have that much impact over the long term and this is increasingly true as the international box office is becoming more important and the company's library of content increasing in size.
Dreamworks makes money from several different segments besides feature movies, although to an extent these sources would dry up if the company discontinued its feature film business. Fazal Merchant (CFO) expects 50% of revenue will come from non-feature film content in 2015. The important sources of income besides feature movies are:
Consumer articles; this includes toys based on Dreamworks' characters but also licensing deals to use the characters to sell serial or build DreamPlaces
Library revenue; long tail catalog of 30+ movies that still makes money
Problems and Risks
There are quite a few reasons Dreamworks traded down over the recent past. The company only releases Home in 2015 and will focus on exactly two releases per year going forward down from two and a half. There was also a significant amount of unrest at the company level with jobs getting slashed, costs getting cut and the creative director getting replaced.
A risk with Dreamworks is that its movies do badly at the box office. Before Home the company had a bad run, and even though I've shown the company has a number of revenue streams, the market does not take kindly to box office misses. With Dreamworks decreasing its number of releases per year, this increases the significance of other revenue streams further but also puts more pressure on the films it does release. With the number of shots going down, it better make them count.
A strong dollar also poses some risk, especially with international sales growing faster than domestic sales. When the global infrastructure for streaming content improves, this risk will be magnified. Although in the aggregate, this is a good problem to have.
Increased competition from companies that decide to invest in content, targeting Dreamworks' designated audience, can also work to the company's disadvantage. Dreamworks does have a competitive advantage with its built up library of character intellectual property. Over time, competitors can chop away at its market share. Especially if the firm fails to produce dominating franchises that are able to attract a solid fan base, the threat from competition will increasingly become a problem. Luckily, Dreamworks has a strong track record and two new creative directors, and Katzenberg is paying a lot more attention to the creative process.
Valuation
On the last earnings call, we got increased visibility into the company's gross margins. These are for the most part better than I thought. My updated numbers from previous PRO coverage reflects that.
To work out a normalized scenario for 2017, I do so by segment and exclude the one-time release of an additional movie outside of the normal schedule; Captain Underpants and a number of wildcard value drivers. Wildcards are the releases under Oriental Dreamworks and others I will discuss in the next paragraph. Because of these additional drivers I am fairly confident that even when box office performance comes out below expectation, I can still get bailed out and attain a good return.
| | | |
| --- | --- | --- |
| Segment | Estimated Net Earnings (million $) | Multiple |
| TV | $65 | 20x |
| Consumer article | $30 | 10x |
| Library | $90 | 10x |
| Feature movie | $125 | 10x |
Source: author's normalized earnings scenario 2017 DWA
A big caveat to my projection is that earnings for Dreamworks are highly volatile. The table above shows my average expectation. Actual results can miss the mark by a wide margin and surprise both to the upside and downside.
Still, looking at Dreamworks' state in 2017 and applying reasonable multiples to its core components shows that the company can quickly become worth $3.75 billion. The TV multiple is high because the segment is showing a very high growth rate and I expect it will continue to grow fast.
The current undervaluation, as illustrated by the discrepancy between today's stock price and expected future earnings, is very much a function of the growth rate of TV and the market underestimating the value of the intellectual property library. There is a lot more to Dreamworks than its latest feature film production. The market should wise up to that in the coming years.
Optionality
The true value of the company is driven by the components discussed in the previous paragraph and in particular library/TV are greatly underestimated components. There are a few hidden options embedded in this company that carry little to no risk but give you some fantastic exposure on the upside. How much the company will be helped by the drivers below is highly uncertain. Currently, I have no good way to quantify this and that is why I left them out of projections. It is important to know about these options potentially they can be meaningful in the future and you don't want to be caught off guard:
YouTube model change:
Interestingly, Google is going to set up YouTube premium later this year. Google will charge users $10 per month and this could be a good fit for some of Dreamworks' content. YouTube's standard revenue split is 55/45 in favor of the content creator. What revenue would look like and how it would be divided among the creators taking part in the offering is all highly uncertain. There is potential here for revenue to increase meaningfully on the back of this partner model change. Katzenberg said on the earnings call:
As of Feb. 20, DreamWorksTV is now the number 1 family entertainment channel on YouTube with monthly viewerships and subscriber growth exceeding the Disney Channel, Nickelodeon ((and)) Cartoon Network," Katzenberg said.
The company owns a number of channels on YouTube but the successful AwesomenessTV has 2.3 million subs and it is probably its largest. Increased choice of how to monetize its YouTube content should help contribute to the value of the segment.
DreamworksTV channel Asia
In the second quarter of 2015, Dreamworks will launch a 24x7 DreamWorksTV channel in 19 countries in Southeast Asia. HBO Asia (NYSE:TWX) will manage the affiliate and ad sales and delivery services for the channel. Dreamworks does not need to put a lot of time or money into this but just leverages 3,000 hours of its TV ready content and adds another revenue stream to the mix.
DreamPlace
In the fourth quarter, DreamPlaces are set to open in eight shopping malls across the United States. If these are well received, the company believes there is a real opportunity to expand DreamPlace into more locations, both in the U.S. and abroad. This is also a licensing business meaning the company collects a royalty revenue stream but does not carry operational or financial risk. Malls are doing seven-year leases and pay a significant fee.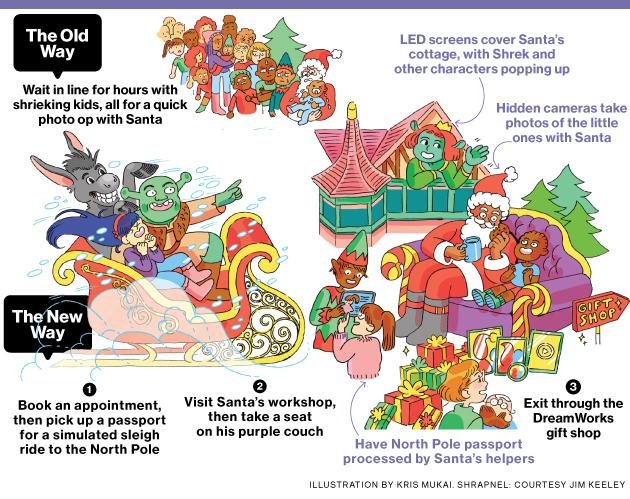 Source: Bloomberg
Oriental Dreamworks Joint Venture
The Oriental Dreamworks JV will produce one feature film per year from 2016 and on. The venture is fully capitalized. Giving up 55% of revenue to Chinese partners does not appear to be ideal but co-producing with Chinese partners raises the distributor percentage of Chinese box office sales from a low 25% to 43%, which is in line with general international box office takes. There are also plans to develop additional content besides feature film that is also specifically geared towards the Chinese market.
Dreamcenter
Dreamcenter is called a side project of Oriental Dreamworks. Dreamworks Animation is a partner in the project, but the financing of the $3.1 billion is done by CMC and China Development Bank. The partnership involves no financial commitment by Dreamworks. At this point, we are pretty much in the dark how Dreamworks will share in the proceeds but at the very least it should further the company's brand in China and increase visibility of its feature films and TV channels.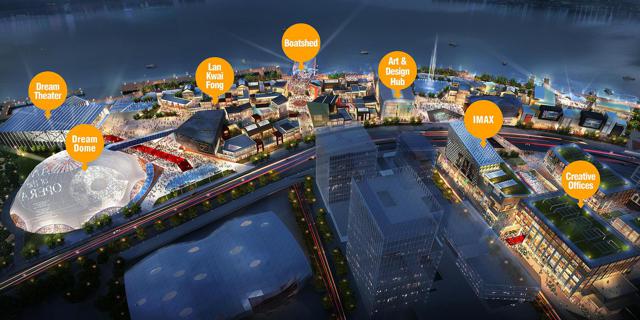 Source: Dreamcenter
Fuhu
Dreamworks owns 3% of Fuhu's equity securities. Fuhu makes tablets for kids. It was Inc.'s fastest growing company of 2013 and 2014. Estimates put market value after an IPO at between $1 billion and $2 billion. Dreamworks also derives some revenue from deals with Fuhu, but this revenue is considered immaterial at this time. This equity stake in Fuhu is not a big deal, but given the growth trajectory of Fuhu, it can quickly become one. Especially, because Dreamworks is exposed both through its equity stake and leverages its content on the platform. Something to watch.
Conclusion
To get to a market value of $3.75 billion in 2017, the company would need to increase in market value at a compound annual return of 30%. That is a very good rate of return and much above what I deem to be a reasonable expectation for the market as a whole. That is why Dreamworks continues to be one of my larger positions.
Disclosure: The author is long DWA, GOOG, TWX.
The author wrote this article themselves, and it expresses their own opinions. The author is not receiving compensation for it (other than from Seeking Alpha). The author has no business relationship with any company whose stock is mentioned in this article.