Industrial commodities have not been back to the peak after the financial crisis of 2008-09 and this article discusses the next likely upside trigger for industrial commodities. The article also discusses the ETF and stock investment options that can be considered for gradual exposure as sentiments remain depressed for the sector.
After peaking out at 460 in June 2008, the CRB commodity index slumped to 209 by February 2009. This crash in the index was due to the global credit freeze after the Lehmann Brothers collapse and the CRB commodity index again recovered over the next two years, driven by credit fuelled growth in China. The CRB commodity index surged back to 370 by March 2011. However, since that time, the index has trended lower and currently trades at 221. The index level is almost the same as it was after the credit freeze. Clearly, the sentiment for industrial commodities has been bearish and the single biggest factor is China.
To put the China factor into perspective, the following comment from a Dr. Marc Faber interview would suffice -
In order to understand China, you have to go back in history. After the revolution and the opening up, the growth during the 1990s up until now has been mind-boggling. In 1980, China consumed 2% of the world's industrial commodities. By 2000, it was 12%, and now it is 47%.
Therefore, China has a huge impact on global commodity prices and in my recent article I discussed how China's growth continues to decline. Further, the IMF world economic outlook also suggests that China's economic growth will decline in 2015 and in 2016. In other words, if China remains the factor for industrial commodity prices to trend higher, the rally in industrial commodities is not coming anytime soon.
Even amidst this bearish outlook, my view is to gradually accumulate industrial commodity stocks and ETFs with an investment horizon of 3-5 years. As mentioned earlier, China is unlikely to recover soon and IMF outlook pegs China's 2015 and 2016 GDP growth at 6.8% and 6.3% respectively after GDP growth of 7.4% in 2014.
However, my focus is on India and I believe that India has the potential to trigger the next rally for industrial commodities. I am not suggesting that industrial commodities will surge on demand from India, but I believe that industrial commodities can trend higher from these levels over the next 5 years. IMF expects India's GDP growth to be 7.5% for 2015 and 2016 and I expect India's growth trajectory to remain strong considering the point that the current government has been focused on development. If growth sustains at 7.5% for the next 5-10 years, the demand for industrial commodities will increase significantly.
The chart below, which gives the per capita consumption of commodities in India as compared to China and the world, puts things into perspective.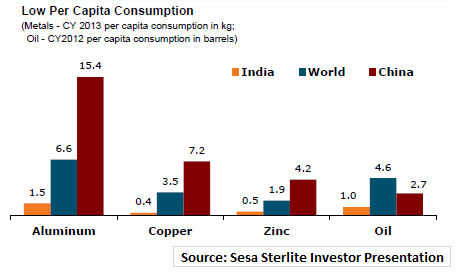 India's per capita consumption of aluminum, copper and zinc is significantly low as compared to the global average. With a strong urbanization trend likely over the next 20 years, India's per capital consumption of commodities is bound to surge.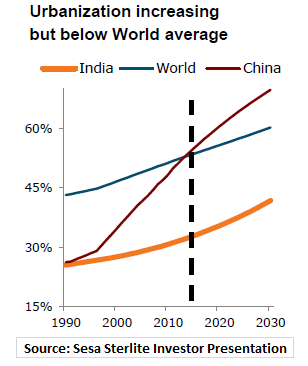 The important point to note here is that China's commodity consumption still remains the largest in the world and I am not suggesting that India's commodity consumption will be anywhere near China even in the next 10 years.
The point I am trying to make is that the decline in commodity consumption by China can easily be offset by an increase in commodity consumption by India. Therefore, the overall demand for industrial commodities is likely to remain robust.
I must also add here that China is in the midst of slowdown and sluggish GDP growth can continue for few years. However, as the chart above shows, there is still significant urbanization likely in China in the coming years and that will ensure steady demand for industrial commodities.
Therefore, I don't expect industrial commodities to witness further depression in the coming quarters. I believe that the slowdown factor related to China is discounted in commodities and I also believe that India's GDP growth and increasing commodity consumption will start offsetting the negatives related to commodity demand in the next few years.
In my view, this is a good time to accumulate some commodity stocks and ETFs. I suggest gradual accumulation of commodity stocks as I don't expect a big surge in commodities anytime soon. I expect industrial commodities to gradually trend higher.
Among stocks, I like Freeport-McMoRan (NYSE:FCX) with the company trading at a price to sales (trailing twelve month) of 1 and an attractive TTM EV/EBITDA of 4.7. Along with copper, Freeport-McMoRan is also a energy play with the company having deep-water assets. With both industrial commodities and energy prices being depressed, the stock is also trading at a discounted valuation, making it a strong buy at these levels. Among ETFs and other investments, the Rogers International Commodity Metal ETN (NYSEARCA:RJZ) and the Dow Jones - UBS Commodity Index ETN (NYSEARCA:DJP) are good investment options for the long term.
Disclosure: The author has no positions in any stocks mentioned, and no plans to initiate any positions within the next 72 hours.
The author wrote this article themselves, and it expresses their own opinions. The author is not receiving compensation for it (other than from Seeking Alpha). The author has no business relationship with any company whose stock is mentioned in this article.