In my previous article about Le Gaga Holdings (NASDAQ:GAGA), I pointed out the disturbingly close ties between Le Gaga and Chaoda Modern Agriculture (OTCPK:CMGHF). Chaoda's stock has collapsed following multiple reports alleging the company is engaging in fraudulent activities, and trading of Chaoda's main listing of shares in Hong Kong has been halted. Given Le Gaga's close ties to Chaoda, which include having four ex-Chaoda employees on Le Gaga's board and Le Gaga's VP of the board being a co-founder of Chaoda, investors are naturally curious as to whether Le Gaga is also engaging in questionable business practices.
My further research into the matter finds more troubling similarities between Chaoda and Le Gaga. Chaoda has long claimed to be an extremely productive farming operation. If Chaoda's numbers are to be believed, it produces more yield per unit of farmland it operates than the vast majority of high-tech Western farming operations. SA Contributor Clemens Scholl explained in his March 2011 bullish article on Chaoda:
"[Chaoda's] yield per harvest has been stable at around 28 tonnes per hectare over the past years. The evolution of the yields over the past years is given in the graph below, along with a comparison of the five-year average yields of Germany, France and the U.S. for vegetables. Chaoda can be proud of its track record, as its harvest volume exceeds those of France and the U.S. by some margin."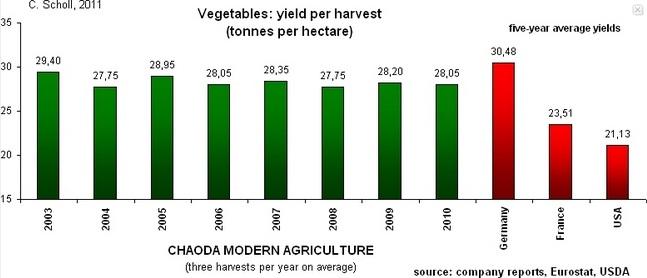 As you can see from Mr. Scholl's graphic, Chaoda claims to have produced remarkably good yield per hectare, particularly given the challenges of farming in China as compared with farming in historically fertile land with highly-skilled labor and extensive machinery such as Germany or the United States. But Chaoda's reported results have been tainted by revelations from Next Media. A Next Media correspondent found that Chaoda's allegedly productive farming base was, "a vast wasteland, with trash everywhere." It seems extremely likely that Chaoda was greatly overstating the yield of its land.
Given this information, Le Gaga's investors should be more than a bit frightened when considering that their company reports an even more seemingly outlandish yield per hectare of land figure. Le Gaga reported in its FY 2011 earnings release that it produced 123,294 metric tons of output. It also stated in that same report that it had total arable land of 1,360 hectares. Using the same 3 harvests per year average as was used in Mr. Scholl's Chaoda analysis, we can conclude that Le Gaga produced an astounding yield of 30.22 tonnes per hectare.
For comparison, I have expanded Mr. Scholl's graphic (Data sourced from Mr. Scholl. Additional data from Le Gaga's corporate filings, Indonesian data from the Australian Centre for International Research, and Chinese data from the USDA Economic Research Service/Onion World Magazine):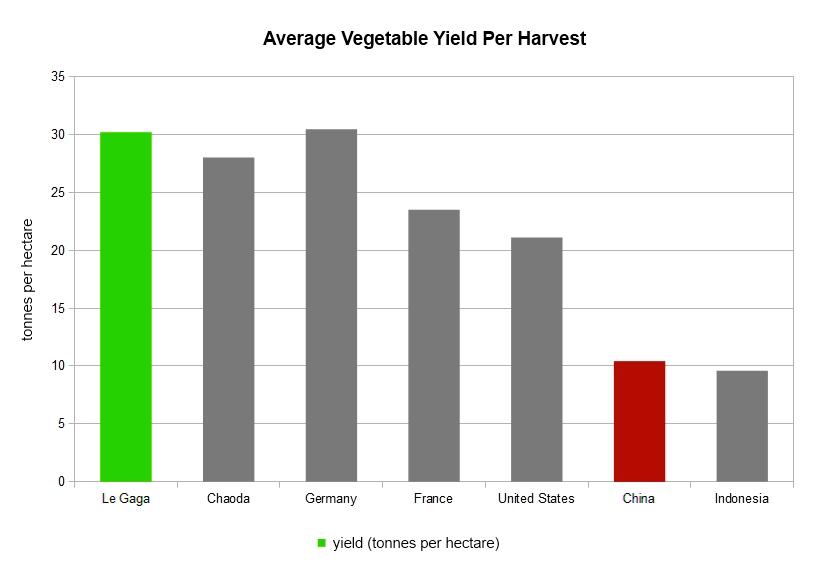 I find it unlikely that Le Gaga is able to generate such amazing yields from its vegetable farms. China is not known for having good soil, a great farming climate, or particularly skilled agricultural labor. As you can see, the average yield of Chinese farms far trails that of western farms as found in Europe or the United States. I find it hard to believe Le Gaga is really as productive as it claims – particularly since it claims to be even more productive than Chaoda, which multiple sources have persuasively argued is overstating its production greatly. Many investors in previous Chinese frauds have been tricked by accepting the idea that business is done differently in China. But stop and think for a minute: is the farming vegetables really something that can be done so much more efficiently in China than the rest of the world? I think the answer is clearly no.
Le Gaga's supporters would likely claim that the company's focus on greenhouses is the 'special sauce' that allow Le Gaga to achieve incredibly high yields. However, this argument can quickly be dismissed. Le Gaga, for Fiscal Year 2010 only covered 4,420 mu of its 18,850 mu of arable land in greenhouses (23%), and its greenhouse land was slightly less than three times as efficient as its open land according to a UBS analyst's estimates. The presence of greenhouses on less than one quarter of Le Gaga's land thus explains only a small portion of the discrepancy between Le Gaga's super-efficient farms and the average Chinese farm.
We can find more evidence for the idea that Le Gaga may be overstating its production by looking at competitors' filings. The 2010 prospectus from China Minzhong in particular raises the possibility that Le Gaga may have been inflating its output. In China Minzhong's prospectus which it filed as part of its going public process to list on the Singapore stock exchange, the company included a comprehensive analysis of competition within its industry based on research from Frost & Sullivan. I have reproduced two tables from the prospectus below (source: pages 116, 117 of that prospectus):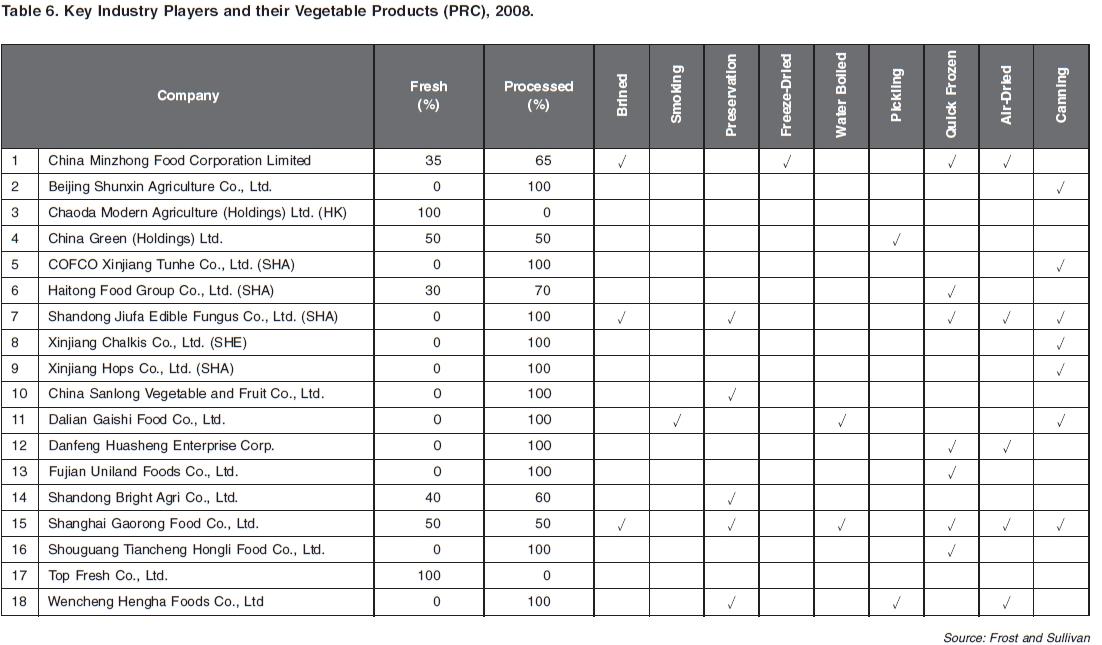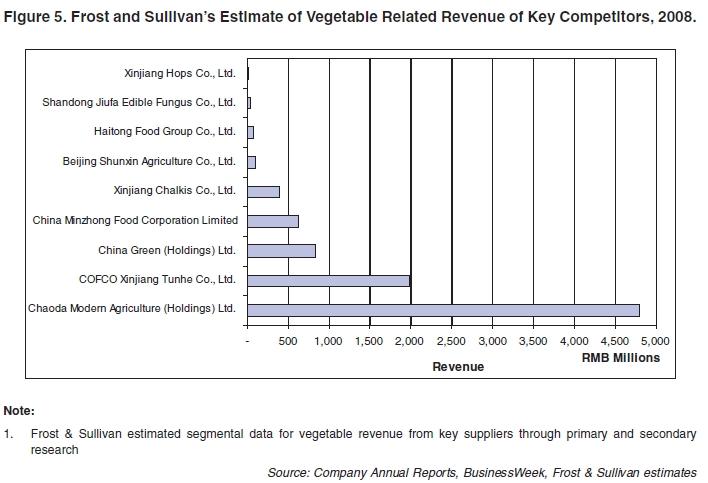 As you can see, Le Gaga fails to appear in either listing. For Fiscal Year 2008, Le Gaga's SEC filings claim 154 million RMB ($24 million) in revenue. As you can see from Figure 5, at least four of Minzhong's competitors produced less than Le Gaga's reported revenue from vegetable production in 2008. Furthermore, the 18 company competition table shown in Table 6 includes ketchup producers, mushroom growers, and grain producers for alcohol but fail to include Le Gaga, which is a much more direct form of competition to Minzhong given Le Gaga's clear focus on fresh produce production, which is also Minzhong's specialty. Given the variety of competition presented and the very small scope of several listed competitors, it makes no sense why Le Gaga, a much more important competitor to Minzhong – if Le Gaga's SEC filings are accurate – would not be included in the competition tables.
Le Gaga's reported profit margins are also consistent with the idea that the company may be overstating production. The company produced a jaw-dropping gross margin of 63.4% in Fiscal Year 2010. This compares very favorably to Apple (NASDAQ:AAPL). Despite being held-up as an example of a company that can charge obscene markups for its products due to its powerful branding strategies, Apple's 40% gross margin pales in comparison to Le Gaga's 63% margin. If we examine operating profit margins, we also see that GAGA's operating margins are higher than AAPL's in the most recent fiscal year. Perhaps Apple should consider switching from iPhones over to cabbages and carrots in order to enhance its profitability?
No matter how one looks at Le Gaga's margins, they simply make no sense. Farming is a commodity of businesses – an onion is an onion, no matter who grows it. If Le Gaga is truly generating 60 cents of gross margin on every dollar of sales, competitors should be appearing left and right to try to take advantage of the opportunity. Once again, the commonly-used "business is different in China" retort is not sufficient to explain Le Gaga's strangely high margins.
Even granting the generous assumption that Le Gaga's production output and margins are being accurately reported, there is still another problem for Le Gaga's investors: The vegetable industry in China is getting squeezed. Due to rapid price increases in recent years, the government has taken notice and is taking action both informally and in some direct steps to combat soaring inflation. The government placed some price controls on food goods in November of last year, and has continued to mettle around in the market throughout this year.
For example, Forbes reported:
In early April [2011], Beijing asked noodle makers to hold the line on prices. At the end of that month, the NDRC actually prohibited producers of liquor, food, and daily items from hiking [prices]. [...]China's producers, like those elsewhere, know how to defeat price controls in whatever form they are imposed. Producers of cooking oil, for example, are shuttering production lines, holding inventory off supermarket shelves, or closing altogether.
The market has, it seems, already figured out that the Chinese produce industry may be heading for trouble. Stocks across the sector have been collapsing this year. In addition to Chaoda which is down more than 80% year to date, industry leader China Minzhong (Singapore: MINZ) has dropped more than 50% from its 52-week high, and the other notable large player, China Green Holdings (HK: 904) has fallen more than 70% off of its 52-week high.
Far from being a sector bargain, Le Gaga has actually been outperforming its Chinese produce-growing peers as investors in America seem to failed to understand how badly the sector is faring this year. Add to that Le Gaga's deep connections to scandal-tainted Chaoda that I highlighted in my first article, and the suspiciously amazing financial profit margins and production figures the company reports, and it becomes clear that Le Gaga is a risky investment for a wide variety of reasons.
Disclosure: I am short GAGA.
Additional disclosure: I and researchers who assisted me have short positions in or own options on the equity covered in this article. We stand to gain significantly if the equity of the company discussed markedly declines in price. Following publication, we may transact in securities of the company discussed. To the best of my knowledge, all information in this article is accurate, reliable, and has been obtained from public sources. However, I present the information "as is" and I will not necessarily update or supplement this article in the future. This information is not a recommendation or solicitation to buy or sell securities, nor am I a registered investment advisor.