By Jonathan Chen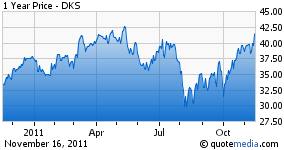 Dick's Sporting Goods (NYSE:DKS) reported better than expected third quarter earnings this morning, and the company also announced a dividend for the first time. Shares are soaring this morning and were up more than 5% in early Tuesday trading.
The Coraopolis, PA-based company reported third quarter earnings of 32 cents per share on $1.18 billion in revenues. Wall Street was looking for earnings of 26 cents per share on $1.16 billion in revenues. The company also said that same store sales in the quarter were up 4.1%.
Dick's also raised its full year outlook, raising full-year estimated non-GAAP earnings range from $1.94-$1.96 per share to $2.01-$2.03 per share.
"In the third quarter, we generated sales and earnings meaningfully above our expectations while increasing our margins and further strengthening our balance sheet," said Edward W. Stack , Chairman and CEO, in a company release. "As a result of the solid third quarter performance and our expectations for the fourth quarter, we have raised our full-year guidance."
The earnings beat and guidance raise is impressive enough in a weak economy, but for the company to have enough confidence to announce a dividend of 50 cents per year is very impressive. That shows confidence in management's and the company's ability to manage its free cash flow, while not detracting from business operations. This works out to be a dividend yield of 1.2% at current share prices, but as the company continues to take market share and expand its reach, there is the potential for further dividend increases in the future.
Stack talked about the dividend in the company release, stating that, "Our Board's decision to initiate a dividend demonstrates its confidence in the Company's financial strength and growth potential. Our solid cash position and cash flow outlook enable us to continue to invest in future profitable growth opportunities, while also returning cash to our shareholders through the dividend."
J.P. Morgan was extremely positive on the earnings report in a research note. The New York-based investment bank wrote, "DKS reported 3Q11 operating EPS of $0.32 vs. our estimate of $0.25 and consensus of $0.26. Same-store sales were 4.2% vs. our 1.6%E (and real expectations of ~3%) with Ecommerce adding an estimated 50 bps. Gross margin increased an impressive 130 bps to 29.7%, better than our 29.2%E. Total operating expenses were well ahead of expectations, down 50 bps YOY to 23.8% vs. our 24.4%E."
Trading at 17 times expected 2012 earnings, shares of Dick's are not cheap. However, the company has been able to grow revenues nearly 9% year-over-year, and earnings jumped 45% year-over-year. This shows that the company has been successful in rolling out stores and capturing the customer. For a retailer to have $483 million in cash is incredibly attractive.
Metrics like this prove that Dick's management has taken the ball and run with it all the way to the end zone.
ACTION ITEMS:
Bullish:
Traders who believe that the strong fundamentals in Dick's will continue might want to consider the following trades:
This could be good for other names like Foot Locker (NYSE:FL), and private retailers, like Modell's and Sports Authority.
Bearish:
Traders who believe that the strong earnings from Dick's are likely to end may consider alternate positions:
Shares have done well this year, gaining 11.5% compared to the S&P 500'S return. If same store sales fall, this could hit the stock. Consider initiating a short in this name.
Neither Benzinga nor its staff recommend that you buy, sell, or hold any security. We do not offer investment advice, personalized or otherwise. Benzinga recommends that you conduct your own due diligence and consult a certified financial professional for personalized advice about your financial situation.
Disclosure: I have no positions in any stocks mentioned, and no plans to initiate any positions within the next 72 hours.