By Brendan Gilmartin
Overview
Salesforce.com (NYSE:CRM) is scheduled to report 3Q 2012 earnings after the close of trading on Thursday, November 17, with a conference call to follow at 5:00 p.m. The actual results are typically released at 4:05 p.m. EST.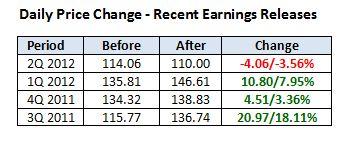 Outliers And Strategy
Key measures:
Non-GAAP Earnings Per Share (EPS). The company expects to report non-GAAP EPS of approximately $0.30 to $0.31.
Revenues. Revenue is projected to be in the range of approximately $568 million to $570 million.
Adjusted Earnings Per Share (EPS) Guidance (4Q 2012). In most cases, Salesforce.com provides earnings guidance for the upcoming quarter that tends to have a direct impact on the direction of the share price. The current estimate is $0.40.
Revenues Guidance (FY 2012). Look for any adjustments to the full-year revenue outlook. The company previously indicated revenue for fiscal year 2012 is projected to be in the range of approximately $2.22 billion to $2.23 billion.
Adjusted Earnings Per Share (EPS) Guidance (FY2012). The company previously indicated diluted non-GAAP EPS is expected to be approximately $1.30 to $1.32.
Given Salesforce.com's valuation, a weak number or below consensus results on any of the aforementioned metrics may be seen as a disappointment in the marketplace.
One of the major knocks against Salesforce.com is its lofty valuation at more than 70x forward earnings and 32x cash flow. These metrics are fairly rich, even with a 27% projected five-year earnings growth rate and gross margins near 80%.
Recent News
11/16: Piper Jaffray reiterated an Overweight rating and a $183 price target on Salesforce.com, according to Benzinga.com. The firm cited improved metrics in the 3Q and good cash flow growth.
11/14: Salesforce.com entered into a definitive agreement to acquire Model Metrics, a mobile and social cloud consulting company.
11/14: Citigroup upgraded Salesforce.com to Buy from Neutral and raised the price target from $122 to $158, according to a report on Forbes.com, citing long-term profitability potential.
11/14: Morgan Keegan reiterated an Outperform rating on Salesforce.com with a price target of $165, according to a report on Benzinga.com. The firm cited expectations for a strong fiscal 3Q, following checks at the Dreamforce conference and currency.
Technical Review
Salesforce.com shares are hovering just above the 200-Day SMA near $134 after rallying more than 20% off the October lows. The shares are now drifting in a key resistance zone between $135 and $140. A break above $140 could drive the shares toward the 52-week high near $160. Should earnings disappoint, initial support is at $130, followed by $125 and $120. (Chart courtesy of StockCharts.com)
Click to enlarge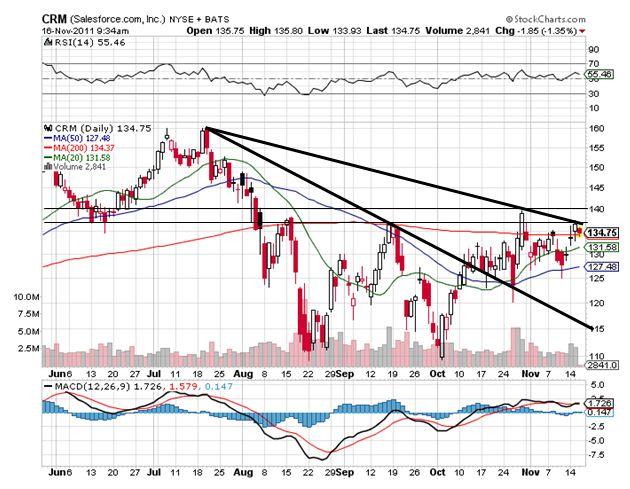 Summary
Salesforce.com shares have eased into a narrow trading range ahead of its 3Q 2012 earnings release. Much of the sentiment surrounding Salesforce.com remains strong, with price targets ranging from $150 - $160, as growth estimates and takeover prospects overshadow the lofty valuation levels and rising short interest (now near 10% of the overall float). The company is also aggressively rolling out new products, including Do.com, aimed at small businesses for task management and social collaboration. The Dreamforce 2011 Conference back in early September also allowed Salesforce.com to showcase its new cloud-based product offerings. Against this otherwise positive backdrop, Salesforce.com is vulnerable to any missteps, whether on non-GAAP EPS, revenues, or the upcoming outlook.
Disclaimer: By using this report, you acknowledge that Selerity, Inc. is in no way liable for losses or gains arising out of commentary, analysis and or data in this report. Your investment decisions and recommendations are made entirely at your discretion. Selerity does not own securities in companies that they write about, is not an investment adviser, and the content contained herein is not an endorsement to buy or sell any securities. No content published as part of this report constitutes a recommendation that any particular investment, security, portfolio of securities, transaction or investment strategy is suitable for any specific person.
Disclosure: I have no positions in any stocks mentioned, and no plans to initiate any positions within the next 72 hours.