Nobody could deny that silver has been one of the hottest commodities over the past decade.
In 2001, silver prices were languishing below $5 an ounce. Then starting in 2005, the white metal started to take off.
By April of this year, silver was trading at $49.82 – just a few pennies shy of silver's all-time high price of $50.36, which it reached in January 1980.
So what happened over the last decade to force silver prices to climb so high?
First of all, silver was simply too cheap at below $5. That's why silver proceeded to double to $10 by 2006. By 2008, it doubled again to $20. This past year silver more than doubled again to trade at close to $50 an ounce before pulling back.
Right now, I'm seeing both fundamental and technical signs that silver is about to fall even further. When it starts to fall, it will be an ideal shorting opportunity for those of us who are ready for it. I'll explain why in a second. First let's take a look at why silver rallied so much.
Silver Is Much More Than The Poor Man's Gold
Silver is often referred to as poor man's gold or gold's little brother. As a precious metal, silver prices roared higher in concert with gold earlier this year.
But silver is more than just a precious metal. It's also an industrial metal that used to manufacture goods all over the world. Computers and cell phones require silver and that's just the tip of the iceberg.
The distinction between silver's two roles is important because it affects how silver trades. When gold takes off, silver tends to follow as a precious metal. However when the global economy takes a hit, silver usually reacts violently to the downside.
Right now, silver is behaving more like an industrial metal than anything else. As an industrial metal, silver looks like it will follow copper lower this year as the global economy contracts.
Where Copper Leads, Silver Follows
Over time silver prices have followed copper prices. There is a very strong correlation between the two metals. That's important because copper is often seen as a bell weather commodity for the economy. Copper is generally the first to react to economic strength or weakness.
The following chart clearly illustrates the correlation between these two metals:
Silver Follows Copper Lower as the Global Economy Tanks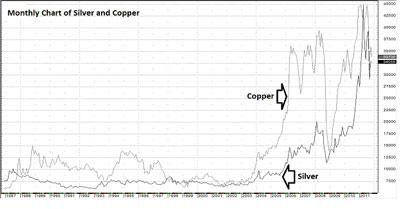 (Click to enlarge)

Copper prices have traded in a volatile fashion lately. Copper dropped from $4.50 per pound in August to under $3 per pound in early October.
Fears of global recession and the continuing debt crisis in the U.S. and Europe were to blame for the drop. Adding fuel to the fire was a slowdown in China which is the world's largest importer of copper.
Copper prices rebounded in October and it traded up to $3.70 per pound. But the bell weather commodity has been going down hard for the past few weeks and is currently trading at the $3.48 level. This does not bode well for silver as an "industrial" metal.
The Technical Picture for Silver
Silver prices tanked from over $49 in April to just over $32 an ounce in May. This drop of 35% in a one month period hurt the silver market and scared away investors from silver.
A quick sharp drop in the price of a commodity tends to do a lot of damage to the technical picture for that commodity. Currently silver prices are starting to look weak again at $34-$35 an ounce. With lower copper prices, I believe that silver prices will follow and another leg down is coming soon.
The Chart Says: "Silver Will Soon Correct"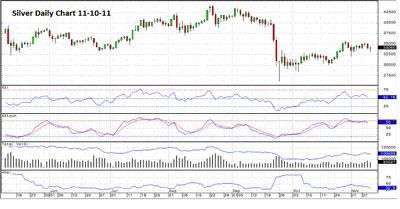 (Click to enlarge)

The daily silver chart provides a number of clues to the future price action. Silver has been unable to rise above $36, the short-term resistance level. Silver's daily historical volatility has been falling. That means there has been less speculative action or less investment demand in the market.
The stochastics, which show silver's price momentum, appear to be turning bearish at the 71 level. Also, the relative strength index is in overbought territory.
Finally, volume has been decreasing and open interest (the total number of long and short positions in the market) is stable again indicating a lack of investment demand in the near term.
Regulators Make It More Expensive to Trade Silver
As I have mentioned before, regulators have been meddling in the commodity markets lately. That's been moving the silver market recently.
Back in April the exchange that trades silver futures raised margins. That made it more expensive for investors and speculators to trade silver. This dampened enthusiasm for the silver market. The 35% drop in silver prices came as a direct result of this action.
Additionally, new regulations under the Dodd Frank Act have made investors and speculators wary of trading silver futures.
The regulations are not clear and investors are concerned that the regulators will simply keep making it more expensive to trade the commodity in the future. That put a dent in prices this year – and it's likely to push silver prices lower.
Silver Is About to Get Tarnished
When technicals and fundamentals line up like this, it's a powerful indicator that a certain commodity will fall. In this case, silver is preparing to go lower – the silver market is about to tarnish.
The silver market has been trying to rally for weeks now and it can't get above $36 an ounce. If it can't climb higher, then silver buyers will get frustrated and liquidate positions. When that happens, we could see silver fall to $27 or lower again, maybe even into the low $20s.
So as a trade, silver looks like a great short position right now. But once it corrects, I'll be looking to buy again on the dips.
Bottom line: the coming correction in silver prices will give you the opportunity to make money on a short position and load up on the white metal at much lower prices. Sell silver now and prepare to buy when it tanks.
Disclosure: I have no positions in any stocks mentioned, and no plans to initiate any positions within the next 72 hours.