Fairholme Capital Management is well regarded as one of the most popular and high-profile asset managers. Its founder, Bruce Berkowitz, is considered by many to be one of the better large investors on the Street, and also a contrarian.
Fairholme is well known for holding fewer, larger positions than most funds of its size, similar to Warren Buffett's strategy. Fairholme filed its 13F for the third quarter on Monday, November 14, 2011. This is a review of Fairholme's larger transactions.
Most of Fairholme's large transactions were position reductions within financials. Fairholme sold out of Morgan Stanley (NYSE:MS), having previously held nearly 12 million shares, and nearly liquidated its entire Goldman Sachs (NYSE:GS) stake for what was valued at over $896 million at the end of the third quarter. Fairholme now owns 23,000 shares of GS, having previously held just under 6 million.
Fairholme also reduced its positions in American International Group (NYSE:AIG), Regions Financial (NYSE:RF) and Citigroup (NYSE:C). AIG is still Fairholme's largest position, owning about $2.2 billion. Fairholme also sold about 5 million shares in Brookfield Asset Management, but still holds over 22.24 million shares.
Fairholme also made some minor purchases within the financials. Fairholme added over 5.3 million shares of Bank of America (NYSE:BAC), and now owns over 105 million shares in the bank. Fairholme also increased its position in Berkshire Hathaway (NYSE:BRK.A) (NYSE:BRK.B), and MBIA (NYSE:MBI).
While most of these transactions were sales of financials, the few purchases within financials appear to indicate that Bruce Berkowitz believes Bank of America, Berkshire Hathaway and MBIA, an insurer, offer more value than the broader group. Below is a chart of the recent performance of the S&P 500 financial sector ETF (NYSEARCA:XLF):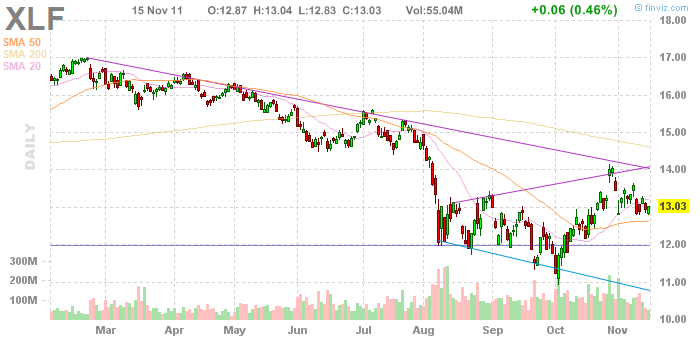 Some of the sales made by Fairholme may have been due to required divesting in response to fund outflows due to fears of market volatility. The funds also usually hold large cash positions.
Berkowitz also sold made several small purchases of large and high-yield telecommunications companies last quarter, including picking up some AT&T (NYSE:T), Telefonica (NYSE:TEF), Verizon (NYSE:VZ) and Vodafone (NASDAQ:VOD).
Disclosure: I am long C.
Disclaimer: This article is intended to be informative, and should not be construed as personalized advice, as it does not take into account your specific situation or objectives.