The first question you might be asking is: When was the second technology bubble, if we are closing in on a third? You may have missed it, but the second tech bubble began around 2005 and ultimately burst with the coming of the Great Recession in late 2007. With that in mind, I will focus on one major part of this cycle that occurred in 2006. Even after mid-2006, the majority of technology stocks continued to feel the lingering effects of the deflating tech bubble as the respective share prices continued to move higher until late 2007, when the bubble popped. This kicks things off with an important question: are we headed for a third technology bubble bust in 2012, or will technology stocks continue to move higher under proper valuations?
You may not want to be reminded, but the dot-com bubble burst in 2000 after a period of technological advances that led to ridiculous valuations that could not be sustained. Unsurprisingly, when the bubble burst, dozens of technology champions plunged to sustainable levels. An important note to make regarding the bubble run up is the majority of these companies offered several splits, giving shareholders a false sense of security. Two companies that are ideal examples of the dot-com bubble are Microsoft (NASDAQ:MSFT) and Cisco (NASDAQ:CSCO).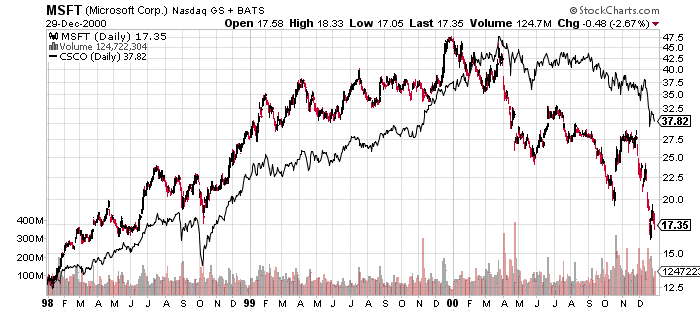 Microsoft and Cisco chart from January 1998 to December 30, 2000.
One key point to note is that it is nearly impossible to assuredly state we are in a tech bubble. Tech bubbles can only be acknowledged ex-post facto in order to establish whether technology stocks were valued too high, which leads to an incredible increase in share price and an inevitable plunge. It may seem like there are exceptions to this rule -- i.e., Apple (NASDAQ:AAPL) -- but perhaps Apple is yet to have its day on the chopping block. I will return to this theory later when discussing the possibilities of a third tech bubble.
We can now return to the second tech bubble for a moment. The most clear example of the 2006 tech bubble is Advanced Micro Devices (NASDAQ:AMD). Prior to 2004, AMD's share price stagnated around $6-$7 per share. Over the next three years shareholders saw AMD's share price rise 485% until the bubble burst in 2006. This kind of run is not uncommon, but what is important is the fact that AMD's share price plunged immediately after the peak was reached.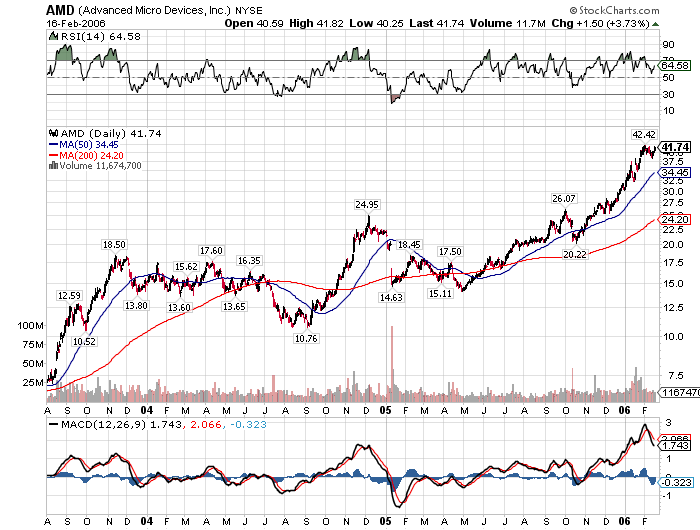 AMD's chart from April 2003 to March 2006.
Over the next three years -- which includes the Great Recession -- AMD's share price slid 95% until reaching a bottom in January 2009. What led to this turn of events? The likely culprit is the same as the first technology bubble: The company began producing strong earnings that analysts and investors believed would continue to improve at the same rate for years to come. Therefore, the company was given a valuation that far exceeded its potential, and when the company began to struggle, the share price plunged.
AMD's chart from February 2006 to January 2009.
Could this, perhaps, be a coincidence because the economy was nearing a recession? This is plausible because it would have been common for companies to cut back on spending prior to the actual recession, which would limit revenue for technology companies. On the other hand, what is not a coincidence is the similarities between AMD's chart when compared to other technology, and more specifically semiconductor companies, during this period. Is it possible that semiconductor and communications companies faced a bubble during 2005-2006 while the broader technology sector did not feel the effects until a full year later?
First off, AMD's pattern is not a coincidence. And to further enforce this idea it is important to discuss other technology companies that follow tech bubble patterns. Another case in point is the semiconductor company Oclaro (NASDAQ:OCLR). Unfortunately for shareholders, the common denominator behind stocks, such as Oclaro, that perform well during tech bubbles is they plunge after the bubble busts. For instance Oclaro began a momentous 520% run beginning in March 2005 that ended in April 2006. This run was ignited by a sharp 97% pop on March 31, 2005. After this one-day pop, Oclaro's share price was fully fueled to fly.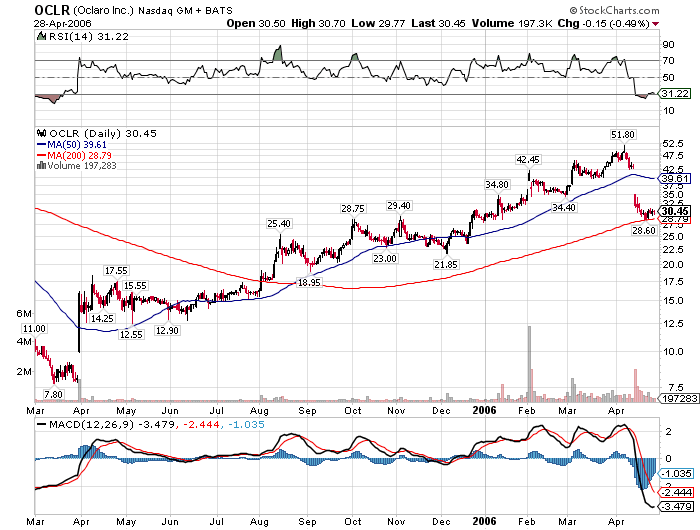 Oclaro's chart from March 2005 to April 2006.
Similar to AMD, Oclaro's share price tanked after the big move as the share price slipped 75.5% from April to August of 2006. Since 2006 the share price has continually depreciated, because the company has struggled to grow business operations. More importantly, Oclaro's share price declined immediately after the 2006 tech bubble burst. This is important, because this is a key indicator of a tech bubble environment. Had Oclaro's share price stabilized and moved higher after the bubble, it could be argued semiconductor companies did not face a specialized bubble in 2005-2006.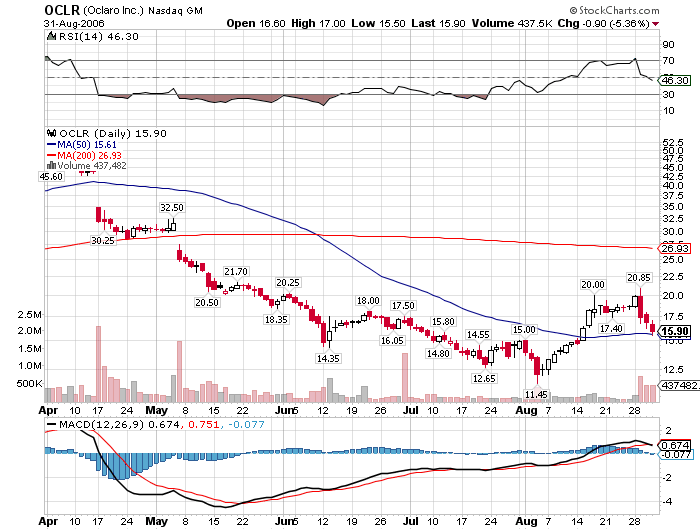 Oclaro's chart from April 2006 to August 2006.
On the other hand, it can be argued these two companies should follow similar patterns, since they are part of the same industry and involved with the same business. This is a fair argument, but there are other industries within the technology sector that followed these same trends, which indicates the 2006 bubble was a broad-ranging tech bubble, not simply a semiconductor bubble.
One company that went through this situation is Red Hat (NYSE:RHT). Red Hat is important because the stock did not have the same 2007 run that non-semiconductor companies went through. Therefore, perhaps Red Hat is an indicator that technology companies in general went through a technology bubble in the middle of the last decade.
After a five-month bottom in 2005, Red Hat's share price began a 197% run from April 2005 through May 2006. As expected, due to overly zealous analysts and investors the company became overvalued, which led to a 54% slide from May through October of 2006.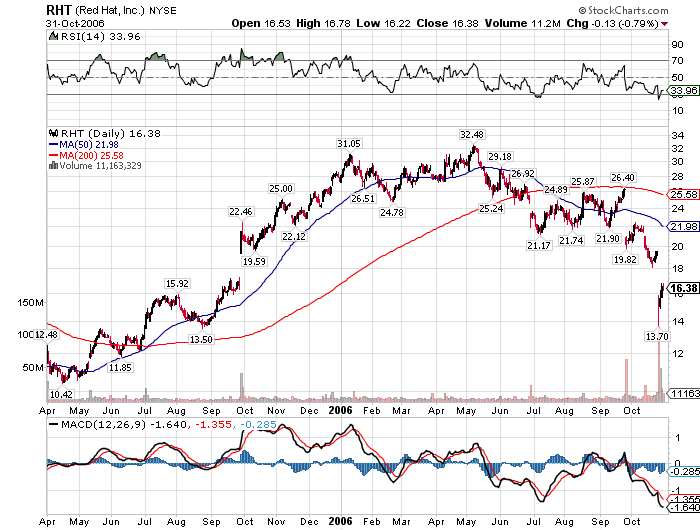 Red Hat's chart from April 2005 to October 2006.
Another indication this period was a bubble is the fact that Red Hat's share price never came close to surpassing the 2006 level until mid 2010. This is important because it shows investors inflated the share price higher than what Red Hat could sustain until four years later.
One important detail to point out is investors did not abandon Red Hat after the share price plunged. This is important because it indicates Red Hat is a strong company and investors trust the company's operations during a bubble bust more than the semiconductors listed above. On the other hand, could this mean Red Hat's chart illustrates there in fact was not a broad technology bubble? Perhaps, and in addition to this maybe this period was simply a weak economic period that sent technology stocks spiraling after several consecutive quarters of strong guidance and earnings?
This is not the case because these same trends are seen throughout the technology sector and not the broader equities market during this time frame. Therefore this bubble was a technology bubble, not a broader equities bubble. Furthermore, the majority of technology stocks faced some form of upward movement followed by a sharp downward move in 2005 and 2006. After this downward move, many technology stocks continued to move higher at dot-com bubble rates through 2007. This indicates investors were focused on the strong economy and soaring housing prices, which indicate a strong economy. And essentially once one bubble burst, everything came crashing down. In this case it was the housing bubble and the technology bubble bursting around the same period.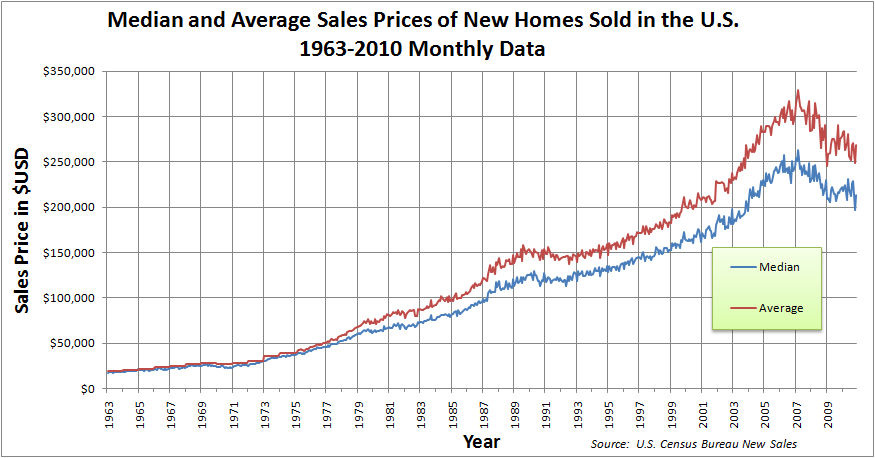 In order to clearly illustrate the above trend, I have selected five companies from four industries that are perfect examples, but I will only detail one in particular. These five companies are very strong and investors trust management will keep the ship afloat. These five are Nvidia (NASDAQ:NVDA), Seagate (NASDAQ:STX), Broadcom (BRCM), Corning (NYSE:GLW), and Ciena (NASDAQ:CIEN). Each respective company's share price began to soar in March or April 2005, followed by a relative plunge after reaching a peak in February-May of 2006. This plunge is then followed by a surge leading into the late 2007/early 2008 crash.
To show this trend in more detail, I will use Nvidia. To put Nvidia's second tech bubble into perspective the second bubble brought Nvidia's share price almost 100% higher than dot-com levels. This was primarily due to analysts and investors feeling as if Nvidia was taking over the semiconductor market and thinking the company will one day be a technology sector leader. As we know this did not happen, but what is important is the reason why Nvidia's share price stabilized throughout 2006 and 2007.
If there was a supposed technology bubble in 2006, why did the share price stabilize? As mentioned above, strong companies were able to perform relatively well after the tech bubble began to leak because investors were willing to open long positions after the stock plunged. All it took was the housing market and financial institutions to crack and the technology bubble ultimately burst. Keep in mind, these trends will continue in the future.
Nevertheless, Nvidia's share price soared an astounding 560% when investors began to inflate Nvidia's share price from August 2004 through May 2006. This ended with a 43% decline in the stock price from May through July of 2006. However, from the bottom in 2006 Nvidia's share price ran another 234% from July 2006 through October 2007. After this big run the share price tanked due to the looming recession and the simple fact that again, for the second time in 17 months, investors inflated Nvidia's valuation and share price well above the company's potential.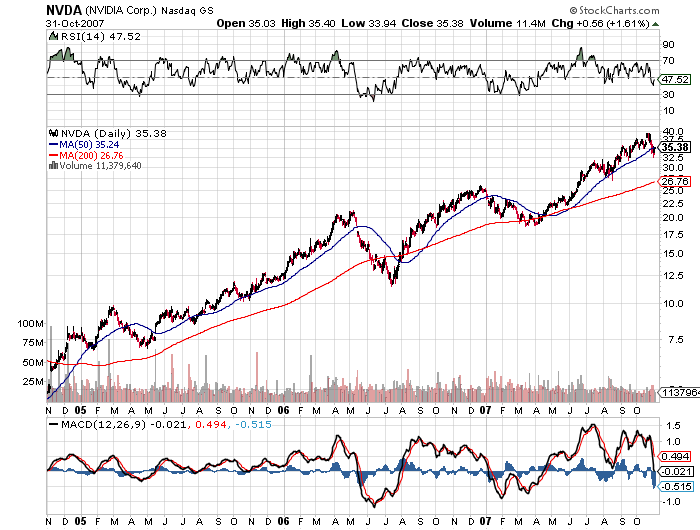 Nvidia's chart from November 2004- October 2007.
Even with these trends in mind, it is nearly impossible to determine whether we are in the process of a third technology bubble, but based upon the group of technology companies that dipped on weakness then held strong due to investor confidence, an argument can be made that the bubble has began to leak. Also, the next bubble will affect companies that were not affected during the second bubble.
Before embarking on the possible technology bubble, it is important to simply ponder what may cause the bubble to burst, and what companies will be directly affected. If a bubble were to burst, it would be due to the over dilution of tablets, smartphones, and laptops flooding the markets. It may not seem like it, but it is inevitable that the mass production of these products will catch up to the companies producing them, which will directly lead to the third tech bubble popping. Companies that will be directly affected are Apple, RIM (RIMM), HTC, Microsoft, Samsung (OTC:SSNLF), etc. Also, hardware producers such as Intel (NASDAQ:INTC) will be indirectly affected.
The biggest loser is likely to be Apple if the tech bubble were to burst. Why Apple? Apple will be the most affected for two reasons: 1) Apple was little affected by the first two bubbles because they were directed toward internet giants (2000 bubble) and semiconductors and communications giants (2005-2006 bubble); and 2) Apple's share price has spiked dangerously high over the past two years, and this could be leading to a significant overvaluation of the company as a whole.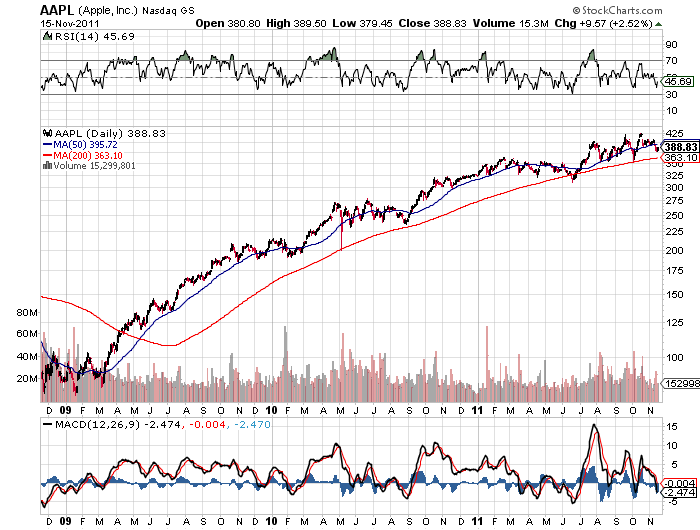 Apple's chart from November 2008 to present.
But what about the hand full of companies that hold off and feel the effects of the bubble bursting several months after the bubble initially begins to leak? This pattern is not coincidental, because it can be seen during the first and second technology bubbles. Cisco may in fact be indicating the tech bubble is already leaking. Cisco is currently recovering from an August 2011 low, but the truth is the company was overvalued and investors inflated the share price after the stock bottomed in 2009. This overvaluation led to a handful of missed earnings and months of perpetual share price depreciations.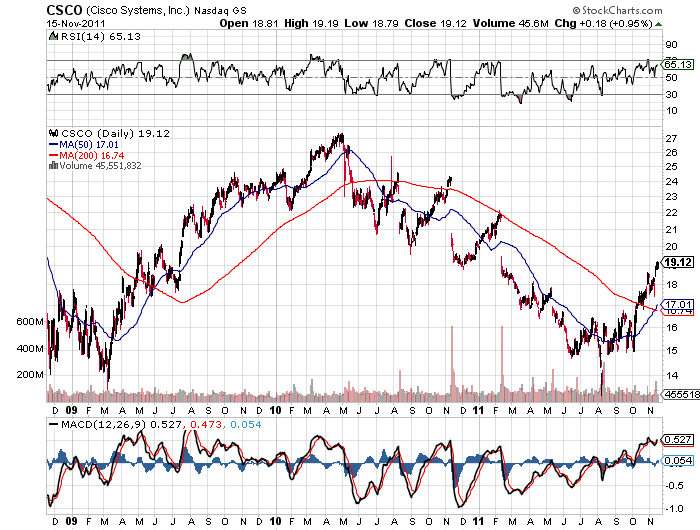 Cisco's chart from November 2008 to present.
On the other hand, Cisco's share price has caught wind in its sails, and investor confidence in the company is rising. But this sounds eerily similar to Nvidia and Nvidia's 2006-2007 chart. Therefore, one must ask if Cisco is following a similar pattern seen by technology companies right before a technology bubble implodes. Yes, Cisco is following the same pattern, because it can be agreed Cisco is a strong company, which means investors are willing to hold the share price up after a big collapse.
This point should sound familiar, since it is one of the indicators of a technology bubble from the previous examples. This leads me to believe we will be seeing a technology bubble burst and/or a recession that directly causes the tech bubble to burst in the back half of 2012 or first half of 2013.
With that said, I must reiterate it is difficult to determine a technology bubble until it is past, because how can anybody know if a company is overvalued until the company is unable to support that valuation? Until we are given definitive proof (a technology sector collapse) it is impossible to properly estimate when the technology bubble will pop.
Nevertheless, by using trends from previous bubbles, we can determine that there is a real possibility the third technology bubble is beginning to deflate. Also, it can be definitively stated the upcoming technology bubble bust will directly affect tablet, smartphone, and laptop producers, because this is the market that is facing the most dilution currently.
Disclosure: I have no positions in any stocks mentioned, and no plans to initiate any positions within the next 72 hours.