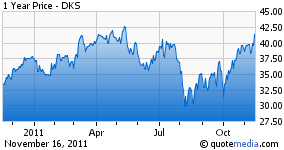 By all accounts, Dick's Sporting Goods (NYSE:DKS) reported a strong third quarter. Same store sales were up 4.1%, earnings increased to $0.33 a share on a GAAP basis, up nearly 170% year-over-year. Additionally, management raised guidance to $2.01-$2.03 per share from $1.94-$1.96, although we don't think the guidance raise is very surprising. Gross margins were also up about 125 basis points, which is likely to continue into the fourth quarter. We are maintaining our $30 fair value estimate.
Dick's continues to ride tailwinds in footwear and athletic apparel to higher revenue growth. The company also opened 19 new stores and posted strong comps in its burgeoning e-commerce business (16.8%). However, Golf Galaxy continues to post lackluster results as it reported only a 2.4% same store sales increase. Golf continues to be down across the board, and with older generations turning more towards running and less expensive athletic hobbies, we think golf could trend downward for a while. Eventually, the demographic trends are quite favorable, so the trend should reverse itself.
Surprisingly, management also declared an annual dividend of 50 cents. While the company has only bought shares back to try to fight dilution, we think a dividend is a great way to return some of the $483 million in cash on the balance sheet back to shareholders. The balance sheet remains debt free and Dick's looks poised to grow its store base conservatively.
Management reported continued strength across all brands, noting the great performance of Nike (NYSE:NKE) and Under Armour's (NYSE:UA) charged cotton line. In spite of great success with these products, management fears prolonged seasonally warm weather could end up hurting comps relative to last year's miserably cold winter. VF Corp's (NYSE:VFC) North Face and Timberland brands stand to lose the most from a mild winter.
Ultimately, we don't think Dick's is insanely expensive at 20-21x 2011 earnings, but we don't think the situation is the most productive use of capital. With $37 as the top end of our valuation range, we don't think there's a lot of upside in the near term. Though also fairly valued, we'd rather invest in Nike for apparel exposure at this point. Nike has several competitive advantages, including a robust supply chain, pricing power across different segments, and the best athletic footwear on the planet. With a prices increasing, inputs decreasing, and a big NFL blitz launching in 2012, Nike has significantly more upside. We are strongly considering Nike for addition to our Best Ideas portfolio.
Disclosure: I have no positions in any stocks mentioned, and no plans to initiate any positions within the next 72 hours.