The Japanese yen continues to trade sideways. as policy easing is having mixed results. The yen is represented by the CurrencyShares Japanese Yen Trust ETF (NYSE:FXY).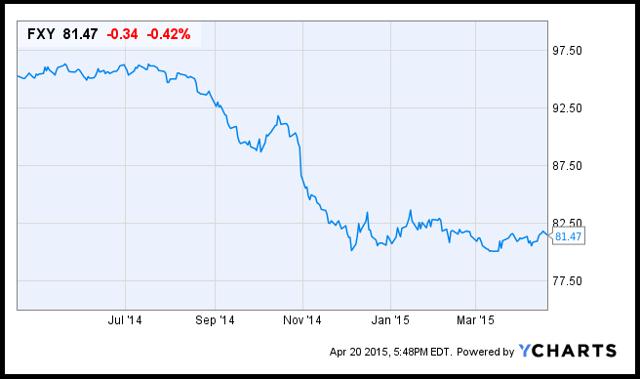 Consumer confidence measures have risen in the country, as policymakers took steps to lessen the effects of a sales tax hike last spring. In March, the consumer confidence figure came in at 41.70, up from a revised reading of 40.9 the previous month, while also exceeding estimates for 41.4. A reading above 50 signals optimism.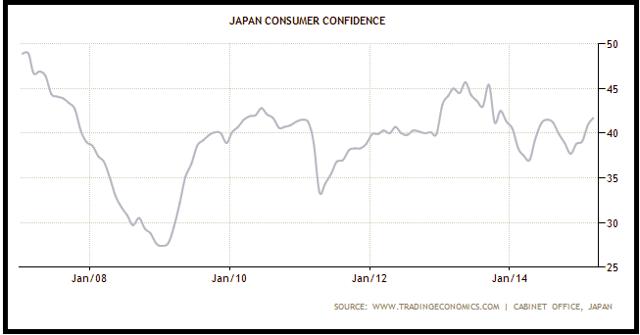 Meanwhile, price measures continue to fall in the country. In February, the inflation figure came in at an annual pace of 2.2%, down from the previous month's reading of 2.4%, while also falling below estimates for 2.3%. After spiking drastically higher the last few years on policy easing, the price measure has fallen in the last few months. Policymakers believe inflation will stabilize in coming months, but if that doesn't happen, more easing could be in the mix.
"If underlying price dynamics [are] not what we are expecting than we do not hesitate to adjust or make additional monetary easing, but that is if necessary. At this stage we don't think it is necessary," Bank of Japan Governor Haruhiko Kuroda told Reuters.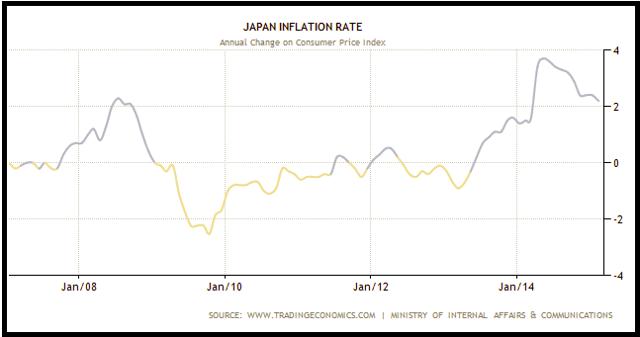 Moreover, as consumer sentiment improved and prices fell, retail spending drastically declined. In the latest month, the retail sales figure came in at an annual pace of -1.64%, down from the previous month's reading of -1.0%. Since peaking in April of 2014, a sales tax hike has had adverse effects on consumer spending. Analysts believe that while economic sentiment is rising, it must be regarding outlook, as opposed to current conditions, which remain weak.
"The data confirm that while investors can be bullish on Japan, their view must be based on monetary stimulus and hope for structural reforms. An optimist has little positive data to point at," according to the Financial Times.
The Japanese yen remains range-bound, as policymakers hope the economy will rebound over the coming year. Consumer sentiment in the country is rising as easing measures have increased. Meanwhile, inflation pressures and retail spending have both fallen, as a sales tax hike last spring had adverse effects on economic activity.
While outlooks are improving, the yen remains in a tight range, as more policy stimulus could be in the future if the economy doesn't begin to grow soon.

Data provided by the OECD
Disclosure: The author has no positions in any stocks mentioned, and no plans to initiate any positions within the next 72 hours.
The author wrote this article themselves, and it expresses their own opinions. The author is not receiving compensation for it (other than from Seeking Alpha). The author has no business relationship with any company whose stock is mentioned in this article.