The Israeli shekel could weaken in coming months as deflation and falling interest rates push funds out of the currency. The shekel has traded sideways against the U.S. dollar over the past month, seen below.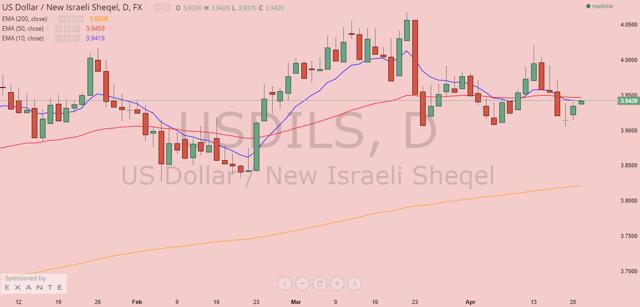 Data provided by Trading View
While economic growth improved, alongside policymakers holding rates unchanged, price pressures continue to recede. In March, the inflation figure came in at an annual pace of -1.0% contraction, unchanged from the previous month, but falling below estimates for -0.14%. In 2011, inflation peaked at over 4%, but has since fallen lower. Falling energy costs were among the main reasons for weakening price pressures.
"Each country had its own reasons for deflation, but there was one mutual reason: the drop in global oil and food prices. This is why fuel and lubricant prices declined 6.9% in Israel last year, while the price of fresh vegetables tumbled 13.8%. The price of fruits dropped around 10%.

In Israel, these price cuts were further supported by the Communications Ministry's reforms in the cellphone industry, which sent prices in that sector falling 8.3% for the year," according to Haaretz.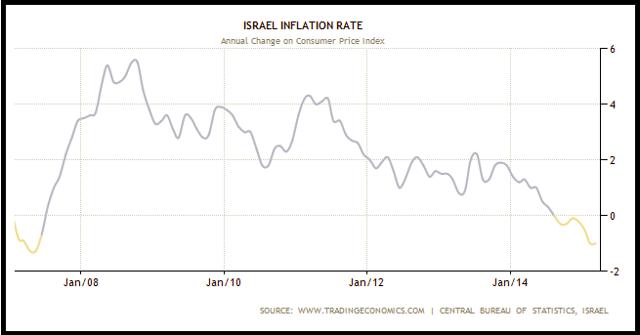 As price pressures fell, lending rates have similarly been cut. In March, the benchmark lending rate was held unchanged at 0.1%, in line with estimates. Since 2011, however, the lending rate has fallen from over 3%, to current levels. The shekel strengthened as rates were held steady in March, but continued deflation could weigh on the currency further.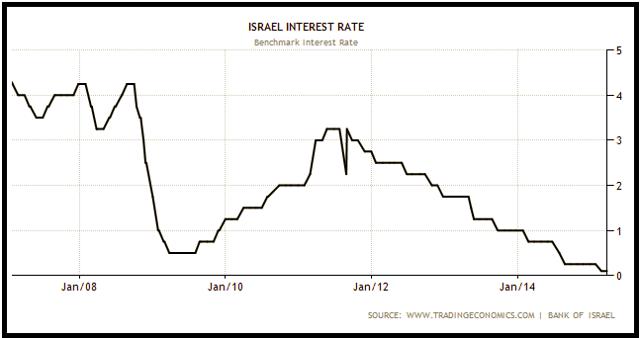 Finally, government bond yields in Israel have fallen alongside lending rate cuts. In 2008, Israel 10-year government bond yields exceeded 6%, well above current levels of 1.43%. As rates have fallen, investment in the shekel has become less attractive, leading funds to flow elsewhere.
The shekel strengthened against the U.S. dollar when policymakers chose not to raise lending rates, but continued deflation could weigh on government bond yields. Economic growth is improving, alongside a stabilizing geopolitical environment, but expect the shekel to weaken in coming months.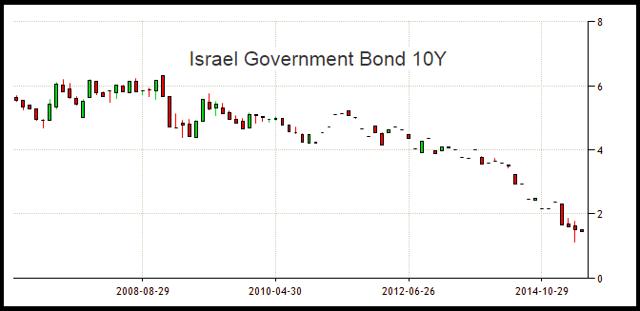 Data provided by Trading Economics.
Disclosure: The author has no positions in any stocks mentioned, and no plans to initiate any positions within the next 72 hours.
The author wrote this article themselves, and it expresses their own opinions. The author is not receiving compensation for it (other than from Seeking Alpha). The author has no business relationship with any company whose stock is mentioned in this article.