Crude oil continues to march higher, with WTI reaching $100 again. Given the European backdrop, it's not clear what is driving this move.
WTI

Source: Bloomberg.
Some attribute this to the reversal of the Seaway pipeline to take the oil out of Cushing, Okla., and over to the Gulf coast (Bloomberg). That may alleviate some of the storage problem at Cushing, where WTI contract is settled. And that may explain some the move today, with WTI up and Brent down: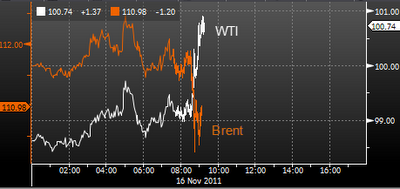 Source: Bloomberg.
But the spread between the two has now narrowed to below $10 per barrel in the last few weeks. The pipeline story wouldn't explain that.
Brent-WTI Spread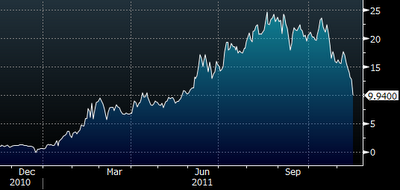 Source: Bloomberg.
There are also rumors of hedge funds reversing the long Brent-WTI spread positions. Something else, however, has to be at play here. The US Midwest refineries are humming. Industrial production is up. There is an argument to be made for some growth decoupling between Europe and the US that may explain more fundamentally this divergence in demand for fuel.
Disclosure: I have no positions in any stocks mentioned, and no plans to initiate any positions within the next 72 hours.