I admit it, I have a soft spot for Japanese companies. I studied Japanese in college, trained karate in the Kyokushinkai, and I'm a pretty big fan of their animated shows and comics. Since joining Seeking Alpha I've been wanting to write about some of the companies there that I've become familiar with over the years. And since I tend to invest the way I play monopoly, I thought we could play a little game here.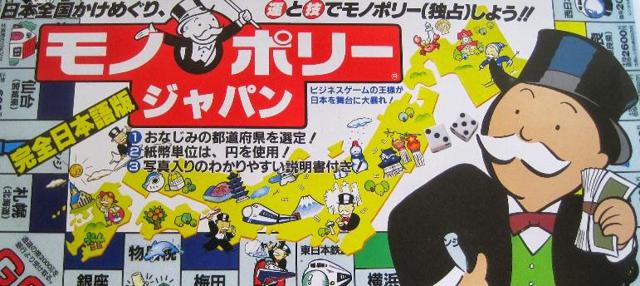 This is not an exhaustive list by any means, but rather a collection of Japanese companies that I am both familiar with, and who have ADRs that trade on the U.S. exchanges. Basically, I'd be interested in owning every company here for various reasons. Not the least of which is that the Japanese markets have been trailing other world stock markets, and in spite of the recent rise, there are still some good values to be had:
Food Conglomerates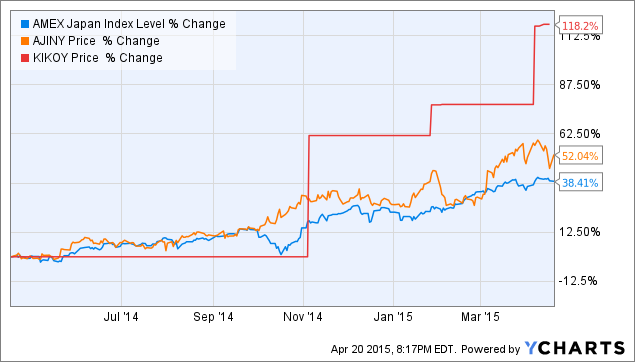 These first two companies, while they do not at first appear to be bargains, have the kind of characteristics that could make them permanent holdings in your portfolio.
Ajinomoto makes ingredients that are in nearly every Japanese recipe. Their name means "The essence of taste". They make a brand of monosodium glutamate under the same name, and "Hon-Dashi", a dried bonito seasoning that is essential to the unique flavor of Japanese soups. I have literally never met a Japanese person who does not cook with ingredients made by this company.
Even with the rise in price, I rate this a buy.
Similarly, Kikkoman makes Japan's (and the USA's) most popular soy sauce, as well as other seasonings. They also own stakes in restaurant management and the pharmaceutical industry. The one year performance has been very good, but don't let that discourage you from thinking that the run-up is done. Both of these companies have tremendous branding power.
Beverage Conglomerates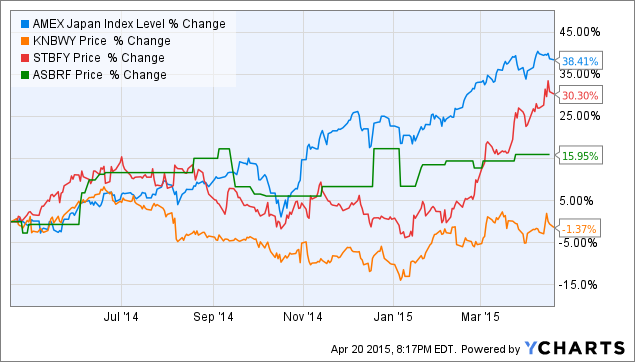 Kirin and Asahi are the big Japanese beer and wine bottlers. Every sushi bar stocks these beverages. Suntory also makes a number of beverages, most famously "Boss" brand canned coffee that is popular and sold both cold and hot in vending machines.
Convenience Stores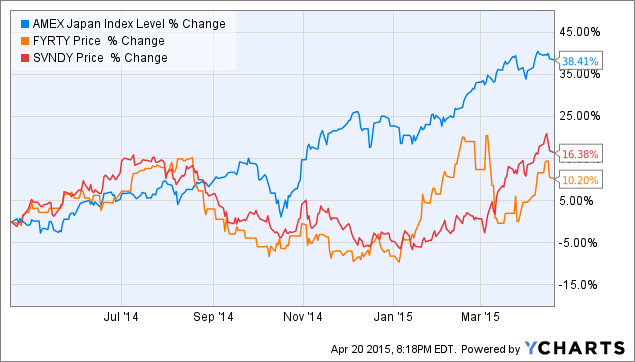 FamilyMart is a secret that is not well known outside of Japan. They are the country's 3rd largest chain of convenience stores. Land in Japan is expensive, and small convenience stores are far more common than large grocery stores like we have here. However, they make efficient use of space and stock all kinds of necessities as well as fresh snacks to go. Life in the city would be much more difficult without FamilyMart nearby.
You probably are familiar with Seven & I. They are the parent company of the 7-11 convenience chain, which is Japan's #1 convenience store, and also popular right here in the USA.
I would own both, but FamilyMart is a better long-term value between the two.
Automakers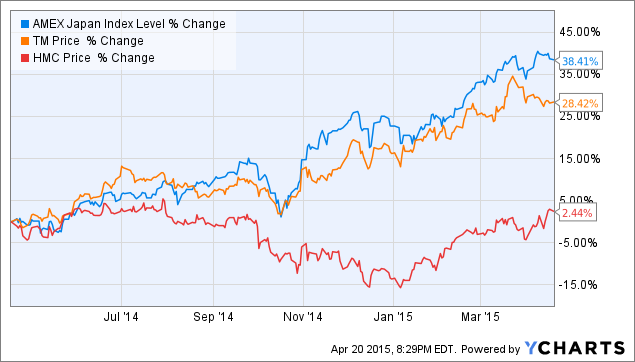 If you are constructing any kind of portfolio of Japanese brands, it would be a mistake to leave out the automakers. Honda is currently the better value here, but both brands are very strong in spite of competition all over the world.
Railroads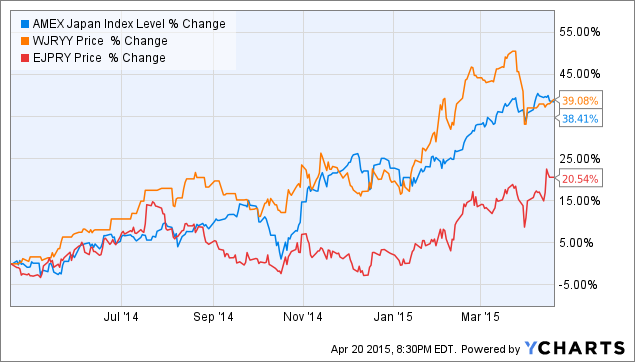 No game of monopoly is complete without railroads. If I had the choice, I'd own them all. There are actually seven publicly traded Japanese railways, but only these two have ADRs. Don't be put off by the higher P/E of the Eastern railway. The eastern side of Japan is where the big cities are, and they earn more money from daily commutes.
Video Game Companies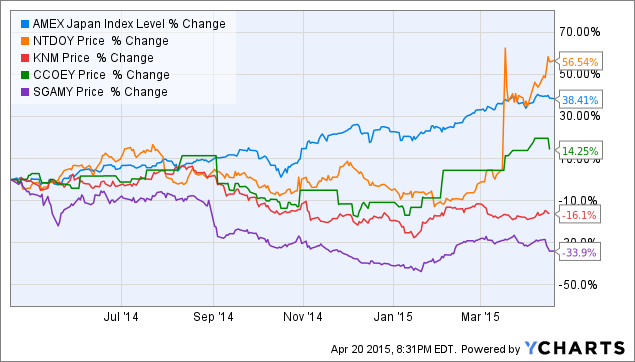 Nintendo has been releasing some very good news lately. I was already bullish on them before they made the announcement that they were getting into mobile games. The price spike is probably off-putting at first, but we are coming off of a 9 year low, and the company is still a good purchase. I am an owner of Nintendo shares, and it is my second largest holding beside Mattel (NASDAQ:MAT).
Konami and Capcom are long time Japanese entertainment superstars, Konami with it's "Metal Gear" and "Castlevania" series, and Capcom with "Street Fighter" and "Resident Evil". The businesses are cyclical, but releases from both companies appear to be coming in more frequently now.
Sega is a special case. This one is speculative, but I think there is an argument that can be made to show the business is in the middle of a repositioning phase. The recent announcements by Sega that they are getting out of the business of making software for game consoles is one of the reasons I had in mind when I said that Steam Machines were a threat to Microsoft (NASDAQ:MSFT) and Sony (NYSE:SNE).
Sega is still going to continue to develop games for PC, mobile, and handheld consoles. Although Sega is struggling right now, they are sitting on a legion of top licenses, and buying now will put you in the right place for when Sega does get back to supporting it's brands. Sega execs, if you are reading this, please make Shenmue 3, thanks.
Telecom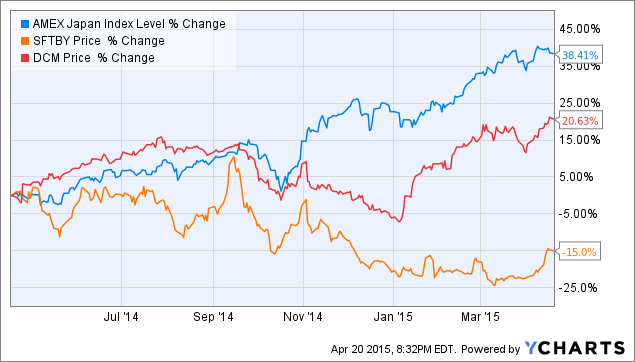 These two companies are on opposite sides of the same coin. Softbank is a major provider of broadband services, and NTT DoCoMo is the largest cellphone carrier. Softbank's lower P/E is somewhat misleading. Although earnings are down, the company has been growing through acquisitions over the last few years. Most notably by taking a 70% stake in the US carrier Sprint (NYSE:S).
Pharmaceuticals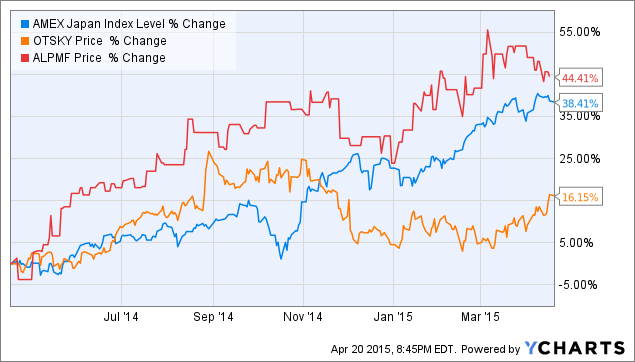 I recently purchased shares of Otsuka. They make a couple of products that made me very interested in owning them. One of them is an antidepressant drug called Abilify. If you have ever had the chance to talk to a patient that uses this medicine, they will tell you that they greatly prefer it to other drugs in this class. They also are the owners of the Pocari Sweat brand, a popular beverage frequently seen advertised at sporting events.
My friends at Robur also recently published an analysis of this company. They have a scale that ranks metrics that Benjamin Graham would like. Otsuka is the only company in their entire database that hit all 10 points of value. It is definitely worth your time to read. I was already looking at purchasing shares when that article came out, and it definitely helped make the decision to buy.
Astellas is, by sales size the largest of all Japanese pharmaceutical companies. They make a variety of well known drugs that help with issues related to urinary problems and prostate issues such as Xtandi, Prograf, and Flomax.
Banks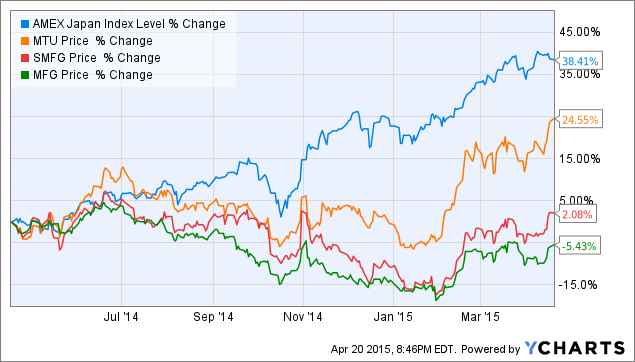 These three are the largest banks in Japan. Sumitomo has the largest return on assets of the group. Mizuho is looking like the best value here.
Consumer Goods
Shiseido (OTCQX:SSDOY)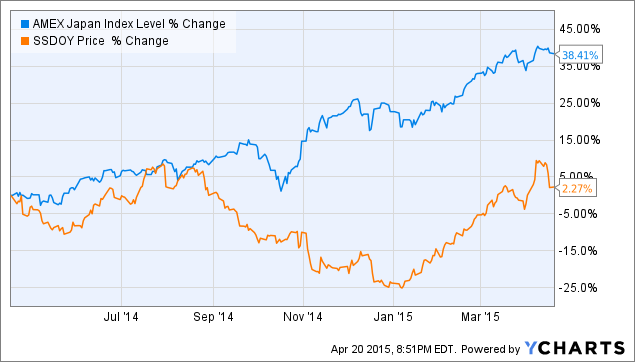 Shiseido is a leading cosmetics maker, and one of only a small number of such businesses I recognize by name. I had to struggle to think of another consumer goods company that I know by name other than Nintendo, which I already listed above.
Real Estate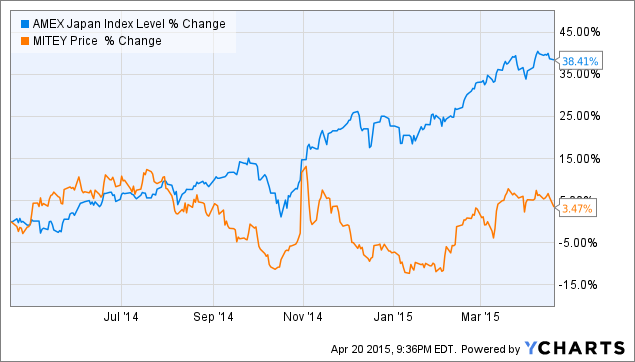 It wouldn't be a game of Monopoly without real estate. These two are the top REITs in the sector and so far, every index that I've been though for foreign REITs had both of these in the top ten holdings. I couldn't get Mistui Fudosan's chart to display properly in any of the charting software I was using. There is probably some kind of server error right at this moment, but performance is not far away from Mistubishi Estate on the year.
These wouldn't be my first picks just because real estate in general is on the higher-priced end of the markets, and yields are fairly low. However, they are still at a discount to the Japanese market index and should work out for you if you are a long term holder and are willing to cost average.
For a more exhaustive listing of Japanese ADRs, I recommend this link here. Happy gaming.
Disclosure: The author is long NTDOY, OTSKY, MAT, MSFT.
The author wrote this article themselves, and it expresses their own opinions. The author is not receiving compensation for it (other than from Seeking Alpha). The author has no business relationship with any company whose stock is mentioned in this article.
Editor's Note: This article discusses one or more securities that do not trade on a major U.S. exchange. Please be aware of the risks associated with these stocks.