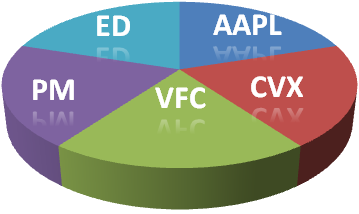 I created the Great Recession II portfolio in August 2011 when I felt that the global economy was deteriorating at an accelerating rate. My objective was to select five companies that would "serve you well today and for years to come." The investment objective is to own well managed companies that will not only weather the downturn but will also be poised for growth after the recovery begins. The five selected companies are from diverse industries with a definite defensive tilt that is not overly reliant on consumer spending.

Click to enlarge
Although I strongly suggest reviewing your portfolio weekly or monthly, you should at least thoroughly analyze your holdings quarterly to reallocate among your investments. With a successful first quarter (8/16/11 – 11/11/11) in the rear view mirror it is time to analyze the recent developments for the five companies:
Apple (NASDAQ:AAPL): Up .3%
The past three months have been interesting to say the least for Apple. In October alone Apple announced the iPhone 4S, Steve Jobs passed away, and the company missed its earnings estimate for the first time in years. I am extremely bullish on Apple when it dips below $380 and if you still do not own Apple you have a golden opportunity. Up until the past two weeks Apple was even with the S&P 500 so it is not difficult to imagine this best of breed company outperforming going forward. For further details on Apple please see my weekly analyses and option strategies.
Consolidated Edison (NYSE:ED): Up 8.8%
Con Edison is one of the largest utility companies in the United States and serves the Northeast U.S. Con Ed has performed dramatically well recently and it has steadily increased over the past two years with few blips. Three months ago Con Ed was nearly at its 52-week high and it is again pushing its 52-week high despite rising nearly 9%. Con Ed is a relatively safe investment and its PE is still affordable at 16 with its 4.1% yield.
Philip Morris International (NYSE:PM): Up 4.8%
Philip Morris International is more attractive than its domestic sister because of its higher growth rate but it still pays a very respectable dividend that management continues to increase. The most recent quarter was strong and CEO Louis C. Camilleri optimistically stated that "our results this quarter were simply superb on each and every key performance measure." Last week a federal judge ruled that the Food and Drug Administration's requirement of graphic warning labels on cigarette packages would likely fail on constitutional free speech grounds. While it is not directly related to Philip Morris' international operations, this is a positive note for the industry overall that could lead to increased investor confidence in the group. In addition to being one of UBS' ultra-safe equities, the robust dividends and share repurchases will keep this a popular stock in any economic climate.
Chevron (NYSE:CVX): Up 8.0%
Chevron is still a long-term inflation play on the price of oil which pays a respectable dividend as you wait. There are some growth prospects in development that cause me to pick Chevron over rivals but the company's prospects are clearly still tied to the price of oil. December crude futures are just shy of $100 per barrel and I fully expect the price to rise over the next year. If the rioting and global unrest continue we could see prices climbing sooner than later, as evidenced by crude prices rising for six straight weeks. With a PE below eight, 3.2% yield, and commitment to repurchasing approximately 5% of the outstanding shares annually, I think you can sleep well at night owning this company.
VF Corp (NYSE:VFC): 20.1%
VFC was one of the best performing companies over the three month period and has been virtually unstoppable since I first got behind the stock in 2010. The stock is only 4% off its 52-week high but I still see some upside in the near-term. VFC was upgraded by both Credit Suisse and Bank of America in the quarter. Not only did VFC have a great third quarter in which it surpassed estimates and boosted the dividend, CEO Eric Wiseman issued a great summary of the business: "While we're all hearing and reading about a tougher economic environment, we have seen little evidence of a slowdown in our business." Barclays issued a report discussing how lower material costs will improve margins as we enter the all important holiday shopping season which should further enhance earnings. In the long-term I still love the story because the portfolio of Jansport, Lee, Majestic, Nautica, Wrangler, The North Face and Timberland spans virtually all price points and will thrive in all economic environments.
Click to enlarge

What To Do Next?
The only stock to underperform this quarter was Apple as Philip Morris tracked the market and the other three outperformed. VFC has been absolutely phenomenal recently but I would use this first quarter review to take some profits from VFC and reallocate to Apple. I still thoroughly like VFC and believe it is not overvalued with a 22 PE and string of excellent quarters. However, for the hypothetical portfolio I would overweight Apple and underweight VFC.
Disclosure: Author is long AAPL, ED, VFC, CVX, PM, MO; short on various out-of-the-money Nov 19 covered calls against these long positions.
Disclosure: I am long AAPL, ED, VFC, CVX, PM, MO.
Additional disclosure: Disclosure: Author is long AAPL, ED, VFC, CVX, PM, MO; short on various out-of-the-money Nov 19 covered calls against these long positions.