My last article, "The Oil Price Conundrum," was published on the heels of a major announcement regarding the pipeline business and how it relates to U.S. oil inventories access to the Gulf. Yes, I was aware of the press release by Enbridge (ENB) and Enterprise Products Partners L.P. (EPD) regarding the flow reversal of the Seaway Pipeline.
"The Seaway Pipeline reversal provides an early opportunity to offer Gulf Coast access to midcontinent producers and other crude oil shippers," said Patrick D. Daniel, President and Chief Executive Officer, Enbridge Inc. "A Seaway reversal will provide capacity to move secure, reliable supply to Texas Gulf Coast refineries, offsetting supplies of imported crude."
However, I didn't see the announcement itself to have any impact on the subject at hand, which dealt with oil prices and the spread between West Texas Intermediate (WTI) and Brent. Apparently some in the media did, and MarketWatch was one that linked the Enbridge announcement with the fact that WTI moved past the $100 level.
Crude futures surpassed $102 a barrel on Wednesday to close at their best since late May as investors cheered news about a pipeline they hope will alleviate supply bottlenecks.
But not all is as it seems, and the fact that the reversal won't take place until the second quarter of 2012, and only provide 150,000 barrels per day, is hardly a reason to justify the price action. Reuters also had a report and added that "station additions and modifications needed to ramp up flow rates to 400,000 bpd will be completed by early 2013."
"Seaway's full reversal has a net impact of around 400,000 bpd, which is a significant chunk but is still not the level needed to fully unlock the logistics bottlenecks (in the Midwest)," said Daniel P. Ahn, director and head of commodity portfolio strategy for Citigroup.
Furthermore, "Conoco (NYSE:COP), which traders said had resisted pressure to reverse the line because its midcontinent refiners were benefiting from the cheaper feedstock." Why the reversal now, especially when global economies are slowing, and when it could have been done in 2008 to relieve the so called price pressures? In addition, the price of gasoline has been in sync with Brent since last year, not WTI, which implies that refiners were refining WTI crude and pricing gasoline based on Brent.
Shares of U.S. oil refiners Valero Energy Corp (VLO) and Marathon Petroleum Corp (MRO), which have Midwest plants that have enjoyed strong margins this year due low prices and high inventories, saw shares drop after news of the reversal.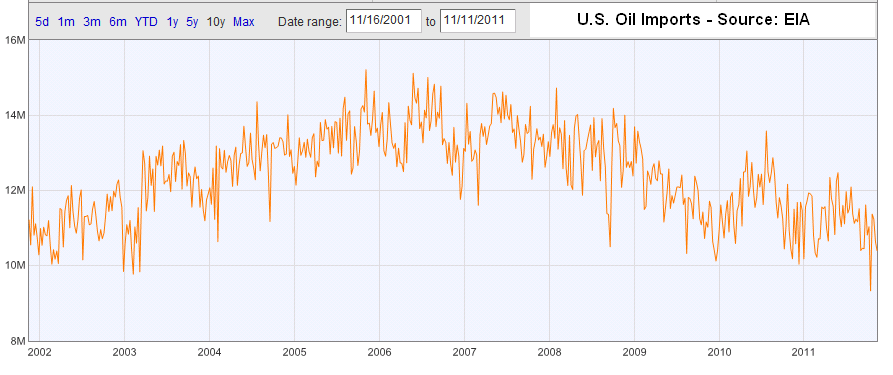 Lastly, why not use domestic stocks and cut on imports? One can claim business and industry complexities, but plenty of arguments from many sources do not add up. But I'm sure that you'll figure it out.
Disclosure: I have no positions in any stocks mentioned, and no plans to initiate any positions within the next 72 hours.