Computer Modelling Group (OTC:CMDXF) (CMG.to $13.50) reported excellent on target Q2 (Sept.) results. The company is the leading provider of simulation software used by energy companies to maximize output at existing oil and gas fields. Computer Modelling provides the industry's best mathematics and user interfaces, helping customers figure out the most effective way to exploit a target. The industry originated in the 1980s with the advent of high performance computers made by Silicon Graphics.
Then Schlumberger (NYSE:SLB) and Landmark Graphics developed software that helped companies process seismic data and other information, so they could find promising areas to drill. Landmark ultimately was acquired by Halliburton (NYSE:HAL). Computer Modelling came onto the scene in the 1990s with an emphasis on reservoir development, particularly in challenging applications like heavy oil and enhanced recovery.
The giants dominated the market through the mid-2000s and still control most of the so-called "black oil" segment today. Those are the simplest fields to drill, like in Saudi Arabia. There still might be some giant pools of sweet crude in the Arctic Sea. Other than that, though, the easy stuff has been found. These days new fields still have tremendous potential. But they're locked into tar sands, and shale formations, and other difficult to exploit locations. Demand for Computer Modelling's technology is accelerating as the energy industry has shifted its attention to those high potential but complex sites.
Earnings were flat at $.12 a share (excluding stock option expense). Reported sales declined 10% to $12 million. That doesn't sound too impressive. But unit volume was up by approximately 20%. Backlog expanded. And a new product line with enormous potential finished up in R&D and will enter beta testing in Q3 (December). Computer Modelling sells software either on a perpetual basis or as an annual subscription. In the latest quarter the perpetual component virtually disappeared. Recurring revenues advanced 18%.
That figure was understated by 6%, moreover, since Computer Modelling reports results in Canadian Dollars but earns most of its income in U.S. money. The loonie went up in the period. Costs were affected by the end of the company's relationship with "The Foundation." That's a non-profit financed by 13 oil companies that had been paying 50% of Computer Modelling's new product development expenses. It also used to own 40% of the company's stock. Those shares were sold last year. The R&D payments ended in Q1 (June).
Not to worry. Pretax margins remain above 50%. And Shell (NYSE:RDS.A) and Petrobas (NYSE:PBR) each are continuing to finance 33% of the R&D project (as they have for the last five years), while granting Computer Modelling 100% ownership of the software. That next generation "Dynamic Reservoir Modeling System" will allow operators to simulate all their above ground operations in addition to their drilling activities, maximizing a project's total return on investment. Shell and Petrobas will get first shot at the technology. But once commercialization begins, probably late in calendar 2012, Computer Modelling will retain any earnings without recourse.
Demand is accelerating. Computer Modelling recently broke into the Middle East market (click on "Labels" below). Business also is vibrant in South America, the U.S., Asia, and Africa as more heavy oil and other enhanced recovery type projects come on line. Demand in Canada has plateaued for the time being due to the U.S. State Department's decision to block a pipeline designed to transport tar sand crude to refineries along the Gulf of Mexico. Well financed operators in Canada are continuing to develop their properties. But a number of smaller companies have scaled back. An alternative pipeline to the West Coast is being contemplated, to send the heavy oil to China.
Shale oil and shale gas represent large opportunities. A lot of shale operators originally eschewed simulation, figuring they couldn't miss. Simulation has become increasingly popular with experience. The technology is helping producers target wells more productively. Demand is starting to jump as a result both in shale gas and shale oil plays. The international shale market remains in an early stage of development. But tremendous potential is believed to exist, particularly in Eastern Europe and China. Computer Modelling is likely to benefit from the trend, similar to the way Carbo Ceramics (NYSE:CRR) has in the proppant industry.
We estimate income will rise 28% this year (March) to $.65 a share. The exact number will depend on the split between perpetual and annual licenses. Next year $.80 a share represents a realistic target. Long term growth of 20%-30% appears sustainable, bolstered by the new DRMS product line. Technology trends remain favorable. Advances in parallel processing have made simulation software increasingly powerful and easy to use. The trend towards hard to recover energy sources promises to reinforce demand. Market share gains already are being realized. The company's two main competitors, Schlumberger and Halliburton, have long viewed simulation as a complementary product line serving a niche market. Customers still rely on those giants for a wide range of oilfield services. Increasingly, though, they are selecting Computer Modelling's best of breed simulation technology.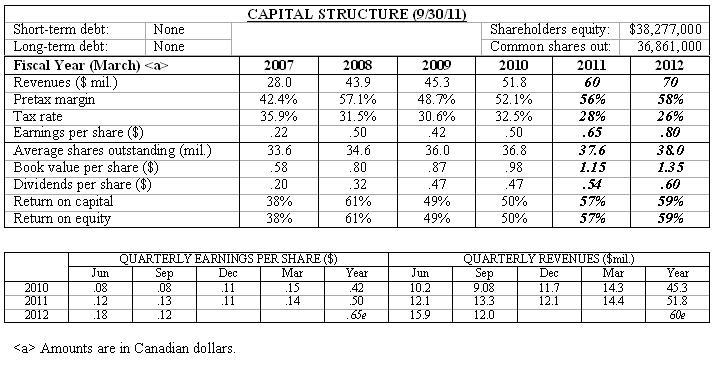 Disclosure: We are long Computer Modelling.