The USD is mainly influenced by its inflation and labor data which affects the monetary decision of the Fed. However, we can always go one step further and look at indicators that indicate macroeconomic recovery in the United States. I have picked some choice indicators in consumption, labor and production to guide our way forward.
Weak March Retail Sales
Let us first take a look at the economic data for the first 4 days of the week which shook the market confidence in the USD. The Census Bureau reported a worse than expected retail sales figure for March 2015. It only expanded by 0.9% over expectations of a 1.1% after shrinking by 0.5% in February. As consumption accounts for 70% of the US GDP, this small difference has a big impact. In addition, it undermines the credibility of the confidence in consumption recovery as cited by FOMC hawk Jeffrey Lacker.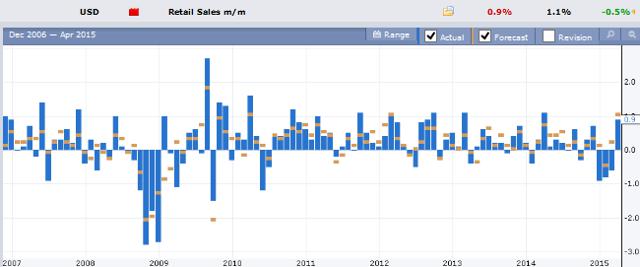 Even if we strip out the volatile food and energy price, we see a constant underperformance of core retail sales relative to expectations.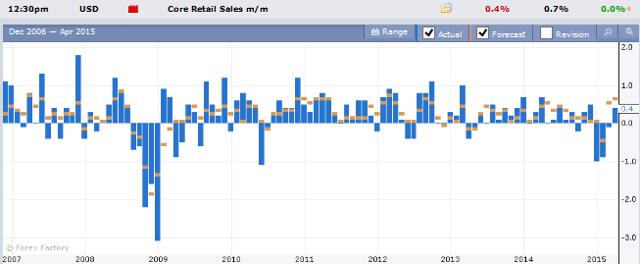 Core retail sales for March grew by 0.4% compared to February over expectations that it will grow by 0.7% to make up for the flat growth in February.
Lower Supply of Goods in March
Turning our attention to the supply side, we saw weaker than expected capacity utilization and industrial production. Both are measured by the Federal Reserve so it would be closely considered in their monetary policy decisions.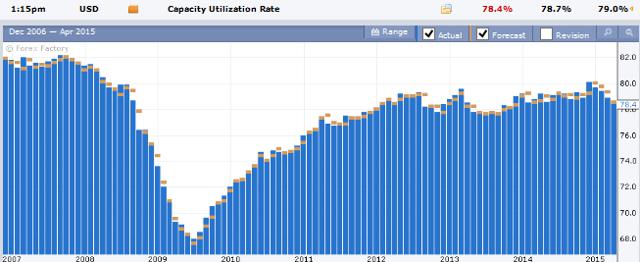 Capacity utilization is a leading indicator of inflation. This is because as producers are near their full capacity utilization, they tend to be willing to risk losing business by raising prices to pass on the higher cost. Capacity utilization is also higher when there is higher demand for their goods and services.
March's capacity utilization rate came in lower than expected at 78.4% compared to the expectation of 78.7%. This also marks the 4th consecutive month of lower capacity utilization rate.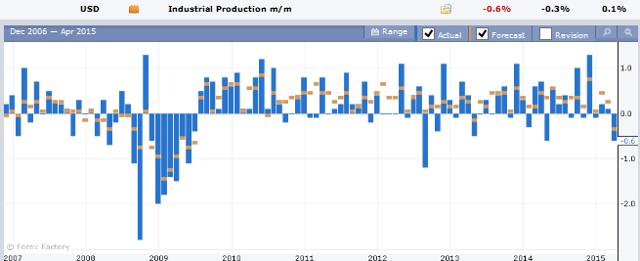 Building Permit Blip and Volatile Employment
While capacity utilization measures inflation going forward, industrial production does the same for the health of the economy. Businesses will only increase their production when they are confident of selling these outputs. March's industrial production disappointed when it fell sharply by double than expected, contracting 0.6%.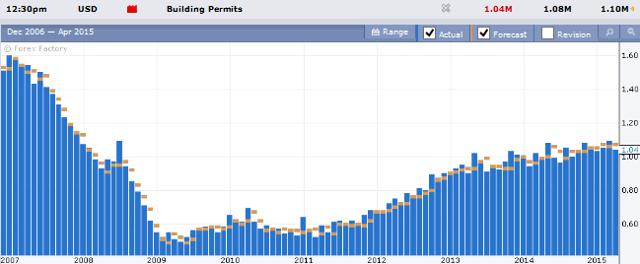 The Census Bureau also reported lower than expected building permits for March. There are only 1.04 million permits granted over 1.08 million expected. This means that the housing construction industry remains soft and they are not able to build on the momentum since the beginning of the year.
In the case of unemployment claims, the higher it is, the worst it is for the economy. Of course, this is a weekly data and it tends to be volatile.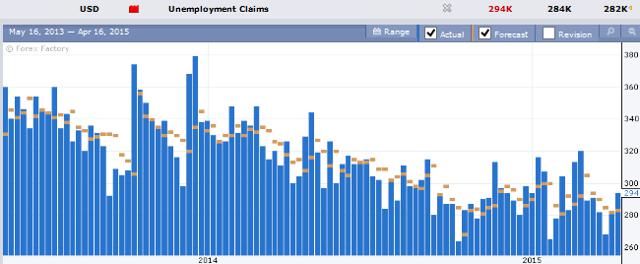 However, it went up sharply last week to 294,000 over expectations of 284,000. This bad news just piled on with the rest of the disappointment for the USD this week.
Only Piece of Good News
The only piece of good news came from the Philadelphia Fed Manufacturing Index.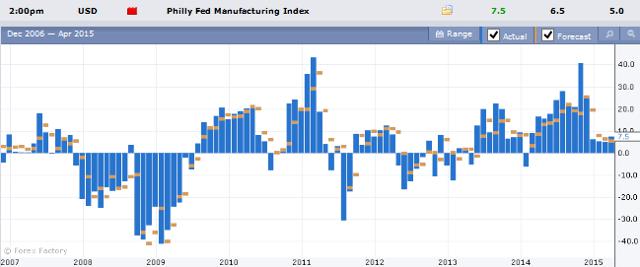 Its survey for April 2015 came in at 7.5 as businesses under the Third Federal District reported more optimistic outlook for this month. However, it is limited to the Third Federal District and not representative of the nation. Furthermore, it is only a survey and while it is good, it did not stand out. When we considered the entire economic situation, the overall bad economic news this week continued to weigh on the USD.
USD Waits For May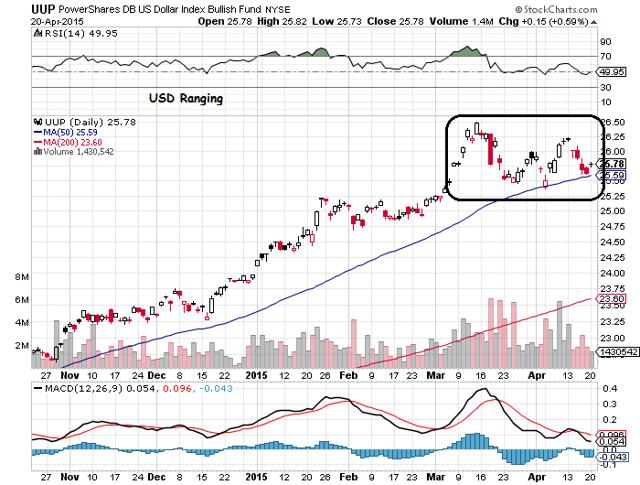 In other words, we do not have firm indicators of USD strength from the fundamental data. While the above mentioned data are weak, they are not substantially weaker than expected. There is also a significant camp that holds out that this is merely a temporary reflection of a harsh winter in Q1 2015. Hence, it is likely that Q2 would be much better starting from April itself. It is entirely possible that the US economy has made a sizable upturn only that we have not seen the data to support it yet.
Hence, the market is just going to keep waiting. This will keep the PowerShares DB USD Bull ETF (NYSEARCA:UUP) within the $25.25 to $26.50 range. After all, it did not break out of the double bottom last week. Another factor is that the FOMC has pledged inaction for this month's meeting, so the USD is unlikely to be active this month. May 2015 would be an interesting month. We shall see if the harsh winter hypothesis works out, starting with April 2015 data. If it does work, then we can expect a June 2015 FOMC liftoff.
Disclosure: The author has no positions in any stocks mentioned, and no plans to initiate any positions within the next 72 hours.
The author wrote this article themselves, and it expresses their own opinions. The author is not receiving compensation for it (other than from Seeking Alpha). The author has no business relationship with any company whose stock is mentioned in this article.