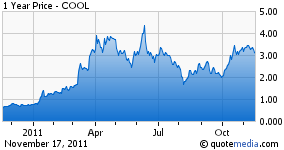 Majesco Entertainment (NASDAQ:COOL) is a small capitalization video game maker who specializes in motion captured games as well as games for handheld devices and social platforms like Facebook. It is today's release of Zumba Fitness 2 that brings me to write about Majesco stock.
Majesco Entertainment has been around since 1986 and has just recently this year had a string of success. Cooking Mama, a tycoon like game for Nintendo DS, was the first game to really get the company going again in the 2000s and helped the company gain entry into today's video game market. The biggest success now for the company is the Zumba franchise. Video game companies continue to put out interactive games to give users the full experience with the Nintendo (OTCPK:NTDOF) Wii and Kinect from XBOX. Games like Wii Fit, Just Dance, Wii Sports, and now Zumba Fitness have helped users interact with their games while also getting some sort of workout while playing video games.
Zumba Fitness has sold over four million copies worldwide. The game is actually selling faster than several debut games from popular series including Guitar Hero. The newest version of the game features twenty four different types of dances and a whole new soundtrack. Players of the game will be able to track calories burned for the first time on screen. Zumba Fitness Rush will be released for XBOX 360 exclusively in February of 2012. The Zumba games previously were only available on the Nintendo Wii.
The last earnings report put out by Majesco for the third quarter showed earnings per share of $0.04 (up from a loss of -$0.03 last year third quarter). The company raised guidance of $0.35 to $0.38 for the fiscal year ending October 31st, 2011.
The lineup for the rest of 2011 looks promising for Majesco Entertainment.
-Hulk Hogan's Main Event -the first motion controlled wrestling video game.
-Twister Mania-interactive party game for Kinect
-Alvin and the Chipmunks:Chipwrecked-For Kinect, Nintendo DS, and Nintendo Wii, features 30 songs and corresponds with the launch of the newest Alvin and the Chipmunks movie in December, 2011
-Motion Explosion-interactive family game
-Several games for the Nintendo DS including Camping Mama, Cooking Mama 4, Jaw, Pet Zombies
Just like other video game makers, Majesco is trying to increase its presence in social gaming through Facebook. An acquisition of Quick Hit this past year showed the seriousness of Majesco's intentions on social media. This past quarter several games were released on Facebook for Majesco including: Quick Hit NFL, Parking Wars 2, and the latest Cooking Mama social game.
The Zumba Fitness game is sold overseas by various other companies through a license with Majesco Entertainment. The game is a bestseller in other countries as well and has been on the bestselling list in the United Kingdom for some time now.
Shares sold for less than $1 at the beginning of 2011 and have since rose up nicely to its current mark between $3 and $4. With earnings of $0.35 for this year, shares trade at less than 10x earnings per share. This nice small cap stock looks to be undervalued. If the company can continue to sell Zumba Fitness 2 well or turn out more games it could be a great growth stock and increase up to $10. I think before this happens the company will be bought out. Large video game companies like Activision (NASDAQ:ATVI) and Electronic Arts (ERTS) are always looking for ways to strengthen their portfolio. I would be curious to see if Activision, who abandoned their once fad game Guitar Hero would be interested in taking on the current video game trend once again.
Disclosure: I am long ATVI.