A Secret Handshake?
Over the weekend, several media outlets, including Germany's Der Spiegel and Greece's Agora, reported on a probable deal between Greece and Russia which would provide 5B Euros of financing for Greece. Citing Greek government sources, the media asserted that the agreement would be for building the 'Turkish Stream' pipeline connecting from Russia through Turkey and Greece, into the rest of Europe. The 5B Euros would be an advance payment on future expected profits of Russian gas sales to Europe. If true, the 5B Euros in financing could alleviate Greece's situation and provide a significant lift for depressed Greek equities (NYSEARCA:GREK)
How Likely Is it?
Although both sides have denied that such a deal is cemented, they each have a strong incentive to make it happen.
On Moscow's side, the failure of the South Stream pipeline project due to events in Crimea, EU opposition and Bulgaria's reluctance meant that they need to find an alternative path to deliver gas to the rest of Europe. If Greece were to agree, the proposed pipeline would provide Moscow with a direct entry into the rest of Europe, bypassing Bulgaria.
Furthermore, given that Russia has stopped supplying gas through Ukraine and is choosing instead to go through the Turkish stream, Greece is a key piece of the puzzle. Having the Greeks on board would allow them to secure an alternative path into the European energy markets at a relatively lower cost.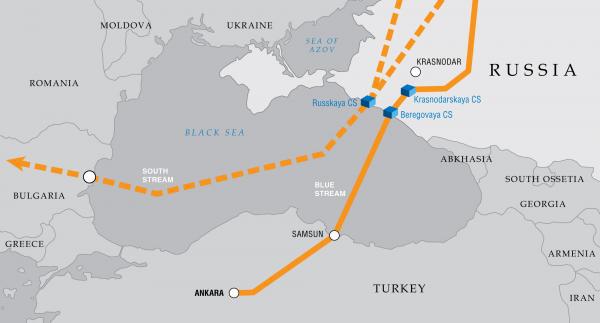 The map above shows the operational Blue Stream pipeline and the abandoned South Stream that was supposed to run through Bulgaria into Europe. Given that Greece is directly below Bulgaria, it could provide a corridor for Russian gas transiting into Europe via Turkey and Greece.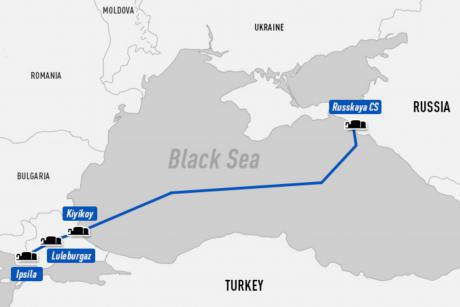 This is what the theoretical pipeline route would look like.
Hence, Greece's cooperation is key to Moscow's plan to divert natural gas deliveries away from Ukraine through another route. Furthermore, given that Russia's gas transit agreement with Ukraine expires in 2019 regardless, pipeline construction would have to commence soon to accommodate the timeline.
Given Greece's precarious financial situation, Putin knows there is a lucrative deal to be struck. For a measly 5B Euros, Moscow could secure decades of transit rights knowing how desperate the Greeks are for cash. Surely, Moscow knows this is the most opportune time.
Moreover, Russia would not only be buying gas transit to Europe, but also a permanent ally in the EU. Given that sanctions against Russia over Crimea and Ukraine can only be extended by unanimous decision, a Greek veto at the EU summit in June could easily overturn the sanctions and provide reprieve for Russia. It would be a costly reversal for the EU, who until now have taken a tough stance that sanctions will remain until peace terms for Ukraine were met.
The Greek Perspective
For the Greeks, Russia appears to be the white knight saving the day. The recent dictum to seize funds of local governments to bolster state coffers is another indication of the growing danger that the Greek government faces. Hence, Russian funds would not only alleviate the tenuous situation, but also give the Greeks a far bigger bargaining chip with its EU partners.
Contrary to the belief that the Greek government is desperate and running out of options, the actions of the Syriza party tell a different story. Within 24 hours of being elected, PM Alexis Tsipras paid a visit to Moscow and received hearty congratulations from his Russian counterparts. Moreover, the new Greek government immediately began advocating for an end to sanctions against Russia and for greater compromise and cooperation between the EU and Russia. Furthermore, Russia and Greece signed bilateral agreements earlier this month on trade and gas deals, cementing further cooperation and signaling closer ties.
These series of actions all suggest that perhaps it was the Greek government's plan all along - to bring Russia closer as a bargaining chip against its EU creditors. Also, whilst Greece may be using its relations with Russia as a bargaining chip, it does not exclude the possibility for a concrete Turkish Stream deal. The Greeks are trying to exploit every angle possible to raise funds, and both a deal with the Russians or concessions by EU creditors would be financially favorable.
Whilst many analysts have been shoving the 'Grexit' narrative towards readers, the Greeks are actually maneuvering well, buying time to press for more favorable terms and at the same time maximizing their options with alternative scenarios.
Who Will Budge First?
I believe the Greek government is definitely committed to staying in the EU, and hence they will concede more if necessary. What they are trying to do is concede as little as possible by putting pressure on EU creditors to accept a deal, and they are willing to do so by any means necessary. However, if the Turkish Stream deal is confirmed, it would signal a Greek pivot towards Moscow and incite the ire of its EU partners.
It seems like a win-win for Greek finances whichever way it goes. Moscow has shown its willingness to invest in Greek infrastructure and tourism in the previous bilateral meeting and possibly to provide funding in exchange for pipeline rights, whereas EU creditors could be pressured into agreeing with more favorable bailout terms.
Even though Greece would have to essentially prostitute itself to Moscow, Russian funds would definitely bolster state finances and prevent a default at least for 2015.
Overall, it is most likely that Greece will reach a deal with its EU creditors. I mentioned in a previous article how reaching an agreement is more about moving the needle to a point acceptable for both parties, rather than the impression that one side would have to capitulate.
Hence, however it is resolved, Greek finances are likely to improve at least temporarily, providing a rally for depressed Greek equities. Spiking bond yields and falling Greek asset prices are already indicating that market participants are pricing in heavily the probability of a Grexit. In reality, the chances are remote. Therefore, there is a lucrative opportunity for daring contrarian investors to scoop up Greek equities at firesale prices.
Disclosure: The author is long GREK.
The author wrote this article themselves, and it expresses their own opinions. The author is not receiving compensation for it (other than from Seeking Alpha). The author has no business relationship with any company whose stock is mentioned in this article.