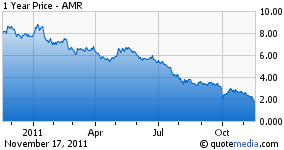 Life, as they say, comes down to choices and luck. Luck has not been on the side of American Airlines (AMR) for a very long time as wars, recessions, terrorist attacks, credit bubble meltdowns and bad industry fundamentals may have finally caught up with the once grand old name that lost its mojo to compete. AA has too much debt with costs that are much too high, given the ever-changing and more competitive environment. The company has reported over $12 billion in losses over the last ten years and is on track to lose $1.1 billion in 2011 and another $500 million to $1 billion in 2012. New labor contracts are past due and it's show-down time in Texas. It's a labor shoot-out with a management that, in theory at least, still works for the AA shareholders.
As long as the company can pay its bills and doesn't run out of money, the board of directors represents shareholders, the owners of the assets. Current management may lose control of the corporate strategy and cash flows if the company is forced to file bankruptcy. But management does have an exclusive 180-day window of time to present a plan of reorganization. If that plan is not as attractive as an alternative plan that is presented by the newly established creditors' committee, AA effectively becomes an asset for sale to the highest bidder. The winning bid will come in the form of a reorganization plan that creates the most value for the new shareholders – the former creditors. With a $16 billion claim against the company in the form of pension and health care obligations, the employees are the largest unsecured creditor. To emerge successfully, AA must be deemed viable and worthy of investment, or at least have the capacity to earn the required rate of return on capital. This will likely require a jettison of the $12.9 billion underfunded defined benefit pension plans.
When shareholders are wiped out in a bankruptcy, the creditors have to decide whether or not the business is worth saving and what percentage of a loss they are willing to take. Pilots will naturally negotiate to save jobs and secure a piece of the post-bankruptcy equity pie. The equity is paid for in the form of work rule and compensation changes that lower costs. The purchase price for the AA equity will be below the current compensation value because of the Pension Benefit Guaranty Corporation (OTC:PBGC) takeover of the defined benefit pension plans and expected improvements in productivity. Because of the large $5.5 billion pension plan underfunding, employees will receive a fraction of the promise implied by the obligations on the books. As an example of the effects of higher productivity, a 10% improvement in pilot productivity lowers operating costs by approximately $180 million annually.
The first major confrontation appears to be about a $100 million concessionary contract (excluding the cost savings of expanding code-share flights) that AA management says is required, as estimated by the Allied Pilots Association (APA). To put this into perspective, total pilot costs were $1.8 billion in 2010. Pilots will presumable have a chance to vote "no" on a contract that results in more work for less pay in total block hour cost terms. The APA counter proposal is that pilots receive a 10% signing bonus ($190 million cost) and three 7% pay raises ($135 million per year) over the next three years. Management's proposal saves the company $100 million and the APA's proposal increases costs by $600 million over the life of the agreement. The APA proposal cost is a rough approximation based on 2010 data.
APA leadership believes that its contract proposal has merit and that management is manipulating the books to secure a concessionary contract, as reflected in the following statements:
"In our opinion, the company has used every financial technique and tool available to make the financial situation appear worse than it truly is. Why? Poor financial performance is their best defense against our goal of restoring our contract."
"Management's goal is complete control of employees and to gain a significant labor cost advantage over the competition. Management wants to have their cake, plus our cake, and they want to eat it too. AA management will do almost anything to achieve this. They will take a considerable amount of short-term losses to make long-term gains."
"In our opinion, the company believes the current situation provides their best opportunity to leverage labor into concessionary contracts. Further delay could result in loss of leverage due to improvements in the economy or other events such as new aircraft deliveries."
Given the wide gap between APA's and the company's proposal, it appears unlikely that a deal will get done. Hence, the dilemma for both pilots and management is whether or not AA files bankruptcy if a concessionary contract cannot be achieved. APA leadership – a reflection of the majority of pilots - appears to be anchored to a level of compensation that is no longer viable in today's and tomorrow's competitive airline environment.
After examining three likely scenarios – status quo, bankruptcy, or concessions from the pilots – I think it's more likely that the company ultimately end up with a restructuring of labor rules and a reduction in total labor compensation. The status quo scenario is not sustainable for both employees and shareholders, and pilot concessions are stalled, so this is why the most likely outcome is a bankruptcy.
The end game scenario may come in the form of a merger between American and US Airways (LCC) as US Airways could offer an alternative plan of reorganization that the company and its creditors will find hard to resist. Why is this the case? Merger costs and revenue synergies in the $1.5 billion range can be divided up among the labor, capital, and passenger stakeholders. The bonus would be a more concentrated industry that improves fundamentals and pricing power for AA and other domestic competitors alike. A merger would increase the level of profitability and expands valuation multiples for AA, and it is this increase in post-bankruptcy and merger market value that must be the sole objective of any restructuring plan.
What are the possible outcomes for the pilots who must make a tradeoff choice between lowering pilot costs in or out of a bankruptcy? In a bankruptcy, the court will likely impose market levels of total compensation so that AA could emerge able to cover its costs and potentially earn a profit. To do this, the senior pilots will want to have the most say in the outcome. The court will likely find that the company's plan to offer a lower compensation plan is a sound business decision. This works because the senior pilots will take less of a reduction and likely will get a pay raise, and AA lowers the weighted average cost of a pilot. So the question becomes whether the pilots are willing to push the company into bankruptcy by voting "no" to a concessionary contract.
AA is running out of time and borrowing capacity, and its board of directors will have to act more aggressively at some point in terms moving the company towards profitability. Spinning off a non-competitive American Eagle, buying new aircraft, and forming alliances in the Atlantic and Pacific regions are good actions to start, but insufficient in terms of turning around one of the biggest wealth destroyers in the industry.
The benefits of a restructured AA are reduced ownership and labor costs, and the potential for the new shareholders to benefit from the post-bankruptcy business. The lower costs would allow the company to compete in markets where it will have to cede share without the restructuring. It also would provide stability for the employees who have worked at the airline for decades. The downside is less compensation for new and younger employees and improved productivity demands. This is the cost/benefit trade-off that the senior pilots must make. The choices are really options and one must be exercised, but only after each has been valued. One option (and a likely one in my view) results in new equity as a component of pilot compensation and a healthier post-bankruptcy company. Initial estimates value that potential equity for pilots in the $300-$400 million range. The higher value assumes that AA merges with US Airways.
The international alliances are a big plus for the member airlines but will not stop the natural competitive Darwinism that will occur over time. For example, U.S. airlines have the oldest fleets, employees with the highest costs, and the worst service in terms of cabin service and quality. AA is the poster boy for a weak competitor with too much debt and non-competitive costs that do not allow it to properly invest in its competitive resources. Hence it has a non-competitive position relative to other alliance members and other foreign and domestic airlines that are much more competitive in terms of price and product. AA has valiantly maintained its market position by buying market share at a loss.
Sustainable growth is a product of profitability, capital productivity, and leverage. When distilled to its essence, growth is a function of return on equity (given an optimal level of leverage), and a negative return requires AA to sell assets to cover losses. And, the company has too much debt. Accumulated losses of $12 billion over the last decade, combined with a negative net worth of $6.8 billion, reflects a business that has been in a slow liquidation for years. The company has identified about $800 million in additional assets to sell, but these assets will likely be worth a fraction of this value. AA is at the bottom of the world's list in terms of the negative return for shareholders. The future is not bright given a status quo scenario for a company that has open contracts with its key labor groups. Stated differently, AA will shrink over time in absolute and relative terms, and without growth the airline is a dying business that capital will not support. At some point the cost of raising capital becomes too expensive to be sustained and creditors are forced to take a major loss.
At American, labor becomes the largest unsecured creditor and it will depend on a change in total compensation that determines whether or not AA can be properly restructured. The key labor group is the pilots who are literally, and figuratively, in the captain's seat of American's future. A "no" vote on a new labor agreement will likely result in the company seeking the protection and supervision of a bankruptcy court. Once in bankruptcy, the creditors will be forced to make choices that determine whether or not AA can emerge as a business that has a chance to compete and attract the capital required to survive. Stated differently, former creditors will have to manage a business that must produce a rate of return that allows the company to invest, grow, and provide an opportunity-cost return on their new equity investment.
The next step is for the board of directors to hire outside investment bankers and bankruptcy attorneys. This is the prudent course of action. The company does have time to negotiate acceptable contracts before its cash position reaches a critical level sometime next year. However, I don't believe that employees, especially pilots, will accept concessionary contracts. For this reason, AA stakeholders, especially the pilots, should start thinking about what happens next in a bankruptcy scenario.
Disclosure: I have no positions in any stocks mentioned, and no plans to initiate any positions within the next 72 hours.