A perfect storm is brewing up for Boeing (NYSE:BA). With strong sales at the top and bottom end of the market, Boeing is poised for a real run.
Boeing (BA) signs a record-busting $21.7B deal to sell 230 737 jets to Indonesia's Lion Air, with the order including a $14B option for another 150 planes. It was only last weekend that Boeing set its previous record with an $18B booking from Emirates. The latest deal shows that the plane maker is firmly back in the game for short-haul jets.
Can you say "wow"?
Citigroup raised its target to $82, which is a buck and a half more than the 52-week high. They even called it "Year of the Boeing" this morning.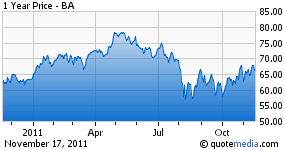 I was already getting excited about Boeing, considering all the European problems that will wreck havoc on Airbus in the long term. Governmental subsidies from the EU can not be counted on going forward. Now with this deluge of orders for both the high-end 787 and the lower-end 737 workhorses, it is time to take flight.
As we look at the current price of $67 a share at opening this morning. I would hurry up as to not miss your flight. Boeing should be a good ride today, and for the next few months.
Disclosure: I have no positions in any stocks mentioned, and no plans to initiate any positions within the next 72 hours.