By Chris Burniske, Analyst: Web x.0
While the Internet of Things (IoT) may not be well known to the average consumer, it is here. Beyond computers, smartphones and tablets, internet connected devices such as speakers, thermostats, fans, lights, locks and refrigerators are currently available, and many more items will become connected within the next years, as shown below.1 In January 2015, Samsung (OTC:SSNLF) announced that 90% of the goods it produces will be part of the IoT by 2017, and 100% by 2020.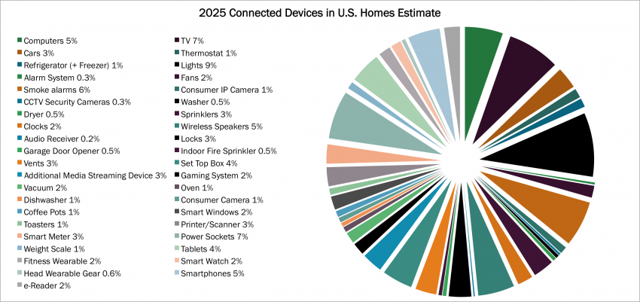 One example of the next wave of IoT devices is a refrigerator that includes cameras sending photos to the cloud upon any movement. Cloud-based image analytics decipher when items run out. The refrigerator then automatically sends a message to Amazon (NASDAQ:AMZN), with which the owner has stored their preferences. In less than an hour, an Amazon drone could deliver and replenish the item.
International Data Corporation (IDC) forecasts that the IoT market will grow roughly 21% per year to $7.1 trillion by 2020. In US households alone, nearly four billion devices will be connected by 2020, and nearly seven billion by 2025, as shown below.2
While the number of devices sounds large, its rate of growth is slowing significantly. While the proliferation of smartphones and tablets drove the annualized growth of the IoT installed base by more than 50% from 2005 to 2010, it dropped to 34% during the past five years and will slow further during the next ten, as shown below.3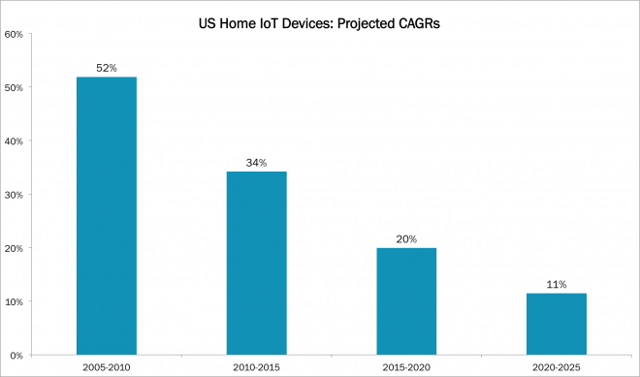 The chart illustrates that consumer-connected IoT has passed the steepest portion of its adoption S curve. Many consumer devices have been adopted en masse during the last 10 to 20 years and already have enjoyed accelerated replacement cycles. That said, some consumer product categories could catch fire from here unexpectedly. For example, consumers are paying ten times the average thermostat price for Google's (NASDAQ:GOOG) (NASDAQ:GOOGL) Nest due to ease of use and energy savings benefits. Given less power-hungry communication standards at some point in the future, other candidates for Internet connectivity include toys, clothing and keychains.
More than likely, the next round of IoT proliferation will take place in the industrial, medical and enterprise spaces. Companies exposed to a variety of products and services within the IoT will be in the best positions to benefit. For example, NXP Semiconductors (NASDAQ:NXPI) produces hardware components for small devices, with a focus on security. ARM Holdings (NASDAQ:ARMH) licenses powerful processors, graphics processing units (GPUs) and microcontrollers (MCUs). Tableau (NYSE:DATA), a data analytics company, has created a visualization application called Project Elastic that promises to make analyzing your IoT data as addictive as swiping through Tinder.
Disclaimer: ©2014, ARK Investment Management LLC. All content is original and has been researched and produced by ARK Investment Management LLC ("ARK") unless otherwise stated. No part of this content may be reproduced in any form, or referred to in any other publication, without the express written permission of ARK. All statements made regarding companies, securities or other financial information on this site or any sites or articles relating to ARK are strictly beliefs and points of view held by ARK and are subject to change without notice. Certain of the statements contained in ARK original content may be statements of future expectations and other forward-looking statements that are based on ARK's current views and assumptions and involve known and unknown risks and uncertainties that could cause actual results, performance or events to differ materially from those expressed or implied in such statements. Information contained in ARK content has been obtained from sources believed to be reliable, but is not guaranteed. This content has been distributed for informational purposes only and should not be considered as investment advice or a recommendation of any particular security, strategy or investment product. Any reference to a particular company or security in ARK original content is not an endorsement by ARK of that company or security or a recommendation by ARK to buy, sell or hold any particular security. Investors should determine for themselves whether a particular service, strategy, product or security is suitable for their investment needs or should seek such professional advice for their particular situation. By visiting and/or otherwise using the ARK website in any way, you indicate that you understand and accept the terms of use as set forth on the website and agree to be bound by them. If you do not agree to the terms of use of the ARK website, please do no access the ARK website or any pages thereof.
Editor's Note: This article discusses one or more securities that do not trade on a major U.S. exchange. Please be aware of the risks associated with these stocks.