With higher borrowing costs for France and Spain, and more massive protests on the streets of Athens, the Eurozone crisis has stepped up to the next level.
It is now France's turn to face an increase in the payment for its government bonds amid the euro crisis. With its AAA-rating of government bonds at stake, the rate for 2-year bonds rose from 1.31 in October to 1.85. Confidence in the second-largest economy in Europe is under threat as France's debt is rising to approximately 87% of GDP. France stands in a weaker position vis-à-vis Germany. Whereas Germany's deficit level in 2010 was 4.3% and is expected to lower to 1.3%, France had its deficit level at 7.1% and is expected to narrow only to 5.8%, and such is a mere expectancy without any assurance.
The charts below show France's need to improve its economic standing to keep up with Germany.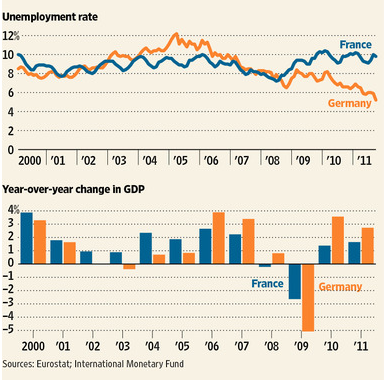 The borrowing costs for Spain have soared to its peak, the highest rate since 1997. The average yield on 10-year bonds has risen from 5.433% in October to 6.975%. Such a spike in rate stands extremely close to 7%, the rate at which countries in the Eurozone have begun to add bailouts to their plans.
As Greece continues to protest for austerity measures, joining the rally for the anniversary of 1973 student uprising, the new Greek government has yet to feel the direct challenge from its people.
Another spike in the Euro crisis was reflected in the downfall of prices for Comex silver and gold. Comex silver closed at $31.50/ounce, the lowest price since October. Comex gold closed at $1,720.20/ounce, leading to a fall in $54.10 this month.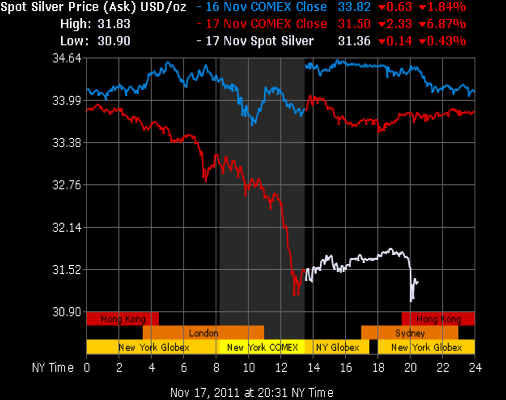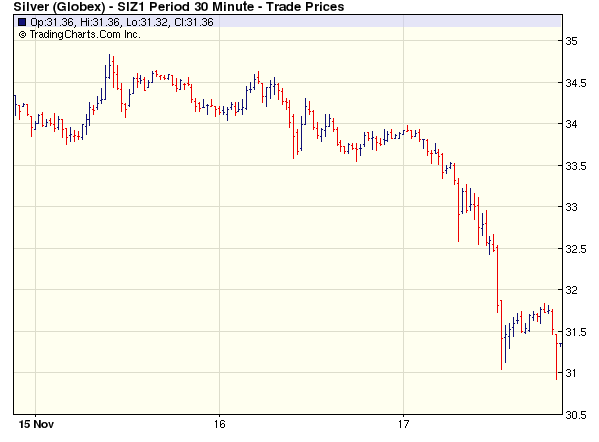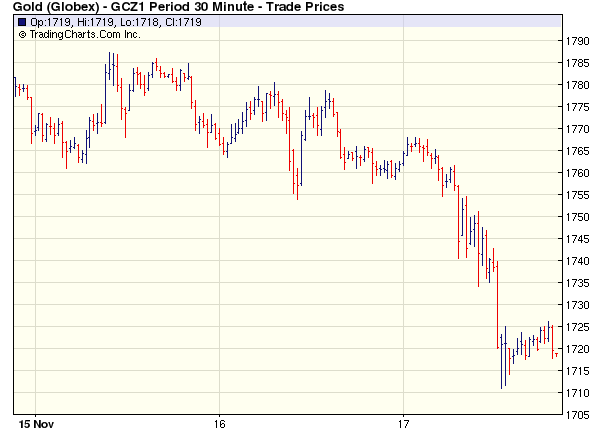 Sinking prices for gold and silver futures portray the preference of investors for liquidity. Furthermore, since Angela Merkel emphasized that the ECB will not be the ultimate solution to the crisis as it concerns the rise in inflation, the prices for gold and silver may be expected to continue falling from the need of cash and absence of worry for inflation.
Disclosure: I have no positions in any stocks mentioned, and no plans to initiate any positions within the next 72 hours.