There was plenty of debate at the beginning of this month over October's outrageous stock market rally, and whether it marked the reinvigoration of the cyclical bull market of 2009-2011 or was, in classical Wall Street parlance, merely a "dead cat bounce" following the August-September debacle in risk assets.
After shaking off the whiplash from watching stock markets post steep monthly losses followed by a double digit monthly gain, we came down on the side of the dead cat. Although the U.S. economy has shown some pleasantly surprising strength of late, credit markets have clearly been signalling that:
Europe is in serious trouble and poses severe risks to both the global financial system and the world economy.
China may be in serious trouble, which poses risks to its trading partners (especially net exporters to China), industrial commodity prices, and the world economy.
Longer-term expectations for the U.S. (its economy and stock markets) have gotten well ahead of themselves.
We're now half way through the month of November, and from most appearances, it's looking as though October's spectacular arc may indeed have been traced out by a lifeless feline, as shown in the following chart of the Dow Jones World Stock Index: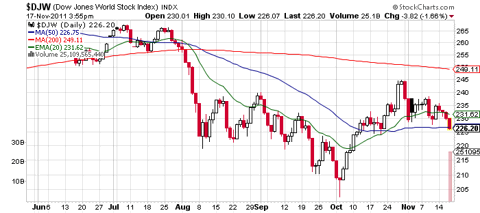 Though history only rhymes, the pattern is somewhat reminiscent of 2008 to 2009's 'cat falling down the stairs' pattern in the S&P500: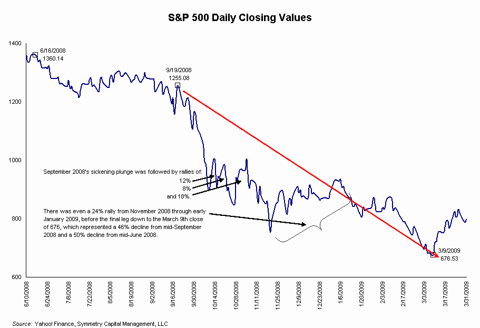 It's not my intention to tell scary campfire stories, and an intensifying bear market in risk assets is far from assured. However, with the current policy and macroeconomic backdrop, the risk-reward tradeoff in risky assets looks rather thin to us, and credit markets and other indicators continue to signal that risky assets could be available at even steeper discounts in the months or quarters ahead.
Disclosure: I have no positions in any stocks mentioned, and no plans to initiate any positions within the next 72 hours.