Over the last couple years, the broader market has been grinding higher and higher. For dividend investors, it is therefore becoming more important to find 'pockets' of value. Many of the high-quality, 'dividend aristocrat' stocks have gotten too expensive to justify buying, and so investors must get selective.
But Aflac (NYSE:AFL) is one good example of value in this market. This Georgia-based insurance provider offers insurance against contingencies that can destroy an individual's wealth. The company's products include disability insurance, life insurance, medical supplementals and asset loss protection in case of accidents or critical care.
Aflac has increased its dividend for fourteen consecutive years and the company generates excellent free cash flow. Best of all, Aflac is significantly undervalued and has lots of appreciation upside due to a very substantial buyback program. This article will focus on Aflac's business fundamentals, growth prospects, dividend, and finally, valuation.
More about Aflac
Aflac really has two insurance businesses: One in the US and one in Japan. Aflac's US business is the more stable 'cash cow,' providing casualty insurance of many kinds. The business in Japan is regarded as the growth engine.
In Japan, Aflac provides supplemental coverage to that country's government-sponsored health insurance plan. In addition, Aflac provides cancer insurance, which it calls 'Days.' (I will use the same reference in this article.) So with this in mind, let's look at Aflac's 2014 results.
Operating earnings grew by just 0.9% year-on-year, but earnings per share increased 3.9%. The discrepancy between those two numbers can be attributed to share buybacks. Let's take a look at results by geography.
New sales in the US increased by only 0.7% and total revenue grew by only 1.2%. Profit margins increased from 17.9% to 18.3%.
Japan is where the growth is, and the reasons are pretty clear. As the Japanese population continues to age, medical spending will only increase, and that serves to add momentum to Aflac's earnings there.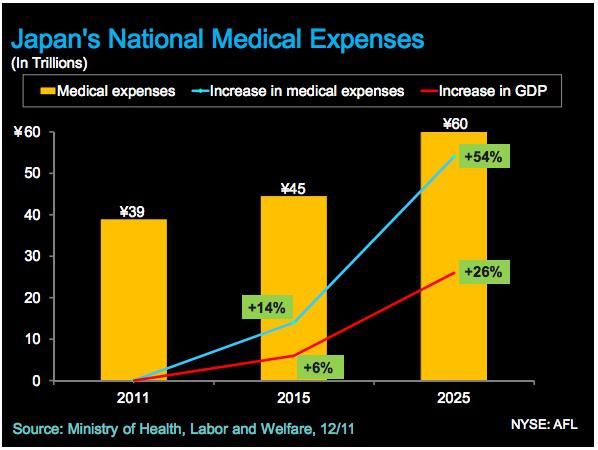 Courtesy of Aflac Investor Relations. Medical spending is expected to grow at twice the pace of GDP growth in Japan.
Sales in Japan grew by a healthy 6.1% in 2014, and margins went from 20.5% to 20.9% over the same period. Growth in Japan has been lead by 'Days.' Recently Aflac signed a deal with Japan Post whereby Aflac products will be offered at postal stations throughout Japan. For those of you scratching your heads on the significance of this, the Japan Post doubles as that nation's most widely-used, most trusted bank. Placing Afflac products in Japan Post is a big deal for Afflac.
Valuation
Aflac is one of those companies whose earnings have more than recovered from the 2009 recession, but share prices have yet to do so. To show a 'big-picture' view of Afflac's earnings vis a vis share prices, I will use FAST Graphs, which is one of my favorite tools for fundamentals research.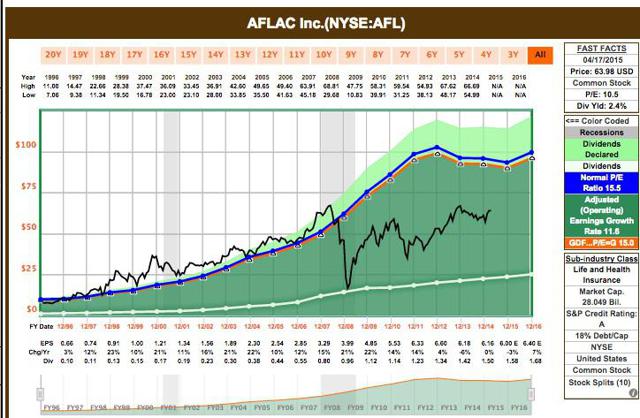 Courtesy of FAST Graphs. The blue line represents average valuation. Earnings represented by green shaded area bounded by orange line. Share price represented by solid black line.
The above chart shows two very important things: First, that Aflac is significantly undervalued. Second, that Aflac's earnings growth phase has more-or-less ended. Let's start with looking at valuation. Aflac currently trades at just 10.5 times earnings, a 47% discount to its average price to earnings of 15.5 times. Even with a relatively low earnings growth rate, 15.5 times earnings is a reasonable valuation. I believe that Afflac has a 47% upside because of not only the undervaluation but also the company's substantial share buyback program. The buyback program will continue to shrink the share count and boost earnings per share well above organic growth rates. And with shares so undervalued, buybacks make sense right here.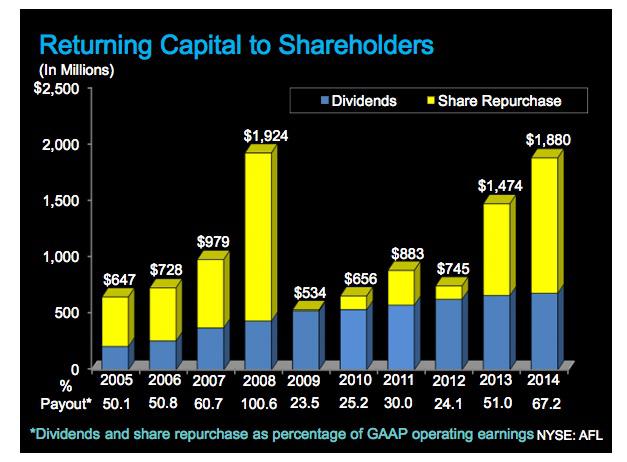 Courtesy of Aflac Investor Relations
In 2014, Aflac returned $1.8 billion to shareholders, which represents 6.3% of the company's current market cap. So, while the dividend yield is only 2.45% right now, shareholders are, in fact, getting much more. Buybacks will continue through 2015, where management expects to repurchase another $1.5 billion worth of shares.
Conclusion
While Aflac may not be the growth play it used to be, shares are still very undervalued and management has delivered fourteen years of consecutive dividend growth. Aflac is a blue-chip company that will return lots of cash to shareholders one way or another. I believe Aflac is a buy right here.