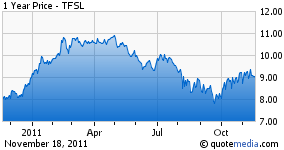 TSF Financial (NASDAQ:TFSL) is at least reviving from the bad patch, while it seems to be recovering from the previous year's losses.
Last year, we saw a huge decrease in the securities assets, especially mortgage-backed securities, loans and investment securities. Even this year, loans declined to $413.5 million from $415.8 million in 2010. Total interest and dividend income fell down to $427.5 million from around $438 million last year. Total non-interest income dropped down to $31 million from $58.6 million last year.
And the strange thing is, even when the portfolio is shriveling up, the yield rate shows no improvement. So, should we think that the company management is not that efficient? So, is the company slowly scaling down? This does not sound too good, when the other financial companies are doing better than before.
In fact, the earnings per share is recorded loss of $0.03, while one of its primary rivals, Northwest Bancshares (OTCPK:NBCT), has reported EPS of $0.60. So, something must be wrong, right? But then again, another big name, Flagstar Bancorp (NYSE:FBC), shows a loss of $0.98. Let's take a look at the fourth quarter report.
Net income increased up to $8.5 million this quarter over a loss of $10.7 million year-ago quarter. Net interest income, especially from deposits and loans, climbed by 16% to $64 million. Non-interest income, especially from fees, charges and investments, surged by 5% to $7.2 million. The double-digit improvement in the interest income shows that the economy is turning around and also that the company is doing good in their regular income segment.
Last quarter, the company put away around $19 million for uncollected loan loss provisions, around 45% decline from the year-ago quarter's $35 million. While unpaid loans write-offs fell down to $15.3 million from $20.2 million year-ago quarter. Non-performing loans dropped to $235.3 million from 286.6 million year-ago quarter.
But for the full fiscal year, TFS Financial reported a $9.34 million, compared to $11.33 million last year. While the year-over-year report doesn't convince me that much, the last quarterly report definitely is encouraging.
My common sense says, wait and watch a bit more. So be it.
Disclosure: I have no positions in any stocks mentioned, and no plans to initiate any positions within the next 72 hours.