"American investors have gotten used to excellent stock market returns in the last few years, so their view of financial markets is notably positive…"
~ John Hailer, CEO, Natixis Global Asset Management
In this "hated" bull market, a cherished optimist argument was the notion that investors were still too lukewarm… that you can't really get good and toppy until investors overall are well and truly "bought in," i.e. bullish to the eyeteeth. Welp, so much for that: Recent survey results via Natixis show that the typical monied investor (meaning at least $200K in assets) has now reached the "stoopid" bullish stage, with a degree of complacency and confidence that has reached truly loopy levels. As Financial Advisor magazine reports (emphasis ours):
"While investors may be looking for returns, they are "extraordinarily optimistic about their investment prospects in both the short and long term," says Natixis. Respondents say they need 10.1 percent return on their investments, and 81 percent of them feel their expectations are realistic…"
Realistic? Bwahaha. For the average long-only investor, such expectations moving forward, for the next few years, are about as "realistic" as the prospects for a genuine libertarian getting elected President of the United States in 2016…
Perhaps this bullishness makes sense, however, given how wonderfully certain pockets of the market are faring? The financials (NYSEARCA:XLF) appear to be doing great, as the WSJ reports, with Goldman Sachs (NYSE:GS), Citigroup (NYSE:C) and Blackstone (NYSE:BX) all happily reporting "blowout earnings" on Thursday, topping Wall Street's high expectations. Okay then, so how did financials fare this week? Bullish investors, bullish news, must've been good yeah…?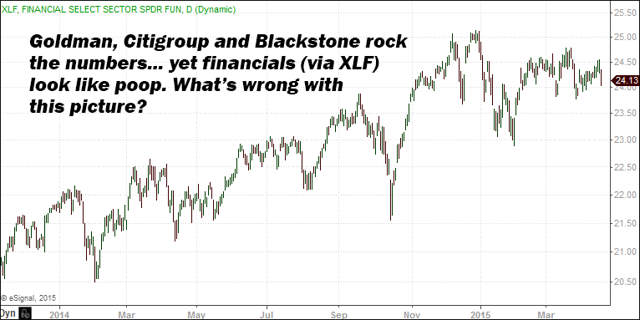 As the old saying goes: "It's not the news, but the reaction to the news." By that standard, the inability of the financials to even break out to new recent highs, let alone hold it together for the prior week, speaks to potential engine issues beneath the market's hood. Could it be that financials peaked for good months earlier, back in December 2014? If "liquidity drives markets" to a greater degree than earnings drive markets, perhaps it'll soon be "live by the sword, die by the sword…"
While various global market indices have risen round the world, the major US indices have largely failed to participate. The Dow and S&P have crept higher but shown restraint in recent weeks, as the strength of the US dollar has held them back. USD strength is eating into blue chip multinational earnings, with Honeywell (NYSE:HON) the latest to complain. The Dow Jones Transports, meanwhile, look remarkably weak. $TRAN is working on a breakout in the wrong direction…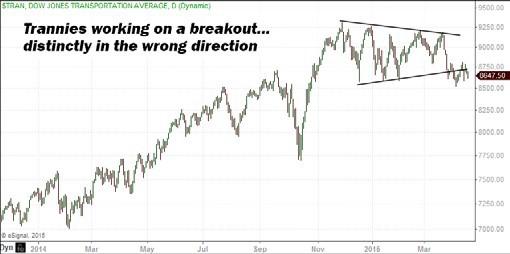 How about tech stocks? Keep an eye on (NYSEARCA:FDN), the Dow Jones Internet ETF, to maintain a general sense of how the social media darlings are doing. We note the following with a wry smile, via the Financial Times:
"Snoop Dogg has invested in a start-up called Eaze, an "Uber for weed" that delivers marijuana to your door. Ashton Kutcher is putting money into Spring, a mobile commerce app that is a "Tinder for fashion". The Winklevoss twins, whose claim to have invented Facebook earned them a stake in the social network, are the creators of Gemini, a "Nasdaq for bitcoin". Anyone who is anyone, it seems, has a venture capital arm these days, and everyone hopes they find the next billion dollar sensation."

"The number of so-called unicorns, start-ups that have achieved a $1bn valuation, is growing at a rate of about one a week, and the number of what you might call "unicorn hunters" has been growing even faster…"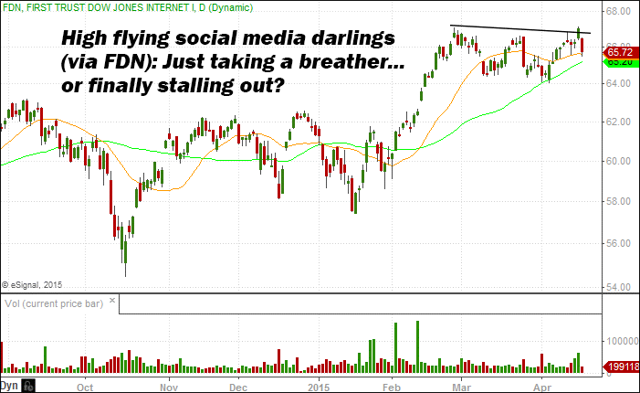 In the chart below for (NYSEARCA:FXI) - the China large-cap ETF - we used the photoshop drawing tool (instead of standard font text) to make a not-so-subtle point about the sloppy-stupid nature of price action in China's equity markets, which are more or less "speculation gone vertical." Friday's price action was painful for bullish speculators, and global markets in general, as the latest crop of new Chinese investors, millions strong, learned to their surprise and disappointment that markets can decline.
The Shanghai Composite has more than doubled in the past 12 months, Bloomberg reports, and recently traded at seven-year highs. For signs of "leaving the stratosphere" level froth, look to Hong Kong, where shares in Hong Kong Exchanges and Clearing Ltd (HKEX), with valuation at a $43 billion market cap, rose a mind-bending 40 percent in six days (yowza). The party was rudely interrupted on Friday as regulators clamped down on "shadow financing" for equity purchases (sounds great) and increased the availability of shares available for short selling. Chinese mutual funds can now lend their shares to bears...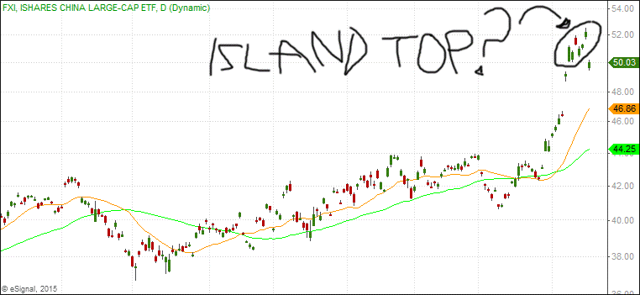 Meanwhile in Europe, there is a bit of a crisis going on - oh, or had you noticed. As the Wall Street Journal reports:
"Greece has so far kept up with debt service, and retained access to very short-term market funding. But some very chunky payments come due in the summer months. Standard & Poor's this week cut Greece's rating to triple-C-plus, warning that without reforms or further relief, Greece's obligations would become unsustainable. Fears of a eurozone exit are building again… Financial markets are beginning to feel the jitters. Thursday, Greek bonds fell sharply, with two-year yields rising above 26%..."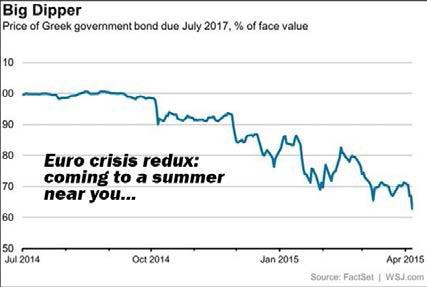 On the currency front, the mighty dollar is finally taking a breather. The commodity currencies have rallied, with the Canadian dollar surging on a rebound in oil prices and new optimism over large-scale energy mergers (which could help the Canadian economy). We exited our C$ positions at profit protective levels with multi-month support violently broken, and have cut back on short Aussie as the dollar retreats. The euro is significantly weaker versus the USD than other major currencies - likely because of the Greece phenomenon. Our long-held EURUSD short has become our biggest forex play.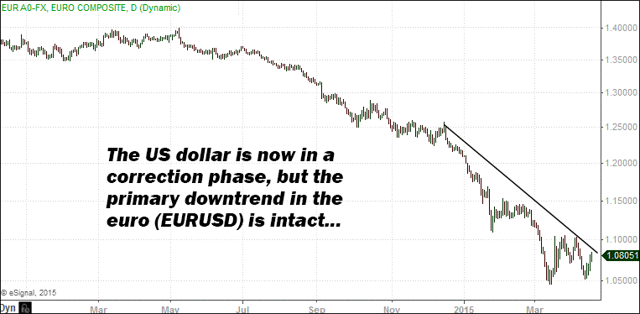 We note with further raised eyebrow that European equities took a nasty tumble this week, in turn doing notable damage to the trend in (NYSEARCA:HEDJ) - Wisdom Tree's long European equities fund hedged by short Euros. As the FT reports:
"A sudden sell-off in financial stocks took European equities indices sharply lower on Friday as deepening worries about Greece's financial position dented sentiment and left the region's recent highs looking vulnerable… "It is interesting that the sell-off is being led by German banks as Germany usually is a beneficiary of a flight to quality," said Gemma Godfrey, head of investment strategy at Brooks Macdonald."
What happens if Greece actually defaults? That's the thing… nobody knows really. Just as nobody knows what happens if (or rather when?) one of the pro-EU political parties in Italy, Spain or France gets turfed out by a Syriza-like challenger. As the months grow warmer, we are reminded of the pleasures of good old summer: Warm nights… outdoor barbecues and cold beer… lounging by the pool… European sovereign debt crisis… we have stated previously that 2015 could turn out to be a "year of Gray Swans." That is still very much in the cards.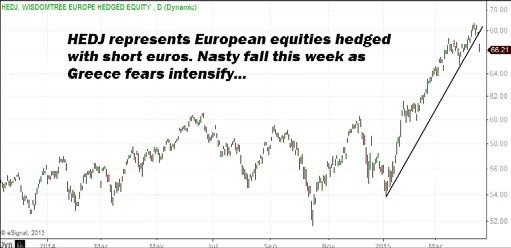 The above was excerpted from our April 17th Strategic Intelligence Report.
Disclosure: The author has no positions in any stocks mentioned, but may initiate a short position in IYT over the next 72 hours.
The author wrote this article themselves, and it expresses their own opinions. The author is not receiving compensation for it. The author has no business relationship with any company whose stock is mentioned in this article.
Additional disclosure: The author is long the dollar against a basket of currencies.