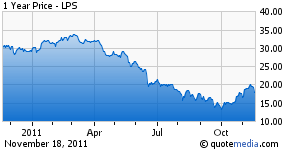 Lender Processing Services (NYSE:LPS) is the largest mortgage processing provider in the United States. The company offers services that cover the entire span of a mortgage loan, from origination through service of existing loans and even handling defaults. Examples of services provided include title search, closing, lien recording, appraisals, flood zone certification, foreclosure, property inspection, and so forth. LPS was spun off from Fidelity National Information Services (NYSE:FIS) in 2008.
This company has an attractive business model. LPS is an outsourcing solution for lending institutions, primarily large banks. Revenue is dependent on the volume of mortgages coming through the pipeline. One nice thing about the business is how it is set up to thrive during boom or bust periods for real estate. When the housing market is strong, LPS earns increased business on its loan origination services. When it is extremely weak, mortgage default volumes skyrocket and LPS earns the dough providing foreclosure and other end-of-life functions. LPS also has an attractive Technology, Data, and Analytics (TD&A) segment, about 10% of the business, that provides software, data management, and analytical services to lenders.
There are 3 things I really like here. One is that LPS has a fairly consistent revenue stream. While mortgage origination, refinance activity, and foreclosures will obviously ebb and flow in a normal market, there is a predictable channel of activity instead of a heavily cyclical boom-and-bust behavior (the last 3 years are a historical aberration). Second is that LPS has high switching costs. Once a lender decided to utilize LPS for services, switching away can be costly and difficult. Third, and related, is that LPS has an outstanding competitive position, with its technology handling over 50% of residential mortgages by volume, and processing about 80% of foreclosures.
So how does such an attractive business get into Magic Formula Investing, with a 14% yield on both operating earnings and free cash flow?
Over the past year, Lender Processing has faced a number of issues that have given the firm a black mark. First were allegations of questionable signing and notarization processes within its Default Solutions segment - commonly called "robo-signing". This, of course, led to a flood of lawsuits from state attorneys general, an FDIC lawsuit against the firm, and a consent order issued in April that forced the company to do an independent audit of their processes, develop new controls, and potentially provide monetary restitution from victims who suffered from their practices.
This regulatory uncertainty was compounded in July with the surprise resignation of former CEO Jeff Carbiener for health reasons. On top of all this regulatory and management uncertainty, Q2 results came in worse than expected, with a wave of panic selling sending the stock under $15.
It is back up to $19 today, and still looks like a pretty good buy. One thing should be clear, though - this is unlikely to be a breakout stock any time soon. The solid Q3 results were on the back of a short-term wave in refinancing activity that is unlikely to repeat. The Mortgage Bankers Association predicts originations to decline 23% and refinances to fall 37% in 2012. Foreclosure activity has slowed to a halt pending the completion of the consent order. 2012 looks to be difficult, especially the first half. Legal issues look manageable, but will remain an overhang on the valuation for some time.
Longer-term, there are catalysts here. There are still a ton of seriously delinquent loans in the queue. The average delinquency is 500 days, with 40% of them delinquent for over 2 years! To put this in perspective, historically less than 5% of loans delinquent for 12 months fail to be foreclosed upon. There is a huge amount of deferred business here. When (and if) the floodgates open, LPS is set to benefit enormously. And at some point in the future, hopefully soon, the housing market will start to return to normal levels of sales, at which point LPS's origination business will improve.
For the long-term, I like LPS, and it pays a dividend over 2% to wait. My price target is $26, a nice 38% upside from current trading levels. It is one that I'll consider for the Top Buys list.
Steve owns no position in any stocks discussed in this article.