I recently ran an article that detailed some of the successful shorts I have had in the last six months with some of Cramer's favorite stocks. One of my few "Cramer" shorts that has not panned out as of yet is Salesforce.com (NYSE:CRM). However, it finally reported a quarter that even its charismatic CEO Marc Benioff could not even put his magical spin on. It is down almost 10% today after earnings. One thing I have noticed about my successful shorts is that there is usually one big down day on disappointing news before for the bottom falls out of the stock over the next few months. Is this "that day" for Salesforce?
Let's take a look at the charts of previous "Cramer" shorts of Open Table (NASDAQ:OPEN), Green Mountain Coffee Roasters (NASDAQ:GMCR) and Netflix (NASDAQ:NFLX).
(Click charts to expand)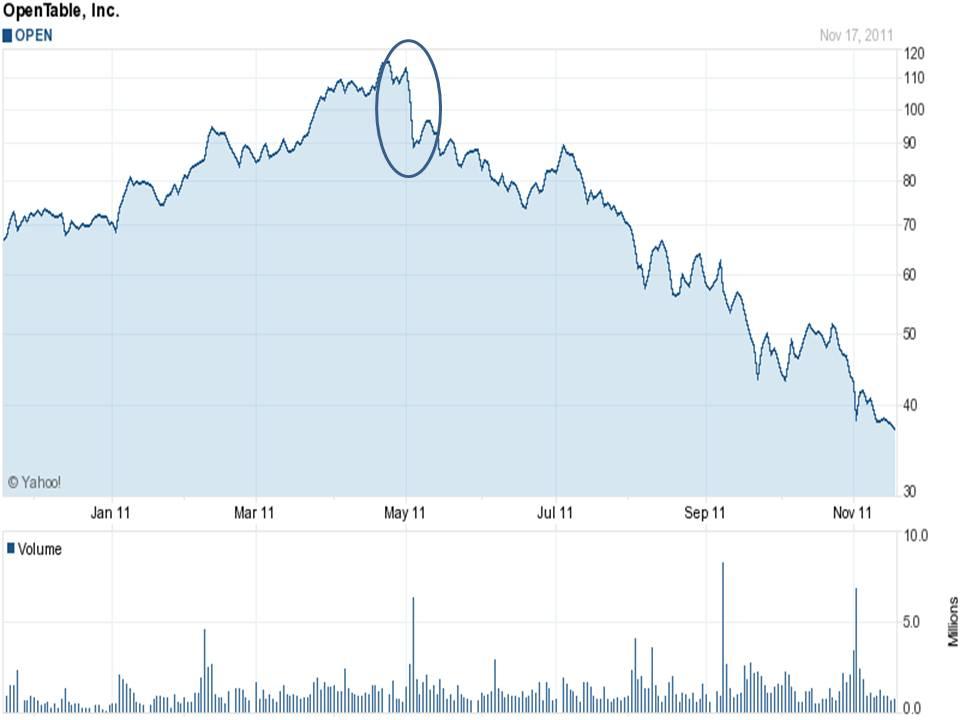 OPEN first took its initial large drop in early May as its CEO stepped down. It has been all downhill from there (See Chart above).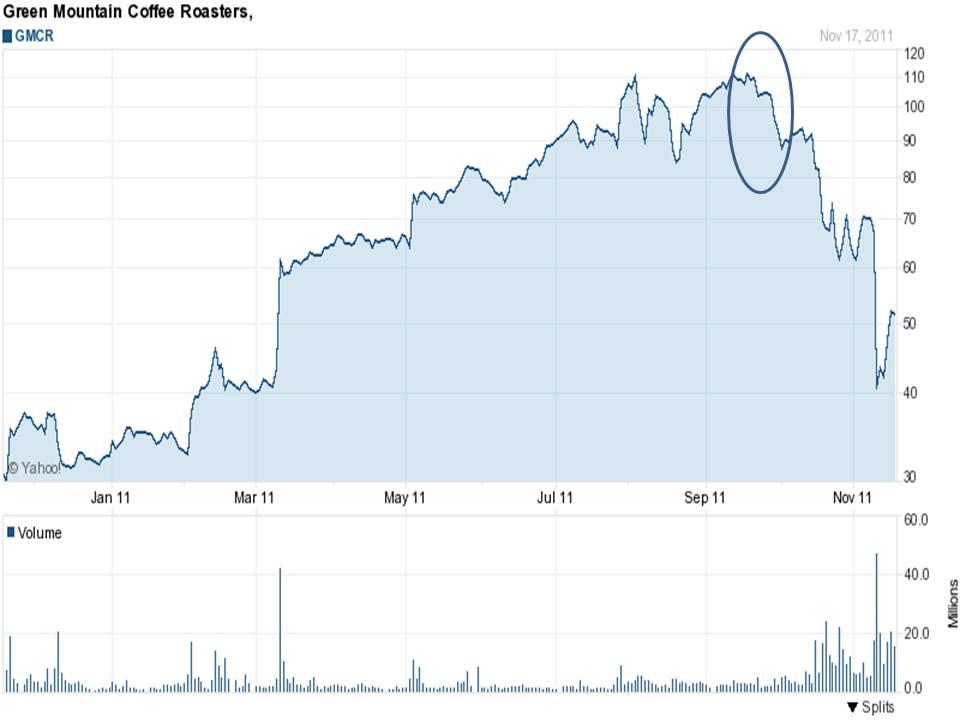 Green Mountain Coffee Roasters first had a hard leg down in late September as David Einhorn and others started to question some of its aggressive accounting practices and huge valuation. Even with a recent bounce, it is down more than 50% from its recent highs. (See Chart above).
Netflix fell out of bed with a self-inflicted wound in early September with its pricing changes and proposed split of its streaming and DVD services. It has been crushed since then as the last earnings reports show substantial defections among its customers (See Chart above).
So is the poor reaction to Salesforce's recent earnings report the start of a similar large sell-off?
Salesforce – Salesforce.com, inc. provides customer and collaboration relationship management "CRM" services to various businesses and industries worldwide. It also offers a technology platform for customers and developers to build and run business applications. The company's Salesforce CRM services enable customers and subscribers to record, store, analyze, share, and act upon business data, and to help businesses manage customer accounts, track sales leads, evaluate marketing campaigns, and provide post-sales service". (Business description from Yahoo Finance)
4 reasons Salesforce looks like a short $115:
The technicals have broken down since CRM hit $160 in late July.
Insiders have sold hundreds of millions of dollars in shares over the last six months and the company will not have GAAP earnings until 2013.
It still has a forward PE of more than 60 despite slowing little EPS growth from FY 2010 to FY2011.
Billings slow to under 30% in the latest quarter from expectations in the mid-30s. This is worrisome as rapid growth in revenue has been the lever that has supported CRM's huge market capitalization despite low earnings and cash flow growth. If revenues slow in any meaningful way, the stock is likely to be slammed much like the former Cramer favorites in the earlier part of the article.
Disclosure: I am short CRM.