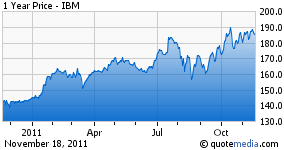 When Warren Buffet announced on CNBC that he purchased 64 million shares of IBM, the media and financial analyst reacted with a significant amount of coverage surrounding the stock. Of course, Buffett spending $11 billion on IBM (NYSE:IBM) was a whale of a transaction and big bet on the future of IBM. But who has money like Buffett? The average investor must play a much smaller trade. My solution is to play a calendar spread that will cost about 20% of a straight purchase of IBM at $185.
A calendar spread that involves selling the January 2012 185 call and buying the January 2013 150 call should cost $35.93 per share with a 12.92% return if the stock stays above $185 through expiration. S&P has set a $205 12-month price target for IBM which is currently trading at $20.00 below that target. With the calendar spread trade, the trade cost could be reduced and returns potentially improved if the stock stays above $177 but lower than $189. The stop loss should be set around the $177 price level.
International Business Machines closed yesterday at $185.73. So far the stock has hit a 52-week low of $141.28 and 52-week high of $190.53. IBM has had an S&P 5 STARS (out of 5) ranking since 6/15/2011. IBM stock has been showing support around $180.54 and resistance in the $191.42 range. The strategy has a 64 day life and would provide 4.5% downside protection and a 12.9% assigned return rate for a 73.5% annualized return rate (for comparison purposes only).
Disclosure: I have no positions in any stocks mentioned, and no plans to initiate any positions within the next 72 hours.