(This is the fourth in our series about a certain kind of Internet Information provider that we call, "Desired Monopolies." Please see the previous reports in the series, about Ariba (NASDAQ:ARBA), Zillow (NASDAQ:Z) and Ancestry.com (NASDAQ:ACOM).
OpenTable: Trying to Not Screw Up a Free Lunch
There's a mesmerizing aspect to OpenTable's (NASDAQ:OPEN) business model, something that makes this Desired Monopoly in on-line restaurant reservations tantalizingly attractive: once a restaurant has bought and installed OpenTable's ERB hardware and software, the restaurant pays a set fee (about $1) for every "seated diner" brought in by OpenTable's application. And the marginal cost to OpenTable for this fee?
$0.00.
Nada. Bupkis. Zipsky. Yup, it's free revenue. "Dinner for two at 7:00 p.m.? Sure,!" <kaChing!>
But there's a new, equally mesmerizing problem with OpenTable's business model, one that is made clear in a recent story about OpenTable's off-and-on relationship with a Minneapolis restaurant:
"Rock Bottom [Brewery and Restaurant] now is paying roughly $250 per month for its OpenTable service, down from the $1,300 to $1,800 per month it previously had been paying."
(Minneapolis – St. Paul Business Journal, October 7, 2011)
(This pricing haircut is so extreme, OpenTable ought to think about offering its reservation services to beauty salons. But seriously, they have a big problem.)
When we introduced the idea of a Desired Monopoly with our report on Ariba, we made it clear that the monopoly's pricing had to be low and stable. Low in order to make the value proposition work for customers, so as to not detract from the desirability of the service. And low also to deter competitors. Pricing also had to be stable, so as not to draw the attention of anti-trust regulators looking for predatory pricing practices. And stable also to discourage haggling with new or existing restaurants over the price of OpenTable's technology solution.
But OpenTable's recent experience with Rock Bottom and a couple of dozen other restaurants demonstrates that OpenTable's pricing is neither low nor stable. And you can bet that in the age of Twitter, Facebook, and Yelp, all of OpenTable's existing customers now know this too. Which will make life very hard for the 186 employees in OpenTable's sales and marketing department.
Is all lost? Not quite. First, Rock Bottom's new pricing reflects not only their willingness to walk away, but also a possibly lower service level provided by OpenTable when they returned. So it's not quite apples-to-apples. What's more, other defectors (mentioned in the aforementioned article) that left OpenTable and chose to return did so because of OpenTable's market power, which some restaurants found they simply couldn't do without.
But the genie is out of the bottle. Would you like to smell the cork?
Data Sheet:
Name: OpenTable, Inc.
Market Cap: $906 million
Trailing 12-months Revenue: $133.1 million
Forward Price:Earnings Ratio (estimated): 25.8x
HQ: San Francisco, CA
Founded: 1998
Description:
OpenTable provides solutions that form an online network connecting reservation-taking restaurants and people who dine at those restaurants. These "solutions" include:
OpenTable's Electronic Reservation Book (ERB); and
OpenTable Connect (Connect).
Solutions for restaurants are meant to replace the traditional handwritten reservation book. All reservations, including those that originate outside of OpenTable (e.g. via phone or e-mail or walk-in) are meant to be entered into the ERB, creating a single, unified system. System functions include reservation management, table management, guest recognition and email marketing.
Solutions for diners include:
www.opentable.com,; and
A variety of mobile applications. 15% of OpenTable reservations are placed from mobile devices.
Diners seated via an OpenTable reservation do not pay anything directly, thought it's realistic to assume that part or all of the cost is embedded in the price of the meal.
The OpenTable "network" includes more than 23,800 restaurants around the world.
Restaurants that use OpenTable's ERB pay:
A one-time installation fee for on-site installation and training;
A monthly subscription fee (~$200) for the use of the ERB software and hardware system;
A fee (officially $1, but, on average, somewhat less) for each restaurant guest seated via OpenTable.
OpenTable typically collects more than $200 per month per restaurant because of restaurants using the service across multiple locations. Restaurants that use Connect pay a fee for each restaurant guest seated through online reservations.
Many restaurants utilizing OpenTable also include a link to the service on their own web site. Because this type of transaction originates with the restaurant's web site, OpenTable only charges the restaurant $0.25 per seated diner.
In October 2010, OpenTable acquired toptable.com, a restaurant reservation site in the United Kingdom. As of September, 2011, toptable.com had approximately 3,500 restaurant customers, or about one half of OpenTable's total international customer base.
OpenTable also has a "frequent diner" program, Dining Rewards. Diners who are previously registered with OpenTable can earn points, typically 100 per reservation, which can be eventually converted into a gift certificate usable at an existing OpenTable restaurant. Twenty reservations, equaling 2000 points, can be converted into a $20 gift certificate.
Certain OpenTable restaurants can elect to offer additional bonus points (up to 1000) per reservation, in order to improve utilization at a particular location or off-peak time. This program has taken on renewed importance now that OpenTable has terminated its Spotlight group-buying program (see under "Concerns/Risks/Issues" below).
OpenTable has an official relationship with Yelp, the popular review site. Reservations originated from Yelp's restaurant review pages default to OpenTable. Yelp filed to become a public company on Wednesday, November 16, which will help lift its already high profile (Yelp.com is ranked 56th in unique visitors among all U.S.-based web sites.)
Market Opportunity/Addressable Market:
In North America, there are roughly 600,000 restaurants, about half of which are self-service/fast food and the other half full service. Of the 300,000 full-service restaurants, industry research indicates that 55,000 routinely accept reservations and are therefore able to utilize one of OpenTable's solutions, either ERB or Connect.
As of the end of September, OpenTable was providing solutions to 16,237 restaurants in North America (plus an additional 7,629 in non-North American markets); thus they have a 29% market share of North American restaurants.
OpenTable's own research shows that in North America, 700 million restaurant seats are filled through reservations annually. As of the end of September, OpenTable was, on an annualized basis, responsible for 87 million seated diners, giving them 12% market share of reserved restaurant seats in North America.
Given that North America represents only 6% of the world's population, and only a fraction (1/3rd ? ¼?) of global restaurant activity, OpenTable's international market opportunity remains quite large and only slightly penetrated.
OpenTable can expand their business (and their market opportunity) in a variety of dimensions:
International: OpenTable's international business is already growing in excess of 200% annually;
Innovation: perhaps via better helping restaurants fill tables at off-hours;
Serving other reservation-based businesses, like golf courses and yes, beauty salons.
Recent Financial Performance:
After the market close on Tuesday, November 1, OpenTable reported their third quarter, which ended September 30. The company reported non-GAAP quarterly earnings of $0.30/share, which was in-line with the consensus estimate. Revenues of $34.4 million (up 40% year-over-year) were very slightly below the $35.9 million consensus.
Other notable metrics for OpenTable's Q3 included:
The installed restaurant base grew 57% annually to reach 23,866;
Seated diners in the quarter were 23.6 million, a 48% annual increase;
International business is on fire, with revenue, restaurant subscribers and seated diners all increasing by more than 200%, exceeding already aggressive growth targets.
The primary negatives in Q3 were:
A deceleration in North American seated diner growth (though still impressive at 42% y/y);
An increase in "churn:" i.e., a deceleration in net restaurant adds from 1,038 in the prior quarter to just 677 in Q3;
A decline in revenue per restaurant subscriber from $252/month in the year-earlier third quarter to $234/month in the quarter just completed;
A decline in the average revenue per seated diner from $0.72 in Q3 2010 to $0.69 in Q3 2011.
While the deceleration in net restaurant adds had little bearing on actual Q3 performance, it's a disconcerting signal of things to come.
Concerns/Risks/Issues:
Pricing
One of the most powerful things about OpenTable's business model is that it turns what had been a fixed cost for restaurants into a variable one. Just as Google popularized the similarly efficient "pay-per-click" technique, OpenTable's pay-per-seated-diner methodology is immensely appealing to restaurants, because so many of their expenses are fixed (e.g., rent, staff, utilities).
However, recent competitive pressures and subsequent pricing re-negotiations open an unpleasant can of worms for OpenTable. And the sharp drop in net restaurant adds in the most-recently-completed quarter suggest that the company's pricing power is undergoing a diminution, the result of which is not yet clear.
If restaurants are getting OpenTable to reduce the $200/month fee subscription fee, or offer greater subscription discounts for multi-site customers, then this would not be a problem, because the per-seated-diner reservation fees can be 10- to 100-times greater for a given restaurant entity. But if the discounting is on the per-seated-diner fee (say, a reduction from $1.00 to $0.75 or even $0.50), this will foretell a major reduction in OpenTable's future revenue.
Livebookings.com/Freebookings.com
Livebookings.com is OpenTable's biggest competitor in Europe, where it has 9,000 restaurant customers, compared with OpenTable's approximately 5,000. Accordingly, Livebookings currently seats about 50% more diners than OpenTable across Europe.
Livebookings.com has recently re-oriented its pricing strategy, and now offers a service, "freebookings.com" that charges neither a monthly subscription nor a seated-diner fee. The effects of this ultra-aggressive pricing strategy are not yet clear. On one hand, it speaks to a certain desperation on the part of Livebookings.com, given OpenTable's 200%+ growth rates in Europe. But free is free, and even if it doesn't gain much traction, it serves as a point of negotiation for OpenTable customers going forward.
The Demise of Spotlight
Spotlight was an OpenTable program begun in August 2010. It offered discounted dining coupons (a la Groupon) from local restaurants to local patrons. In the third quarter of 2011, it was responsible for about 2% of OpenTable's revenue.
On November 1, 2011, during its third quarter conference call, OpenTable's CEO Matt Roberts announced that the Spotlight program was ending. The stated reason was that the return on investment wasn't sufficient. Moreover, it was taking sales and marketing bandwidth away from other, more fruitful marketing initiatives, like the Dining Rewards program.
It's also worth mentioning that there was always going to be a conflict between reservation-requiring restaurants, which inherently view themselves as "high-end" or "premium," and a "daily deals-" style program offering possibly deep discounts to newcomers. So Spotlight's demise is hardly surprising.
Competitive Landscape:
Livebookings.com, the largest European on-line reservation service. Livebookings has a few restaurant customers in the United States, but expanding here is not (yet) a strategic goal;
Eveve; a Scotland-based company with 500 U.K.-based restaurant customers. It is making in-roads into the North American market by focusing only on a few cities, and by only charging a monthly subscription fee, but not a per-diner reservation fee;
UrbanSpoon's RezBook [owned by IAC/InterActive (IACI)]; this service seems primarily directed at existing, high-traffic, "flagship" restaurants. RezBook does not charge restaurants for reservations that originate from the restaurant's own web site.
While each of these competitors is credible, none has the size (24,000 restaurants and counting) of OpenTable. Moreover, OpenTable's relationships with Yelp, Google (NASDAQ:GOOG), and other partners cements its status as the default option for new restaurants.
There was some concern in September of this year when Google purchased Zagat, the acknowledged leader in restaurant reviews. OpenTable has a strategic partnership with Zagat and is, in fact, the default reservation system in use on Zagat.com, for restaurants that are already part of OpenTable's restaurant network.
Shares of OpenTable initially dropped on this news, but there was no indication then nor since that Google plans to compete against OpenTable directly. While subsequent events (Google buys Motorola Mobility ???) show that predicting Google's strategic direction are futile, it's worth remembering that OpenTable has taken 13 years to accumulate the installed base of restaurants in its network, and neither money nor Google's reputation could accelerate that process.
Financial Analysis (DCF and Comparative):
As part of our analysis of OpenTable, we built a Discounted Cash Flow (DCF) model for the company. We used the following parameters and values to arrive at our DCF value:
Term: 5 years;
Initial Cash Flow: $38.204 million (this represents the estimated annual free cash flow for the current fiscal year);
Short Term Cash Flow Growth Rate: 8% (far lower than the 75% CAGR over the last five years);
Long Term Cash Flow Growth Rate: 4%;
Discount Rate: 6.84% (derived using CAPM: Risk Free Rate = 3.06% from the 30–year Treasury Bond; 4.4% equity risk premium from Ibbotson; and a calculated Beta of 0.86);
Current Share Count: 24.488 million.
Using these inputs, our calculated DCF value per OpenTable share is $68.26, about 83% higher than the current share price of around $37. DCF models have their flaws, but for companies like OpenTable that are generating steady amounts of free cash and which have only 10% market share, they can provide a reality check on the stock's current valuation.
Now let's look at OpenTable compared with six other software-as-a-service peers: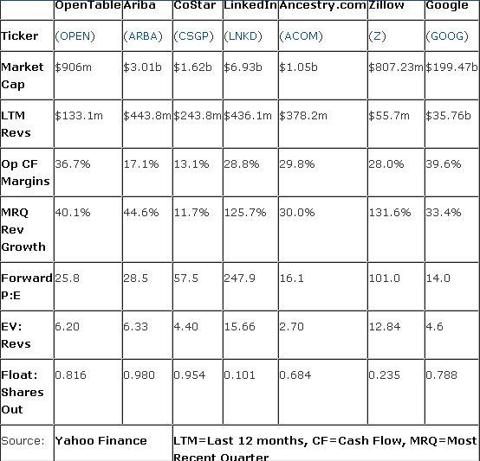 We had several takeaways from this data:
With Operating Cash Flow margins of around 37%, OpenTable is phenomenally profitable, even compared with some famous SaaS peers. Of course, this is a double-edged sword: customers and prospects know that OpenTable has the margin headroom to negotiate lower prices and now has evidence they're willing to do so;
It would be easy to assume that the days of OPEN growing revenue at 40% are over. But with growth in both international restaurants and international seated dinners in excess of 200%, that may not be the case;
With a float: shares outstanding ratio of 0.816, there is limited risk of a major number of shares suddenly available for sale, depressing the share price.
Conclusion (Buy, Sell or Neutral?):
OpenTable is clearly the market leader in its space and a Desired Monopoly: diners want to search one service for a reservation; restaurants only want to pay for (a make room for) one reservation system. OpenTable's critical mass of restaurant customers and the known network effects of its service serve as a formidable barrier to other entrants.
But the pricing genie is out of the bottle, and OpenTable's willingness to negotiate has uncertain ramifications for its market power. Should OpenTable have been charging less all along, foreclosing these competitive woes? We'll never know. But we'll know within a few months just how pliable OpenTable plans to be on its pricing strategy. And this prospect will likely keep OPEN shares from moving materially higher in the short-run.
It's going to be a tug of war between the positives of strong international trends, the move toward mobile reservations and network effects, and the negative of pricing and margin pressure. Instead of being seated, smart investors will wait at the bar. Neutral
Disclosure: I am long ARBA in the Separately Managed Account product for which I am the portfolio manager and in which I am an investor.