We highlighted the German DAX yesterday as it was battling to close above the 12,000 point level and not long after that Bill Gross, the 'Bond King', was getting press from various websites and CNBC for a tweet he sent out saying that the German 10-year Bund was the short of a lifetime. While on CNBC yesterday afternoon, Mr. Gross did clarify that he was providing a generalization and that timing would be key. He did say that it reminded him of the British Pound back in 1993 and the short trade which forever made George Soros famous.
There are no great ways to play this for retail investors; however, the PowerShares DB German Bund Futures ETN (NYSEARCA:BUNL) and the PowerShares DB 3x German Bond Futures ETN (NYSEARCA:BUNT) could be options moving forward. It should be noted that volume is very thin on these ETNs and they have very small balances so any shorting is a risky proposition.
Chart of the Day:
It will be interesting to see whether the US 10-Year Treasury takes out the 2.00% yield level today as it is making another run at what has for the last month proven to be strong resistance.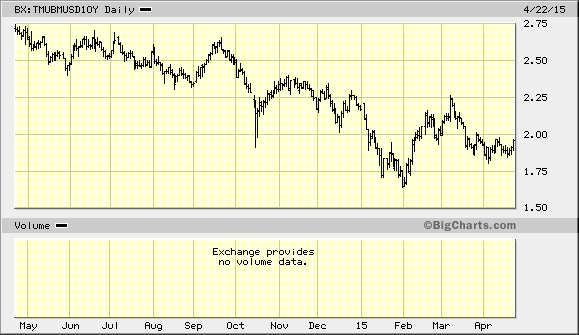 Source: BigCharts
We have economic news today, and it is as follows:
MBA Mortgage Index (7:00 a.m. EST): Est: N/A Act: 2.3%
FHFA Housing Price Index (9:00 a.m. EST): Est: N/A Act: 0.7%
Existing Home Sales (10:00 a.m. EST): Est: 5.05 M Act: 5.19 M
Crude Inventories (10:30 a.m. EST): Est: N/A Act: 5.3 M
The Asian markets are mixed today:
All Ordinaries - down 0.59%
Shanghai Composite - up 2.47%
Nikkei 225 - up 1.13%
NZSE 50 - UNCH
Seoul Composite - down 0.04%
In Europe, markets are lower today:
CAC 40 - down 0.08%
DAX - down 0.91%
FTSE 100 - down 0.76%
OSE - up 0.20%
Nokia's Map Business Attracting Buyers
According to German magazines, more bidders are emerging for Nokia's (NYSE:NOK) mapping business. Nokia has started a strategic review now that it is planning to merge with Alcatel-Lucent (ALU) and could sell the maps business if bidders are willing to pay the right price. The company has tried to stress to investors that it is not a forced seller, indicating that a below market value offer will not be accepted.
Right now it appears that the two front runners in the bidding are Facebook (NASDAQ:FB) and a group of German automakers, including Audi (OTCPK:AUDVF), BMW (OTCPK:BAMXY) and Daimler (OTCPK:DDAIF). There are rumors that others could enter the bidding, with Continental AG a likely candidate and private equity players. This is an attractive asset and analysts estimate that it could bring in between 4.0 and 7.0 billion euros, which would go a long way towards helping Nokia turn around Alcatel-Lucent.
Yahoo Looks To Japan
With the company's shares having benefited from the Alibaba (NYSE:BABA) IPO and subsequent announcement that Yahoo (YHOO) would look to spin off the rest of its holdings in the Chinese internet company, it should come as little surprise to investors that Yahoo is now weighing its options regarding its Yahoo Japan stake. This carrot was thrown to investors after Yahoo announced disappointing quarterly results, with EPS coming in at $0.15 versus estimates of $0.18/share. The company's traditional advertising businesses both came under pressure during the quarter, with both display and search advertising revenues declining for the first time in years. The new growth initiatives that the company has undertaken are not growing at a fast enough rate to offset the declines experienced by the legacy businesses, which only gives investors further ammunition for an eventual showdown with CEO Marissa Mayer.
With EPS and revenues coming in below expectations and continued pressure on the company, Marissa Mayer's latest plans for Yahoo's search business will be key. Having amended the search agreement the company has with Microsoft (NASDAQ:MSFT), it appears that Yahoo could be set to release new updates to its algorithm and possibly decide to end the partnership to go it alone in the search business. Something has to give because Yahoo is losing market share while also having a smaller piece of the total revenue pie, a deadly mixture. With Twitter (NYSE:TWTR) set to surpass the company in display ads, it is easy to see why activist investors such as Starboard Value are targeting the company.
Amgen Reports Solid Quarter
Wall Street was surprised by the headline number Amgen (NASDAQ:AMGN) reported this morning, as EPS came in at $2.48 or $0.38/share above the consensus estimate of $2.10/share. While pricing power was key for the company this quarter as it increased prices on its most popular drugs, even more important were the lower R&D costs that Amgen incurred. It appears that the actual R&D costs the company reported were the main driver behind the beat, as analysts had forecast much higher R&D costs.
For the full year, Amgen provided fresh guidance, raising its EPS forecast to $9.35-$9.65 from the previous range of $9.05-$9.40/share. The current analyst consensus figure is for EPS of $9.30, so investors can probably expect some positive research reports to come out. Revenue guidance was unchanged on the top end, but was increased by $100 million to $20.9 billion on the lower end.
Disclosure: The author has no positions in any stocks mentioned, and no plans to initiate any positions within the next 72 hours.
The author wrote this article themselves, and it expresses their own opinions. The author is not receiving compensation for it (other than from Seeking Alpha). The author has no business relationship with any company whose stock is mentioned in this article.
Editor's Note: This article discusses one or more securities that do not trade on a major U.S. exchange. Please be aware of the risks associated with these stocks.