Boston-based hedge fund RA Capital Management, as of the most recent SEC 13-F filing for the September 2011 quarter, had $128 million in equity assets-- all invested in the healthcare sector and almost all in small-cap equities. Within the healthcare sector, biotechnology accounts for two-thirds of the fund's investments, and medical device companies make up most of the remaining third. The fund uses event-driven analysis to employ long and short investment strategies. The event-driven analysis is based on a fundamental analysis of the future outcomes of key events which, in the case of biotech and medical device companies, includes clinical trial results, regulatory decisions, unexpected side effects, additional indications for a drug or device, market adoption, and strategic partnerships or joint ventures.
The fund was founded in 2002 by Dr. Peter Kolchinsky, who made an untraditional path to becoming a hedge fund manager after earning his PhD in virology from Harvard University. The fund got a great start with an initial $4 million investment from its first partner Rich Aldrich, co-founder of Vertex Pharmaceuticals (NASDAQ:VRTX). The fund broke even in 2002 when the S&P 500 index lost 22%, and then tripled the initial investment in 2003. Mr. Kolchinsky's investment prowess can be inferred from his most recent success that includes a triple on the largest holding in his portfolio, Inhibitex Inc. (NASDAQ:INHX) that recently surged on a successful clinical trial. He also had a large holding in genetic analysis and diagnostic testing products developer Sequenom Inc. (NASDAQ:SQNM) prior to its huge surge in the second half of 2008.
With the biotech index down by almost by a third since the peak in May this year, now may be a good time to hunt for some bargains in the group. Based on its most recent Q3 filing, the following are RA Capital's most bullish picks (see Table):
Sequenom Inc. (SQNM): SQNM operates in the field of industrial genomics, providing products, services, diagnostic testing, applications, and genetic analysis products that translate the results of genomic science into solutions for biomedical research, translational research, molecular medicine applications, and agricultural and livestock research. RA Capital added $2.2 million in Q3 to its $9.0 million prior quarter position in the company.
Columbia Laboratories (CBRX): CBRX develops women's healthcare and endocrinology products using its proprietary bio-adhesive drug delivery technology. It offers bio-adhesive vaginal gel products that provide solutions for infertility, pregnancy support, and other women's medical indications. RA Capital added $2.9 million in Q3 to its $6.4 million prior quarter position in the company.
Raptor Pharmaceutical (NASDAQ:RPTP): RPTP develops medicines that improve the life of patients with severe, rare diseases. Its lead product is RP103 (DR Cysteamine) that recently successfully completed its phase 3 pivotal trial for Nephropathic Cystinosis, a rare genetic disorder that may affect as many as 500 in the U.S. and about 2,000 worldwide. The company's products also target other rare diseases such as Huntington's, non-alcoholic steatohepatitis (NASH), and aldehyde dehydrogenase (ALDH2) deficiency. RA Capital added a new $4.3 million position in the company in Q3.
Inhibitex Inc. (INHX): INHX develops differentiated anti-infective products to prevent and treat serious viral and bacterial infections, including primarily shingles and chronic infections caused by hepatitis C virus (HCV). RA Capital cut $1.8 million in Q3 from its $20.5 million position in the company; however, the remaining $18.7 million is still easily its largest holding. INHX shares recently doubled this month after the company reported positive top-line data from its clinical trial of INX-189 in hepatitis C patients.
Vanda Pharmaceuticals (NASDAQ:VNDA): VNDA develops compounds that seek to treat central nervous system disorders such as schizophrenia, insomnia and depression. RA Capital added $5.6 million in Q3 to its $2.0 million prior quarter position in the company.
Vertrus Biosciences (VTUS): VTUS develops late-stage specialty pharmaceuticals for the treatment of hemorrhoids, anal fissures and fecal incontinence. RA Capital added a new $5.9 million position in the company in Q3.
Endocyte Inc. (NASDAQ:ECYT): ECYT develops targeted therapies using small molecule drug conjugates for the treatment of cancer and inflammatory diseases. RA Capital added a new $3.8 million position in the company in Q3.
The following are the stocks that RA Capital is bearish about based on its Q3 selling activity:
Arthrocare Corp. (NASDAQ:ARTC): ARTC is a developer of minimally invasive surgical devices using proprietary technology to treat soft tissue conditions in the body. RA Capital sold $4.2 million, its largest sale in Q3, out of its $11.1 million prior quarter position in the company.
Adventrx Pharmaceuticals (ANX): ANX is a biopharmaceutical research and development company whose business strategy is to commercialize leading edge medical research through licensing agreements with prominent universities and research institutions. The company's current efforts focus on treatments for cancer based on the improvement of existing drugs and addressing limitations with their safety. RA Capital sold completely out of its $1.5 million prior quarter position in the company.
Pharmasset Inc. (VRUS): VRUS develops pharmaceuticals to treat viral infections. Its primary focus is on developing treatments for chronic hepatitis C virus (HCV) infection and HIV. RA Capital sold $2.2 million in Q3 from its $7.2 prior quarter position in the company.
Click to enlarge
Table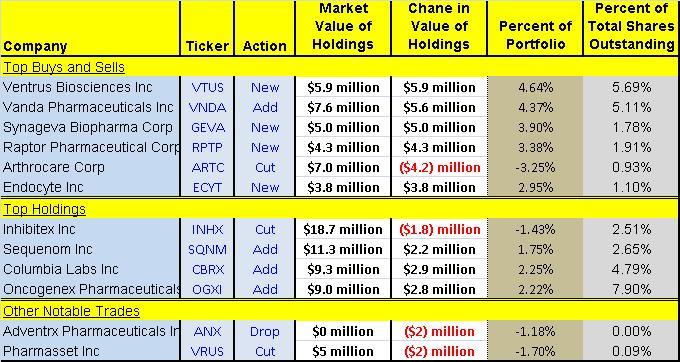 Credit: Historical fundamentals including operating metrics and stock ownership information were derived using SEC filings data, I-Metrix® by Edgar Online®, Zacks Investment Research, Thomson Reuters and Briefing.com. The information and data is believed to be accurate, but no guarantees or representations are made.
Disclosure: I have no positions in any stocks mentioned, and no plans to initiate any positions within the next 72 hours.
Disclaimer: Material presented here is for informational purposes only. Nothing in this article should be taken as a solicitation to purchase or sell securities. Before buying or selling any stock you should do your own research and reach your own conclusion. Further, these are our 'opinions' and we may be wrong. We may have positions in securities mentioned in this article. You should take this into consideration before acting on any advice given in this article. If this makes you uncomfortable, then do not listen to our thoughts and opinions. The contents of this article do not take into consideration your individual investment objectives so consult with your own financial adviser before making an investment decision. Investing includes certain risks including loss of principal.