About the Company
The premier specialty tea retailer founded in 1997, Teavana (TEA), retails loose-leaf teas, tea accessories and related products, and tea beverages. Teavana leads this new retail segment. We think the company's choice real estate, quality product, and highly trained sales staff are the keys to its success. In September 2011, the company directly owned 179 stores in 26 states. By region, stores are evenly spread, but CA and FL have the most TEA locations. There are also 19 franchise stores in Mexico.
Investment Thesis
We believe that Teavana is on route of becoming the next Starbucks (NASDAQ:SBUX) of tea, but on a smaller scale. In terms of valuation, in spite of losing ~20% of its value from its post-IPO-high, it is just too expensive.
Signs of a great company in the making:
First Mover Advantage in a fragmented industry: US tea sales could increase at a 12% CAGR from 2010 to 2014 to $7 billion. We think industry growth drivers include: (1) broader distribution; (2) increased offerings; and (3) growing interest in healthy lifestyles. Teavana lacks large, direct competitors. Other tea retail entrants have closed more than half (or all) of their US stores.
Teavana has generated positive annual same store sales from 2006-2010 (and reported only one negative comp quarter, 4Q08, with -1.6%). 2010 sales productivity approached $1,000 per square foot, and comparable store sales totaled $862,000. 2Q11 results.
On September 2, 2011, TEA reported 2Q11 EPS of $0.03. Net sales rose +36% (to $31.3 million). Same store sales rose 6.9%, driven by a 9.3% ticket increase. Transactions declined -1.8%, inline with TEA's historical range (slightly positive to slightly negative).
As of September 2, 2011, TEA had 179 company-owned stores. The company is on track up open up between 35-50 new locations in FY11.
Management also initiated 2011 and long-term guidance. For 2011: $160 - $164 million sales (with low- to mid-single digit same store sales) and $0.42 - $0.44 EPS (based on $16 - $16.8 million net income and 38.3 million shares). Longer-term outlook (from 2010 figures): 25% revenue CAGR, +300 bp operating margin expansion, and 30% net income growth.
Our main concerns are:
Total inventory rose 82% y/y to $22.7 million in the latest quarter.
Parallel Investment Partners post-IPO ownership in Teavana ~19-20%. They could inflict negative pricing pressure on the stock if they decide to liquidate their investment. (See figure on ownership)
Increase in short interest

Valuation: Does the current share price already include the growth opportunity?
We think TEA's sales and earnings growth prospects are already reflected in valuation (40x, 2012e EPS).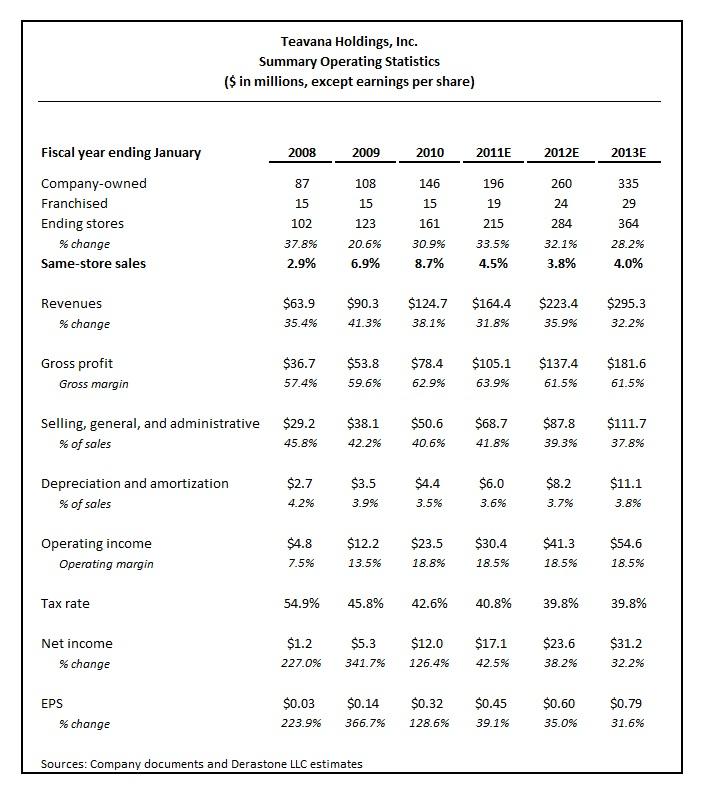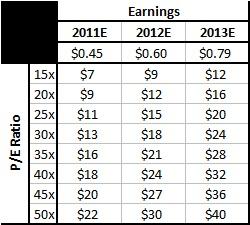 The results of the comps show us that TEA is expensive. On the other hand, THI and CBOU appear rather undervalued compared to the rest of the group.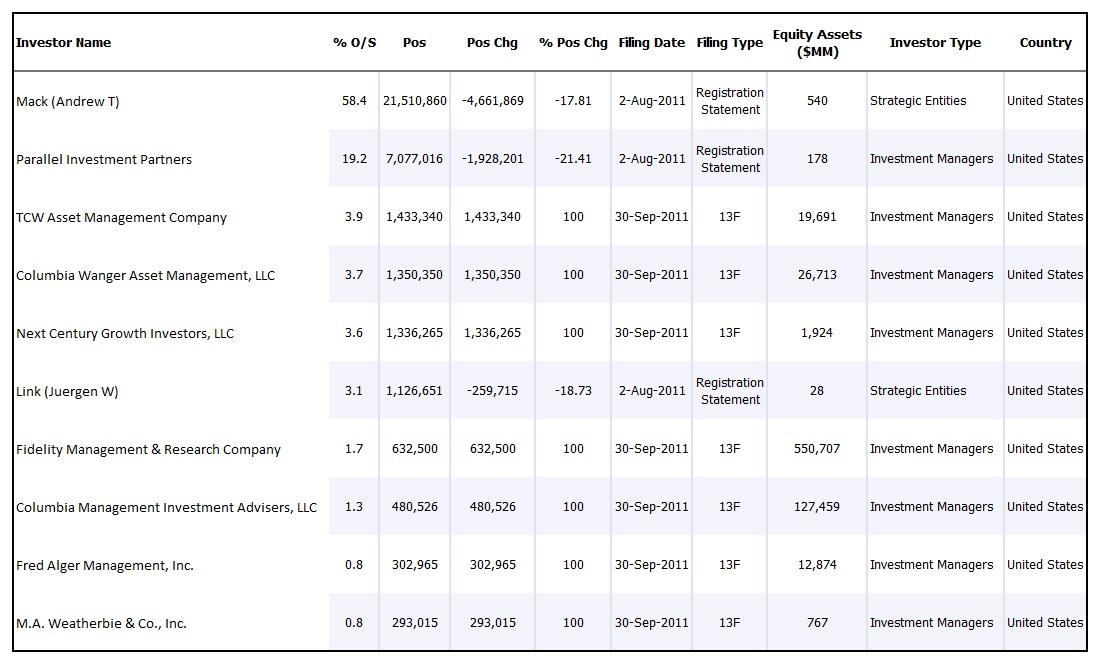 Conclusion
Great company: margins are healthy; growth is robust and expect to continue for the foreseeable future.
Valuation: no margin of safety if you invest in this company. We find it difficult to justify these valuations. If the company misses their revenue or earnings guidance, the price of the stock could suffer. Moreover, you have a private equity investor ready to liquidate as soon as they find the opportunity.
At this time we would prefer THI over TEA
Disclosure: I am long SBUX.
Additional disclosure: Sources: Company filings, CapitalIQ, and Google Finance