Summary:
We recommend a sell for Perrigo Company (NASDAQ:PRGO) with two triggers based on the possible scenarios. First, if Perrigo's price falls to $185, we recommend selling to protect significant gains from recent M&A conversations. On the other side, if a second offer is made, we recommend selling to capture additional upside. Until one of these two triggers is met, we continue to recommend a hold for Perrigo. On April 8, 2015, Mylan N.V. (NASDAQ:MYL) made a proposal to acquire Perrigo in a transaction of cash-and-stock for $205 per share.1
Mylan's offer to buy Perrigo significantly increased the both company's stock prices in the days following the announcement (both up over 20% as of April 17, 2015.) This was curious initially because typically only the target company sees such a boost after an acquisition announcement. However, when viewed through the lens of recent news, the 20% bump for Mylan begins to make more sense.
Teva makes an offer for Mylan:
Teva Pharmaceuticals (NYSE:TEVA), an Israeli pharmaceutical company, has been eyeing Mylan for quite some time. The deal would make the combined company a leader in the generic pharmaceuticals market.4 However, it was recently revealed that the company was not willing to pay a premium for acquisitions, and Teva's management may prefer small additions to large mergers.5
We believe that Mylan wanted to force Teva's hand by announcing the Perrigo offer. Doing so would force Teva to make a decision as to whether or not they should to buy Mylan before they became too large. On April 21, 2015, Teva announced their $40 billion bid for Mylan. This news confirmed our original theory that a Mylan-Perrigo company would be too large for Teva to reel in and that Teva needed to evaluate a possible Mylan purchase before a Perrigo deal is confirmed.
Mylan's management has made several strong comments regarding the Teva offer that dismiss the deal and raise antitrust questions. The company has also adopted a poison pill strategy, making a leveraged buyout difficult for Teva.
Perrigo rejects initial Mylan bid:
On April 21, 2015, Perrigo's board unanimously voted to decline Mylan's offer. Management said that the $205 per share offer significantly undervalued Perrigo. Perrigo also hosted a conference call to discuss the Mylan offer.
Management also said that the Mylan offer did not include any additional details or specifics outside of what is currently available in the market. Combined with the low offer price and Mylan's situation with Teva, this calls into question the seriousness of Mylan's offer.
CEO Joe Papa's comments about Perrigo's future opportunities suggests that they would need a significantly higher offer to consider selling. He used the term significant several times while discussing the upside of an independent Perrigo. He also used this term to describe how low the Mylan offer was when compared to management's expectations for future growth opportunities.
Finally, management refused to comment on the possibility or existence of other offers at this time. This suggests that Perrigo could currently be in talks with others.
Mr. Papa also mentioned that he was surprised by the offer because he had not heard from Mylan's management since their previous conversations in May 2014. Again, this calls into question the seriousness of Mylan's offer.
While the conference call comments were far from dismissing the possibility of accepting any future offer, it seems unlikely that they consider a deal from Mylan, or someone else, unless it comes at a significantly higher price.
Current analysis of successful acquisitions in the pharmaceutical market suggest an average of multiple of 30x EBITDA, and Mylan's offer came in below this at 25x EBITDA. We believe that for Perrigo to consider a second offer, it must be closer to the 30x multiple, or $250 per share.
Mylan announces plans for a second offer:
On April 22, 2015, Mylan announced that they are going to make a second offer. While information is sparse, they suggested that their second offer will include more specific financials. This suggests that Mylan learned an important lesson from their unsuccessful first offer and that they are getting more serious the second time around.
Scenario Analysis:
We see several possible scenarios playing out, and we assigned probabilities and the resulting Perrigo share prices according to the decision tree below.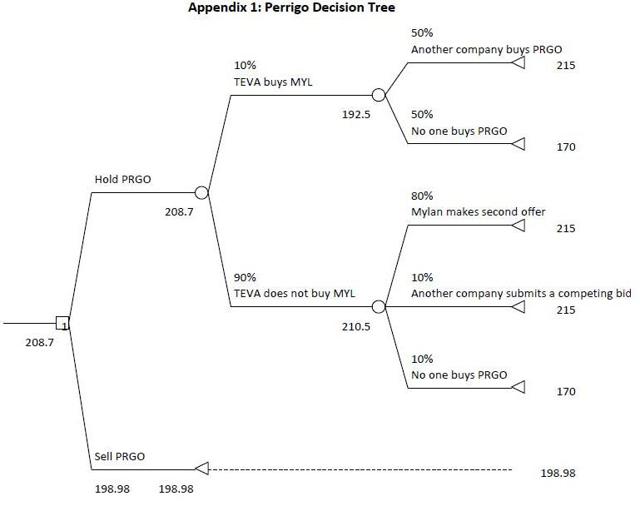 First, we feel that there is a 10% chance that Teva buys Mylan. This is because of the statements by Teva's management regarding their desire for small acquisitions. At their current market cap of $33 billion, Mylan would be a large acquisition for Teva ($65 billion market cap), even without the addition of Perrigo. If Teva does acquire Mylan, we believe Perrigo's share price would recede to around $170, which represents a 6% upside compared to their pre-offer price. The upside reflects the idea that the Mylan offer exposed Perrigo's appeal to the rest of the market, and Perrigo could become an acquisition target in the future.
We assigned a 90% probability that Teva decides not to acquire Mylan. In this situation, there is an 80% chance that Mylan follows through with their Perrigo offer without any other companies making a competing offer. In this situation, Perrigo's price would rise to at least $215, or our projected second offer price. We feel this situation is the most likely to occur for several reasons. First, there is very little news discussing other interested companies. Additionally, we believe that the Mylan-Perrigo combination presents a good opportunity for Perrigo given their recent performance.
However, there is also a 10% chance that another company submits a competing offer for Perrigo. We estimated a resulting price of $215, which is above the first Mylan offer. Again, while there is very little news discussing other interested companies, there is a small possibility that Johnson & Johnson, Actavis, Teva, or Valeant could make a bid.
Finally, there is also a 10% chance that no company acquires Perrigo. This could occur if Perrigo fights off the Mylan offer or if Mylan loses interest in the deal. In this case, we expect Perrigo's share price to fall to $170. This scenario is less likely based on our assumptions about the seriousness and potential of Mylan's offer.
We recommend a holding Perrigo until the price falls to $185 or a second offer is made.
References:
1. Mylan Company Press Release. April 8, 2015.
2. Hammond, Ed, Baigorri, Manuel, Wainer, David. "Teva is Said to Explore Mylan Bid to Create Generic Drug Giant" Bloomberg. April 17, 2015.
3. Sabatini, Patricia. "Mylan Offers $30 Billion to Buy Competitor Perrigo" The Pittsburg Post Gazette. April 8, 2015.
4. Ishmael, Hannah. "Why Mylan NV-Perrigo Company plc-Teva Pharmaceutical Bid Tangle Can Make Investors Richer" Bidness Etc. April 15, 2015.
5. Ishmael, Hannah. "Here's Why Mylan NV's Offer To Buy Perrigo Could Make Both Companies Acquisition Targets" Bidness Etc. April 13, 2015.
Disclosure: The author has no positions in any stocks mentioned, and no plans to initiate any positions within the next 72 hours.
The author wrote this article themselves, and it expresses their own opinions. The author is not receiving compensation for it. The author has no business relationship with any company whose stock is mentioned in this article.