The technology sector, as represented by the NASDAQ-100 Technology Sector Index (NDXT), was down 5.2% last week, mirroring the weakness in the overall market. The following is our analysis of the big news and price moves in the technology sector last week.
Micron Technology (NASDAQ:MU) and Rambus Inc. (NASDAQ:RMBS): MU is a leading manufacturer of semiconductor memory solution, including DRAM, NAND and NOR flash memory, phase change memory, and image sensors. These memory products are used in a range of electronic applications, including personal computers, workstations, network servers, mobile phones, flash memory cards, USB storage devices, digital still cameras, MP3/4 players, and in automotive applications.
RMBS engages in the creation, design, development and licensing of patented innovations, technologies and architectures to digital electronics products and systems. Its patented innovations include Dual Edge Clocking, Variable Burst Length, and FlexPhase technology. Last week, RMBS shares plunged 53.3%, losing $1.05 billion in market-cap, and larger MU gained $830 million in market-cap, up 15.6% during the week.
The strong moves in both companies came after a jury in an anti-trust case against Hynix Semiconductor (OTC:HXSCF) and MU ruled in favor of the defendants, finding that RMBS did not meet its burden of proof in its allegation that Hynix and MU illegally conspired to eliminate Rambus' RDRAM memory technology from the marketplace by disrupting an economic relationship between RMBS and Intel Corp. (NASDAQ:INTC).
While RMBS has promised to appeal the verdict, which was more or less expected, their chances of success the second time around may be even slimmer given that the jury took almost two months deliberating on this case before arriving at a verdict, and the decision was not even close as the jury was split 9-3 against RMBS this time around. The verdict is a great positive for MU as it (at least for the time being) releases them from a potentially lethal liability, estimated at $12 billion, and the stock could go higher from here after consolidating its gains from last week. Also, the RMBS sell-off may have been over-done at the sub-$5 lows on Wednesday, as the company still has a viable business and the jury verdict has no impact on existing licensees.
Clearwire Corp. (CLWR) and Sprint Nextel Corp. (NYSE:S): CLWR provides wireless broadband networks for delivery of residential and mobile internet access and voice services. CLWR customers connect to the internet using licensed spectrum, thus eliminating the confines of traditional cable or phone lines. The company offers its service in fifty U.S. markets, as well as in Europe. Sprint offers wireless and wireline communications products and services to individual consumers, businesses, government subscribers, and resellers in the United States, Puerto Rico, and the U.S. Virgin Islands.
The CLWR stock plunged 17.9% on Friday, with Sprint falling 10.0%, after a Wall Street Journal story in the afternoon reported that CLWR is thinking about the unusual strategy of missing the $237 million interest payment due December 1, even though the company has almost $700 million in cash and short-term investments. This is tantamount to declaring bankruptcy, and we would steer clear of both companies until it is clear what CLWR's strategy is going forward.
Netlist Inc. (NASDAQ:NLST): NLST manufactures DRAM ICs, NAND flash memory components, ASICs and other components assembled on PCBs for the data center, high-performance computing and communications markets. Its shares have been in a strong rally mode ever since it reported narrower loss in its Q3 results on November 10th, up 77.6% last week on top of a 43.3% rise the prior week, bolstered by positive product and technology collaboration news last week.
This included an announcement on Monday on the industry's first 32GB Virtual Dual Rank (2vR) RDIMM (registered dual inline memory module), followed by disclosure Tuesday of the company entering into two memory technology collaboration agreements with International Business Machines (NYSE:IBM) and Hewlett-Packard (NYSE:HPQ) for qualification of its Hypercloud technology into their servers and joint marketing efforts once qualification is achieved.
The stock hit a 20-month high on Friday, closing at the lows of the day at $3.50 after hitting an intra-day high of $3.96 in what looks like the beginnings of a technical reversal after a near 150% rise in just six trading days. While the fundamental backdrop continues to be promising, we believe that in the short-term the stock looks like it is set to consolidate its recent gains and move lower from here.
Other Big Movers: Other prominent big movers in the technology sector last week include:
Netapp Inc. (NASDAQ:NTAP): NTAP manufactures integrated network storage and data management hardware for corporations and government agencies. Its shares collapsed 17.6% last week, losing $2.7 billion in market-cap, after the company announced October quarter (Q2) results on Wednesday after the market closed. The company beat earnings for Q2, but it missed revenue and guided Q3 revenue and EPS lower. This is the second time in a row that the company has guided lower, as back in mid-August in its Q1 release, the company guided revenue lower for Q2.
Fusion-IO Inc. (NYSE:FIO): FIO is engaged in the development, marketing and sale of storage memory platform for data centralization in the U.S. Its platforms enhance the processing capabilities within a datacenter by relocating process-critical or active data from centralized storage to the server where it is being processed. FIO shares were up 17.4% last week, all of it in the early part of the week after the company's Chief Scientist Steve Wozniak, better known as the co-founder of Apple Inc. (NASDAQ:AAPL), appeared on CNBC promoting the company.
Mentor Graphics Corp. (NASDAQ:MENT): MENT develops design automation software and hardware used to design, analyze and test electronic systems and components. Its shares rallied a strong 13.4%, all of it on Friday after the company beat revenue and earnings estimates in its most recent Q3.
Fibertower Corporation (NASDAQ:FTWR): FTWR provides microwave- and fiber-based backhaul services to wireless carriers for the transport of voice, video and data traffic. Its shares plunged 60.9%, most of it in the latter part of the week after it announced on Wednesday morning that it missed interest payments on its 9.00% convertible senior secured notes due 2012, and later that day announced a 40% cut in the workforce and halting all capital and project related spending in an effort to conserve existing liquidity.
Table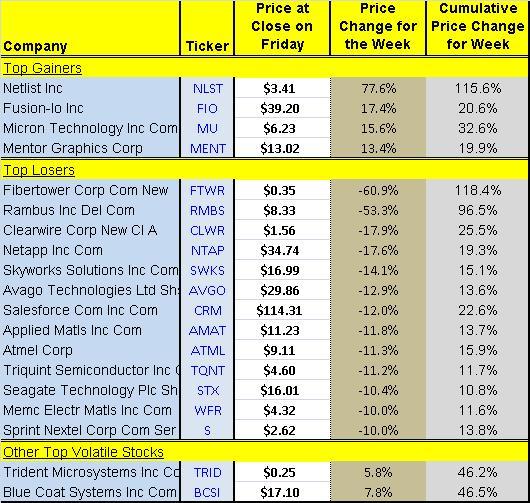 Please note that the cumulative price change referred to in the last column of the Table above is used here as a measure of volatility to determine big movers in the group. It equals the sum of the absolute value of the change in daily prices. So, for example, if a security had price moves of 2%, -3%, 4%, -6% and 1% during the five days of the week, the cumulative price change during the week would be the sum of the absolute values of the daily price changes, which in this case would be 16%.
Disclosure: I have no positions in any stocks mentioned, and no plans to initiate any positions within the next 72 hours.
Disclaimer: Material presented here is for informational purposes only. Nothing in this article should be taken as a solicitation to purchase or sell securities. Before buying or selling any stock you should do your own research and reach your own conclusion. Further, these are our 'opinions' and we may be wrong. We may have positions in securities mentioned in this article. You should take this into consideration before acting on any advice given in this article. If this makes you uncomfortable, then do not listen to our thoughts and opinions. The contents of this article do not take into consideration your individual investment objectives so consult with your own financial adviser before making an investment decision. Investing includes certain risks including loss of principal.