The Australian dollar remains weak as falling price pressures weigh on interest rates. The Australian dollar is represented by CurrencyShares Australian Dollar Trust (NYSE:FXA).
In the first quarter, the inflation figure came in at an annual pace of 1.3%, down from the previous quarter's reading of 1.6%, while in line with estimates for 1.3%. Over the past year, price measures have nearly halved, falling from 3%, to current levels. The largest negative impact on prices continues to be fuel costs.
"Year-on-year, cost of transport fell by 6.2 percent (from -1.9 percent in the previous quarter). Automotive fuels decreased by 22.5 percent, the largest in the history of the automotive fuel series, beginning in September 1973. Prices also declined for: communication (-4.5 percent from -3.0 percent) and clothing and footwear (-0.7 percent from -1.5)," according to Trading Economics.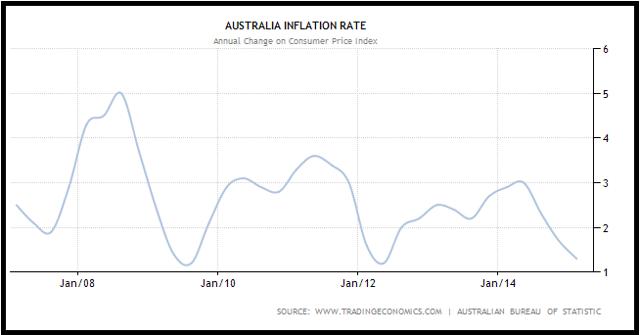 Moreover, a weak jobs market has weighed on labor costs, adversely affecting inflation pressures. Unit labor cost is a measure of input costs relative to overall output. When the indicator rises, it signals upward pressure on inflation.
In the fourth quarter, the unit labor costs measure came in at an annual pace of 0.22%, down from the previous quarter's reading of 0.42%. Since 2011, unit labor costs have fallen from an annual pace of over 6%, to current levels. Slack in the labor market has led to less hiring, as well as lower bargaining power for laborers.

Data provided by the OECD
Lastly, weak business confidence gives little optimism for increasing output in the future. In March, the Westpac Leading Index came in at 98, down from a revised reading of 98.28 the previous month. A reading above 100 signals optimism. Since falling during the financial crisis, business confidence has remained suppressed. Weakening business investment due to falling commodity prices has weighed on confidence measures.
"Commodity prices have declined over the past year, in some cases sharply. The price of oil in particular is much lower than it was a year ago. These trends appear to reflect a combination of lower growth in demand and, more importantly, significant increases in supply.

The much lower levels of energy prices will act to strengthen global output and temporarily to lower CPI inflation rates. Prices for key Australian exports have also been falling and therefore Australia's terms of trade are continuing to decline," according to Trading Economics.
With inflation remaining a concern in Australia, its currency could continue to weaken. Price measures continue to fall due to weakening fuel prices. Moreover, declining labor costs are weighing on core-inflation readings. Suppressed business confidence is having adverse effects on the economic outlook, which should hold lending rates low, weighing on the Australian dollar in coming months.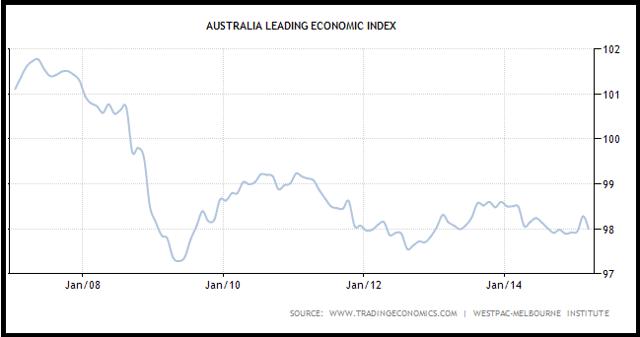 Disclosure: The author has no positions in any stocks mentioned, and no plans to initiate any positions within the next 72 hours.
The author wrote this article themselves, and it expresses their own opinions. The author is not receiving compensation for it (other than from Seeking Alpha). The author has no business relationship with any company whose stock is mentioned in this article.