Isn't this right back to where we were in August? Actually, it's slightly different this time. This time, it's a special bipartisan debt committee that's saying the Federal government can't come to an agreement on measures that would cut the deficit; whereas in August it was the entire Congress that couldn't agree on a Federal budget — which could mandate a government shutdown. Six of one and half a dozen of the other though; philosophically it's the same nonsense.
The question is, will this impasse drop another bomb on the market, as it appears to be expected per last week's downside plunges? Or, is the average investor finally immune to these never-ending threats, meaning something else was inspiring last week's plunge? [And if that's the case, what was the real reason for the sell-off in the middle of last week? More bad news from Europe?]
We may not be able to fully answer the "why?" question here, but we can at least look at the likely impact it'll have in stocks ... and we'll do that right after taking a macro-look at last week's big economic numbers.
Economic Calendar
It was a busy week last week in terms of economic data; here are the highlights.
Not only is inflation being contained as a potential problem, but we may even be dangerously headed in the other direction … deflation. The PPI slumped 0.3% last month (flat on a core basis), while the consumer inflation index fell 0.1% (and was up 0.1%) on a core basis. The annualized inflation rate is now 3.53%, down from last month's 3.87%. It's still high, and it's too soon to say it's falling, but this is a dynamic worth keeping tabs on.
Consumer Inflation Rate (Annualized)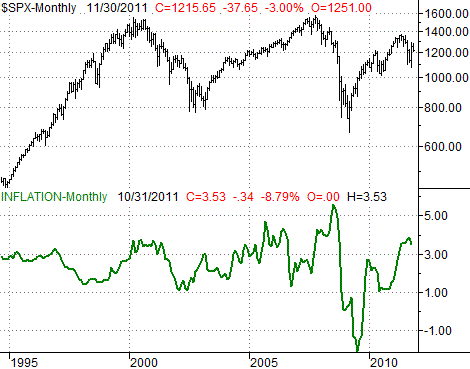 We also got a big dose of real estate and construction data, though more is in store for this week. Housing starts and building permits issued were both firm, and well above expectations … 628K and 653K, respectively. The recent average for both has been around 600K.
The big guns were capacity utilization and industrial production. As we pointed out last week, these two data sets correlate very well with the long-term market. So, for the former to creep higher to 77.8% and the latter rise by 0.7% is modestly encouraging.
Economic Calendar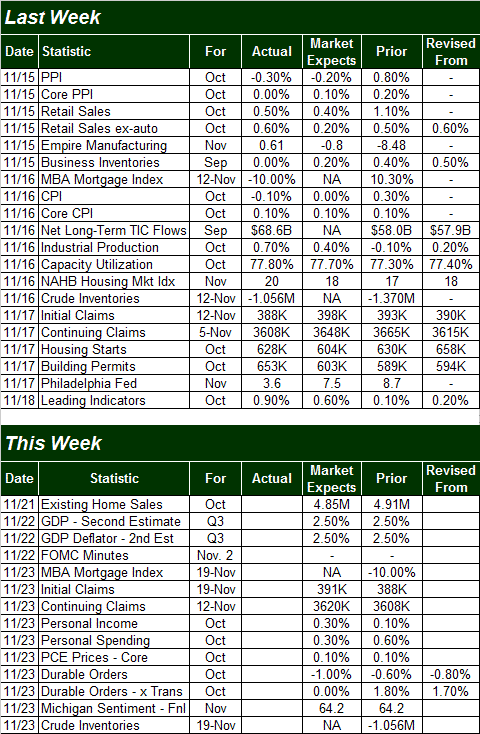 The coming week won't be quite so crazy thanks to the holiday-shortened week, but we're still getting some major data … beginning with Monday's existing home sales. The pros say the annualized rate only slipped to 4.85 million.
On Tuesday we'll either have last quarter's firm GDP affirmed, or that excitement popped. The estimate is still 2.5%.
Unemployment claims are due on Wednesday – more of the same is expected (a sub 400K new claims, and ongoing claims of 3.6 million). Wednesday is also going to be loaded with the numbers that would normally be unveiled on Thursday and Friday though. That's mainly going to be personal income and durable orders for October. Income and spending should both be up nominally, but durable orders could be a problem – without transportation, orders are expected to have fallen 1.0% last month.
S&P 500
Well, there's more bad news than good for last week, beginning with the fact that stocks fell 3.8%… the bulk of it on Wednesday and Thursday. It was also the first lower low since October's heroic run.
Before writing it off 'til further notice though, there are some things the bulls as well as the bears need to notice. That's mainly the fact that though the S&P 500 got whacked, it also found a floor at a key level – the combination of the lower 20-day Bollinger band, and the 50-day moving average, around 1207. Until and unless those lines snap, the bulls are still in the hunt.
Besides, let's not forget that October was the most bullish month we've seen since the late 80's. If there was ever a setup for a pullback (even a small one), this is it.
With that as the backdrop, our take is still more of a bullish one than a bearish one. The CBOE Volatility Index is NOT pressing meaningfully higher even though the market has pressed lower. Point being, the movement may superficially be alarming, but the sellers don't exactly mean it. The just-average volume on the way down doesn't exactly say the bearishness is a majority opinion either.
So we're once again trapped between a rock and a hard place. It just so happens that the hard place is transposed a little lower than it was a couple of weeks ago.
Only a tumble under 1207 for the SPX will really be a red flag, while the 1248 level – where the 20-day moving average line is – is the immediate make-or-break line for the bulls. Even then though, the ultimate line in the sand for further upside is 1289. That's where the upper 20-day Bollinger band line for the S&P 500 is waiting, and it also happens to be close to the peak high for the SPX from late October.
SPX & VIX Daily Chart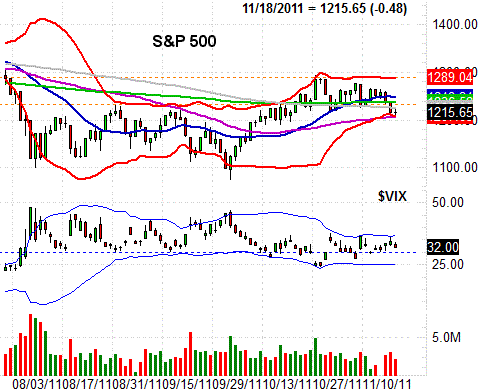 It would be nice if the VIX would play along with whatever the market has in store for us.
There hadn't been much need for the weekly chart of the S&P 500 recently. However, the need for it changed last week though, and not for a good reason. It's on the weekly chart we can see how much of a toll is being taken following such a great October; we're 6.0% off the peak, and the bears have the current momentum.
Yes, it's all induced by global and domestic economic panic (even though nobody really knows what the fallout will be), and emotional responses are usually short-lived. In this case though, the damage may be bad enough to have severely spooked investors who were tentative to begin with.
Truly, the S&P 500 is in a bigger-picture "no-man's land," squarely between the Bollinger band lines.
With traders this indecisive and the market fairly listless, we're reminded that sometimes the best move is to not force anything, but rather, wait for more conviction ... in either direction.
SPX & VIX Weekly Chart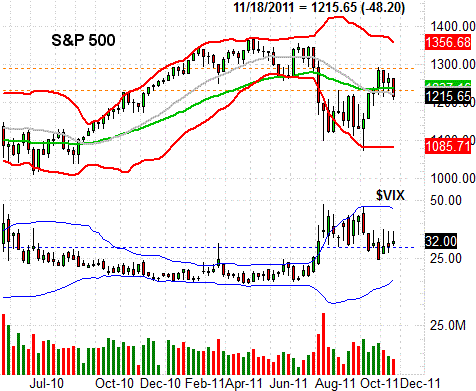 Third Quarter Earnings Season Results
It's almost over; only 35 of the S&P 500's companies have yet to report. As of the last look, the average year-over-year earnings change was a 15.9% improvement … way better than expected. T he S&P 500 is also on pace to 'earn' $25.51 per share for the third quarter … also way better than the expected $24.07 a few days before earnings season started.
A little over 69% of companies topped estimates, and 21% fell short of estimates. That's close to the norm, though a hair less impressive than the norm.
Bottom line: Earnings were nowhere near the disaster they were supposed to be. The critics will continue saying it was international exposure doing the bulk of that heavy lifting (with Europe getting ready to sink into the ocean); the fact that the S&P 500 just posted record earnings means nothing. Just for the record though, it was these same forecasters that undershot Q3's expectations by 6%.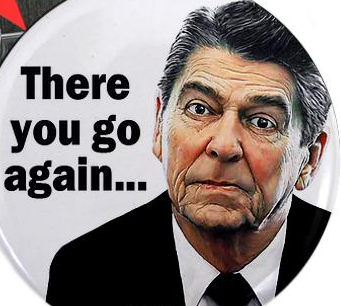 Disclosure: I have no positions in any stocks mentioned, and no plans to initiate any positions within the next 72 hours.