Apple (NASDAQ:AAPL) was co-founded by the late visionary Steven Paul Jobs and has completely transformed every industry it operates in. The perpetual focus on innovation has made this one of the largest, fastest growing companies and Apple investors have been handsomely rewarded. I have recommended option strategies on Apple since 2010 with tremendous results. For reference, please view the first and other articles in the series to fully understand the strategy and its strong potential returns. As we enter the post-Jobs era, it is even more important to keep a close eye on your investment and execute care with your trades.
Click to enlarge


A brief recap of this week in Apple (down $8.58 (-2.2%)):
Apple started the week on a positive note but the sell-off began late Wednesday and continued in force on Thursday. While I am not optimistic about the broad stock market's short-term prospects with the debt-reduction panel floundering, I am confident that Apple will rebound from its depressed current level. Apple has dropped quite significantly but there has been no real negative news for the company. The only speculative reasons why Apple has been punished could relate to the new Amazon (NASDAQ:AMZN) Kindle Fire or Google's new Nexus smart phone but neither fundamentally impact Apple's dominance. I am not concerned because the iOS ecosystem is so well developed that there is little that can be done to derail Apple. This momentum is likely to continue throughout the holiday season with the iPad being one of the most desirable Christmas presents for children.
The Wall Street Journal writes about how difficult it is to purchase an iPhone 4S despite the phone having been on the market in the United States for approximately five weeks. I personally know consumers who have been trying to purchase the iPhone 4S and are simply waiting for the phone to be in stock as it sells out virtually everyday at some Apple stores. The major carriers have confirmed the strong demand:
"Not only was the iPhone 4S popular when it was introduced, but the popularity continues to build." – Verizon (NYSE:VZ)
"We are having some supply issues in the sense that demand's huge. We have had just record-breaking sales on it." – AT&T (NYSE:T)
Below I present three possible scenarios and the potential returns for the November 19 monthly options. The first scenario represents a negative outlook for Apple while the final two scenarios are more reasonable. These scenarios are just projections and there is no guarantee that they will come to fruition. As a general rule, selling calls with higher strike prices has greater potential return but additional risk of loss due to the lower (or lack of) downside protection. For more information on the fundamentals of covered calls, consult Investopedia.
Click to enlarge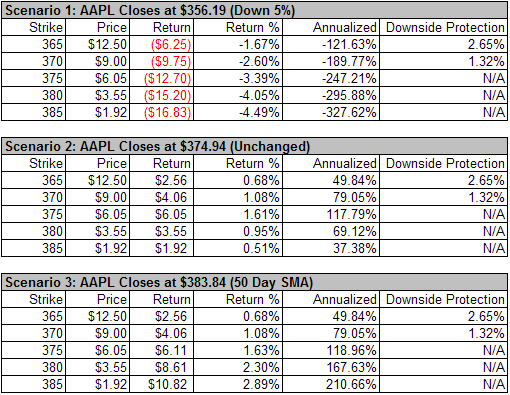 Additionally, if you would like even more information, I have prepared a sensitivity analysis for absolute return and percent returns, respectively. After studying the information above, these two charts make it easy to pick a strike price based on where you believe Apple will close on Friday.

This week I will also present an outright long option strategy for those with minimal Apple exposure: Buy February 2012 Apple 400 LEAP Calls currently trading at $17.90. Depending on how bullish you are you could swap the February options for either January, March or April calls to reduce or increase the time horizon.
With this information, executing a buy-write on AAPL November 24 (monthly) 385s is the optimal risk-return strategy. If you are uncomfortable with this strategy I suggest a buy-write 380s or 390s. Even if you are extremely bullish you can still profitably sell covered calls; Apple is volatile enough that you will have opportunities to repurchase on dips. An alternative approach is to sell out-of-the-money 370 puts and collect the premium without having to purchase the stock outright. Note that if the stock declines to the strike price, you are obligated to buy the stock (or closeout the position). Remember we have a short week with Thanksgiving and I would personally avoid any option selling for now but keep the potential on the table.
Disclosure: Author is long AAPL, GOOG, and MMI.