Hedge fund Asian Century Quest (ACQ)manages a $272 million equity portfolio focused on Asian, mostly Chinese, equities, out of its offices in New York, Tokyo and Hong Kong. Its founder and Chief Investment Officer Brian Kelly spent his early years in Japan, when he moved there with his family in 1981 and lived there for ten years, including a period of working at the Tokyo Stock Exchange. Subsequently, he worked as the Japan/Asia sector head at Lee Ainslie's Maverick Capital, and then in 1985, he founded ACQ. Initially, the firm focused two-thirds of its investments in Japan, with the rest distributed among Korea, mainland China and Taiwan. However, as per the most recent SEC 13-F filing for the September 2011 quarter, China accounts for almost two-thirds of its investments, with another quarter in Indian stocks, and the rest of the 10%-15% in U.S. equities that have an Asian focus.
The fund has generated an annualized net return of 10.0% since inception in March 2005, and it uses a bottom-up fundamentally driven equity long/short strategy. The following are undervalued Chinese equities that ACQ is most bullish about (see Table):
Home Inns & Hotels (NASDAQ:HMIN): HMIN is manager of a chain of economy hotels in China, with approximately 800 Home Inns in operation and 1,000 Home Inns sealed in franchise agreements. ACQ added $14 million to its $19 million prior quarter position. HMIN is undervalued, trading at forward 18-19 P/E on a trailing twelve-month (TTM) basis, and at 2.4 P/B, compared with averages of 22.5 and 2.3 respectively for its peers in the hotels and motels group. Besides ACQ, other major funds that accumulated HMIN shares in Q3 include Morgan Stanley adding a new 3.2 million share position, Oppenheimer adding a new 3.0 million share position, and JP Morgan Chase & Co. adding 1.4 million shares to its 0.1 million share prior position.
China Mobile Ltd. (NYSE:CHL): CHL is a Hong Kong-based digital wireless voice and data services company primarily in mainland China, serving over 600 million customers. ACQ added $11 million to its $9 million prior quarter position. CHL trades at 11 P/E on a TTM basis and at 2.0 P/B, compared with averages of 14.7 and 3.8 respectively for its peers in the wireless communications group. Also, as a comparison, its closest peer China Unicom Ltd. (NYSE:CHU) trades at 65 P/E and at 1.5 P/B. Besides ACQ, Fidelity Investments also accumulated CHL shares in Q3, adding 1.5 million shares to its 2.1 million share prior quarter position.
Besides the undervalued stocks mentioned above, ACQ based on the Q3 buying activity and its holding large positions at the end of Q3 (see Table) is also bullish on the following Chinese companies:
New Oriental Education & Technology ADS (NYSE:EDU): EDU is a Chinese provider of foreign language training and test preparation courses for admissions and assessment tests in the U.S., the PRC and Commonwealth countries. In addition, it also offers primary and secondary school education, development and distribution of educational content, software and other technology, and online education. At $37 million, it is ACQ's third largest position in the portfolio, in which it cut a minor $2.5 million position in Q3. EDU trades at a premium 24 P/E on a TTM basis versus a 13.1 average for its peers in the schools group.
Melco Crown Entertainment (MPEL): MPEL is an operator of casinos in Macau, the former Portuguese colony now a part of China. ACQ added $5 million to its $13 million prior quarter position in the company. MPEL trades at a premium 25 P/E on a TTM basis versus an 18.2 average for its peers in the Gaming group.
Youku.com Inc. (NYSE:YOKU): YOKU, China's largest video-streaming company, is more popularly known as the YouTube of China. But in reality, it is more a combination of Netflix (NASDAQ:NFLX) and YouTube; Netflix, because it offers mostly professionally generated content licensed from movie studios and TV companies, and YouTube due to its reliance on advertising as a main source of revenue. ACQ added $1.8 million to its $1.7 million prior quarter position in the company. YOKU currently generates losses every quarter, and it trades at 2.3 P/B and at 16.9 PSR versus averages of 1.8 and 2.9 respectively for its peers in the internet content group.
Select stocks that ACQ is bearish on (see Table) include Chinese internet search engine, online advertising and internet content company Baidu Inc. (NASDAQ:BIDU), in which it cut $33 million from a $85 million prior quarter position; Chinese software and services provider Qihoo 360 Technology (NYSE:QIHU), in which it dropped its entire $1.8 million position; and Asiainfo Linkage (NASDAQ:ASIA), a Chinese provider of software and IT security products for telecom operators in China, in which it dropped its entire $2.3 million position.
CLick chart to enlarge)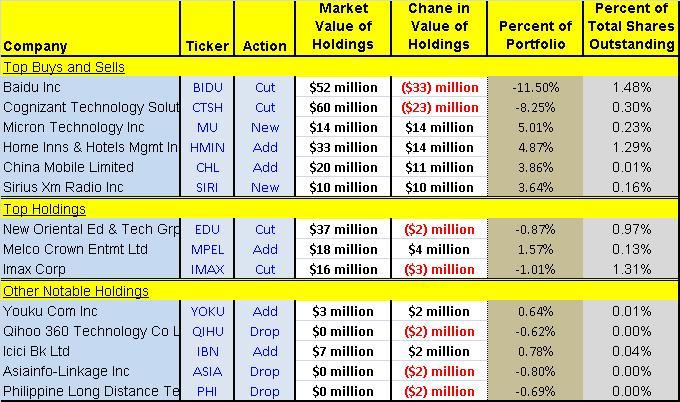 Credit: Historical fundamentals including operating metrics and stock ownership information were derived using SEC filings data, I-Metrix® by Edgar Online®, Zacks Investment Research, Thomson Reuters and Briefing.com. The information and data is believed to be accurate, but no guarantees or representations are made.

Disclosure: I have no positions in any stocks mentioned, and no plans to initiate any positions within the next 72 hours.
Disclaimer: Material presented here is for informational purposes only. Nothing in this article should be taken as a solicitation to purchase or sell securities. Before buying or selling any stock you should do your own research and reach your own conclusion. Further, these are our 'opinions' and we may be wrong. We may have positions in securities mentioned in this article. You should take this into consideration before acting on any advice given in this article. If this makes you uncomfortable, then do not listen to our thoughts and opinions. The contents of this article do not take into consideration your individual investment objectives so consult with your own financial adviser before making an investment decision. Investing includes certain risks including loss of principal.