Conmed Healthcare Management (NYSEMKT:CONM) provides correctional healthcare services to county and municipal detention centers in the United States. Since going public in January of 2007, Conmed has posted sequentially higher revenue in all but one quarter. Additionally, the company's operating margins have improved every year since it went public. These results are the likely outcome of a high renewal rate on contracts since the company was founded in 1984, as well as new contract wins on an ongoing basis. Since going public, the company has shown it can leverage its infrastructure to deliver superior returns.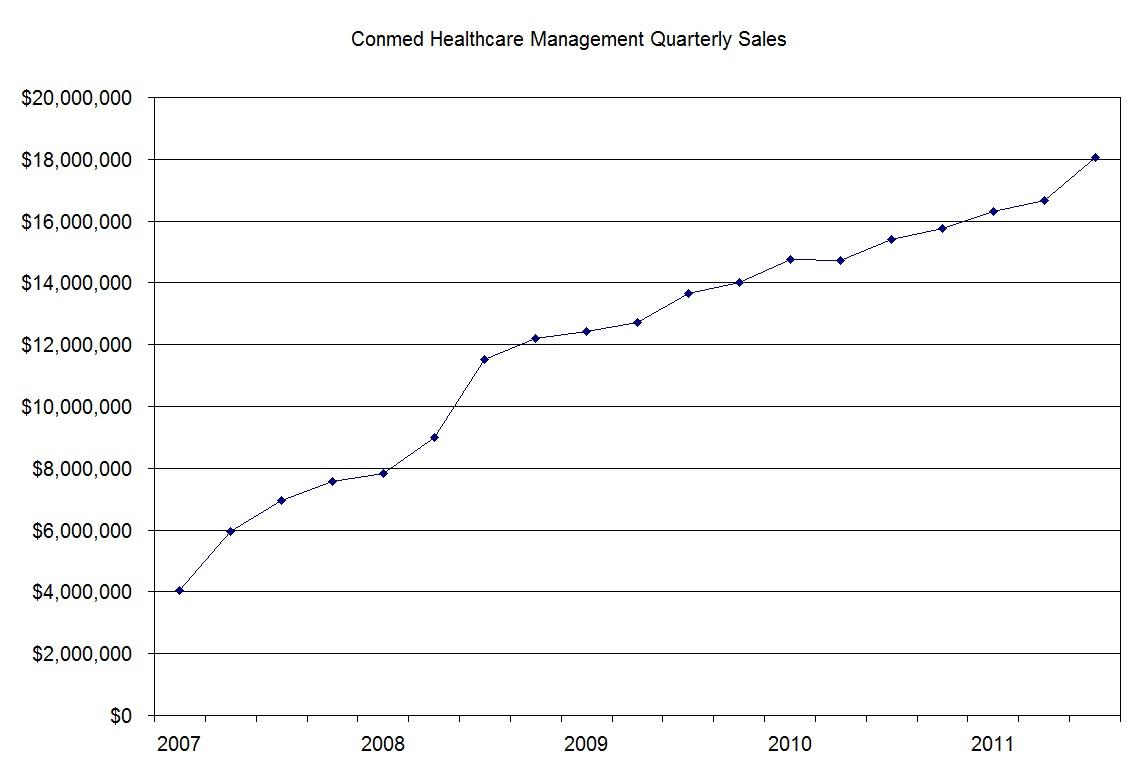 One of the company's largest shareholders, Dr. James H. Desnick, recognized the outperformance that the company is experiencing and made public an offer to purchase Conmed for $3.85 per share on May 13, 2011. On the same day, the company announced that it was going to explore strategic alternatives. Subsequently, on July 11, 2011, Conmed and Dr. Desnick's operating investment company, Ayelet, entered into a merger agreement for an all cash purchase at $3.85. The deal was expected to close in the third quarter of 2011, however, on November 16, the buyer announced that it could not secure financing and the merger agreement was terminated. As a result, the buyer will pay Conmed $2.3 million for a previously agreed upon break up fee.
Putting the drama of the failed acquisition aside, current macro economic trends should benefit Conmed. Local governments are in a hurry to find cost savings. In most cases, Conmed is able to save detention facilities money because they are experts in providing care in these settings. The company is able to scale its knowledge, purchasing power and systems to provide a superior service at an attractive value. In fact, three new contracts were signed during the quarter, which should add 8% to next years revenue.
Conmed appears to be a compelling investment. Since going public in 2007, sales are up almost 200% and the company is consistently growing earnings. Additionally, when excluding one-time acquisition and consulting costs, the company is trading at 6.5x Enterprise Value/Free Cash Flow, a multiple considered favorable for most growth companies. In the past, Conmed has used its cash to make tuck-in acquisitions, however, I would consider a one-time dividend possible in light of the $17.5 million in cash, representing half of the company's current net worth, the company should be sitting on at years end. The combination of growth and value is something not seen often in the investment universe, but it appears to be present in shares of Conmed.
Disclosure: I am long CONM.